When Apple, Inc. (NASDAQ:AAPL) hit $700 after the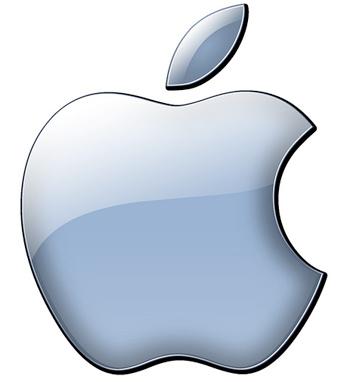 release of the iPhone 5 in September many wise investors felt that the stock was overbought and ready for a correction. But an over 20% fall through significant support at the $600 price level has come as a bit of a shock to even the savviest of investors. So when, if ever, will Apple, Inc. rebound?
Let's first take in to account that analysts are still confident in the company's worth and maintain a $767 average price target, with a high target, from Topeka Capital analyst Brian White, of $1,111, a target that was reiterated Thursday, November 8, 2012. (Based on the above-mentioned $767 average price target, that's a 40% upside from the stock's current price.)
Analysts remain confident in Apple, Inc. partly because the recent stock price correction is very reminiscent of three other recent corrections the stock has successfully left in the dust, a 16% correction in October last year, a 15% correction in November last year, and a 19% correction in May this year.
Though the current correction is a bit more significant and has brought the stock further below its 200-day simple moving average (currently 7% below its 200-day SMA) than previous pull backs, this could be partly due to additional, politically-induced market fears including the "fiscal cliff" scare and the possibility of a higher 2013 capital gains tax rate.
But even with this taken into account, doesn't it seem that Apple, Inc. is grossly underpriced at present? I think so, and here's my take on it.
Apple, Inc. tumbled through support at the $600 price level recently and didn't look back. But now it's up against a more significant support level at $530. I say this support level is more significant because it served as resistance for the stock in March and, after breaking above this level quite quickly, investors then used this price as a place to buy during the pullback in May, making it a new support level for the stock.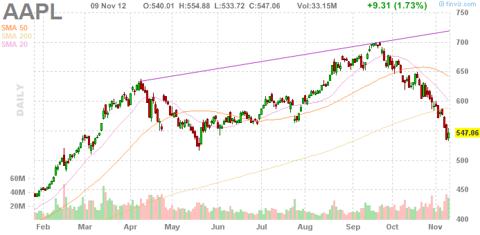 Now we're right back where we were in May, and what's worth noting is that at the lowest point of many of Apple, Inc.'s previous pullbacks, volume increased significantly. The recent pullback to $530 in May was no exception. Volume increased from about 15 million to 25 million, at the stock's lowest point, then back to 15 million shortly after. We're now seeing a similar volume pattern in the current pullback, with volume increasing from about 20 million to 35 million, indicating a possible repeat of the May bounce.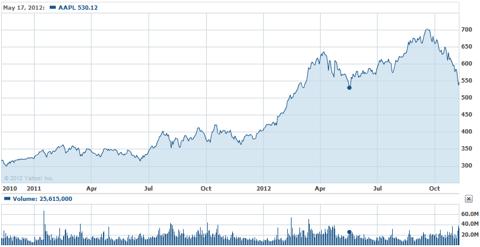 Apple, Inc. is also approaching a retail season that has, historically, been very successful for the company, with a very strong product line up including the iPhone 5, the already popular iPad Mini, the iPad 4, the redesigned iMac, and the new retina display MacBook Pros. Sure there are skeptics who fault Apple, Inc. for lacking innovation when comparing current products to those previous, but the current product line up for Apple, Inc. is still very strong and is unlikely to disappoint.
In fact, regarding the demand for tablets, a recent Pricegrabber survey shows that the "Apple iPad and iPad mini" are the "top-ranked overall tablets" and boasts the heading "iPad mini wins consumer vote in lower priced tablet category". To detail the survey, of 1,465 U.S. online shoppers, the majority preferred a tablet over a PC as a holiday gift; 63% preferred a regular-sized iPad while 24% preferred an iPad mini, which was also preferred over less expensive competitors like Google, Inc.'s (NASDAQ:GOOG) Nexus 7. So, as you can see, demand is certainly there for Apple, Inc.
It should also be noted that recent missteps, which have contributed to the company's stock price decline, are being fervently addressed. First, the iPhone 5 supply, which has been a significant concern for investors "no longer appears like it will be an issue", as stated by Walter Piecyk of BTIG Research. Also, the map troubles of iOS 6, which partly caused the departure of iOS Chief, Scott Forstall, are being addressed as well with the new operating system, iOS 6.1, which is currently in development and should be released soon.
The company is also investing in an online radio service, to compete with Pandora Media, Inc. (NYSE:P), and, with internet content quickly replacing that of cable and satellite providers, Apple, Inc. is also positioned to further compete with companies like Comcast Corporation (NASDAQ:CMCSA) and DirecTV, Inc. (DTV) with their, already successful, Apple TV.
And let's not forget about the company's exceptionally strong fundamentals, which include a 9.32 forward P/E, 42.84% return on equity, and 35.30% operating margin, to name a few. Compared to competitors Amazon.com, Inc. (NASDAQ:AMZN), with a 127.86 forward P/E, 0.52% return on equity, and 0.93% operating margin, and Google, Inc., with a 14.29 forward P/E, 17.18% return on equity, and 28.06% operating margin, Apple, Inc. seems very capable of overcoming competition and is well poised for a continually bright future.
In summary, I can easily see Apple, Inc. reaching back up to $650 or possibly even $700 within just a couple months. That, if it happens, would be a two month, 28% return. Not bad.
Now, I don't mean to be unreasonably hopeful, nor do I assume to predict the future. But with continued analyst confidence, the stock's historical price history, the company's current product line up going in to a historically strong retail season, and the anticipation of new product developments, I am exceedingly optimistic about what Apple, Inc.'s stock will do in coming months. And with the stock trading near the above-mentioned $530 support level, now may be a very good time to purchase Apple, Inc., a company whose recent missteps will likely soon be overshadowed by coming successes, just like last time and the time before that.
Disclosure: I am long AAPL. I wrote this article myself, and it expresses my own opinions. I am not receiving compensation for it (other than from Seeking Alpha). I have no business relationship with any company whose stock is mentioned in this article.