Sony (SNE) is currently trading in the mid $29 range, a price it fell to in mid March of this year but, prior to that, hasn't seen since September of 2010.  Having touched these points and resisted them it appears to have established a very strong, upward tending resistance floor.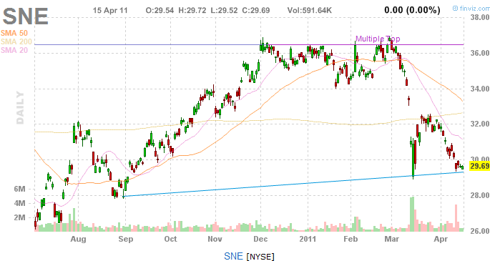 The light blue line (resistance floor) shows us that, according to SNE's price history, the stock should rebound as it has done in the past. 

Also, if we look at Sony's fundamentals we are reassured that the company is still doing things right.  Price to Sales ratio is at 0.34, Price to Book ratio is at 0.86, and Price to Free Cash Flow is at 5.15; a very strong company indeed.

Shifting our view to the stock's technical indicators we add even more reassurance and optimism to our outlook.  MACD and Stochastic both show very strong signs of a coming trend reversal.





In summary, this stock is a value investor's dream that is currently showing multiple buy signals.



Disclosure: I am long SNE.