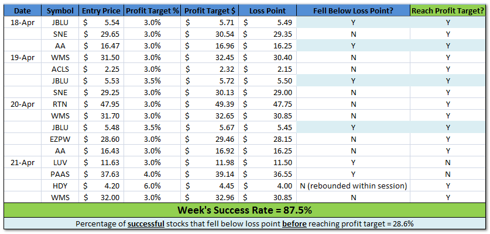 Here's a look at
The Stock Advisor STG/
Elite
's success rate for the week of 4/18 through 4/22 (NYSE was closed on 4/22).  Fourteen of the sixteen recommendations reached their respective profit targets giving us a success rate of 87.5%.  Nice work to those who took gains!
In an attempt to better my strategy, take a look at the light blue cells.  They represent stocks that reached their respective profit targets
after
falling below their protect from loss points.  It looks like four of the successful fourteen stocks performed this way, giving us the 28.6% figure at the bottom.
Ideally this figure should be 0%, or in other words, the stocks that reach their targets should not hit their loss point
first
.  This, obviously, may cause traders to exit the position and miss out on the gains.
Of course, it is my goal to achieve a 100% success rate and along with that I am also hoping to keep the figure mentioned above as low as possible.  For current
STG
and
Elite
users please go over this data sheet and adjust your strategy if need be.  In the future I may begin lowering protect from loss points a little in my attempt to lower the above mentioned percentage (while also keeping the success rate high of course). 
Thanks guys, and please contact me with any questions!