I recommended Macy's (M) on May 3rd in two of my apps, The Stock Advisor STG (iPhone/Android) and The Stock Advisor Elite (iPhone/Android).  The recommended entry point on May 3rd was $24.10; now the stock is trading just above $26.30 giving us a seven day return of 9.2%!

My initial profit target was only 3.5% (to be taken within five days), speculating that the stock would bounce off of its (then) resistance ceiling of $26.00 (see graph below).  Needless to say, its price to date has exceeded my expectations.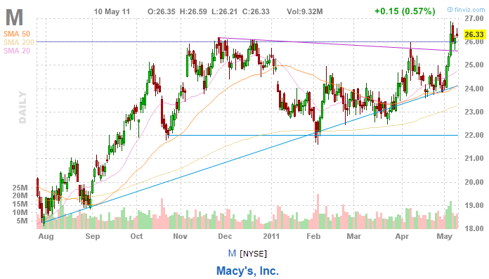 Now, with earnings coming up tomorrow (May 11) the question is, will Macy's stay above the $26.00 mark and continue to climb?

Zacks analysts estimated earnings of 18 cents a share.  If this happens this would significantly beat the prior year's earnings of 5 cents a share.  It looks as though Macy's really started turning up the heat in April...

"The better-than-expected sales results for the four-week period ended April 30, 2011 compelled the analysts to revisit their estimates. Macy's comparable-store sales for April 2011 rose 10.8%, following a marginal increase of 0.9% registered in March 2011, and compared with a 1.1% jump witnessed in April 2010. Management had earlier forecasted an increase of 8% to 9% for the month under review." - Yahoo Finance

The flip side to this coin: competition is still fierce, Macy's debt to capitalization ratio is still a concern, and customers are still having a hard time with increased fuel costs, credit availability, unemployment, debt, etc., etc.

Hold or sell?