Silver has done well this year.  Really well.  From its $18.00 days last April the ETF, SLV (iShares Silver Trust), peaked around $47.00 this April.  It has fallen a bit since its peak last month but found support recently and is trading just above $36.00 as of this post.  This equates to a 103.8% ROI (return on investment) year-to-date.  Not bad!

So what's next for SLV?  After its sharp drop off in late April/early May of this year investors refused to let the ETF fall below $32.50.  And since its bounce off of this $32.50 support level about ten days ago the ETF has risen consistently and looks to have the momentum to continue its rise.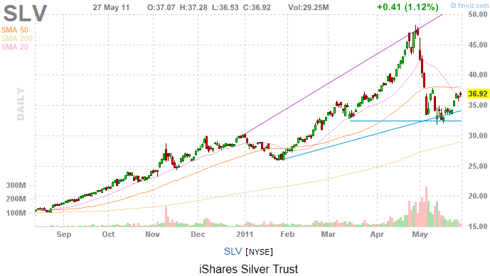 Looking at the graph above you can see the horizontal support floor established by investors' above mentioned refusal to pay less than $32.50 for a share of this ETF.  You can also see an additional support floor that seems to have been established in an up-trending fashion; this is good. 

(These support floors generally serve as good stop loss points for investors.  Chances are, if the stock/ETF hits its support floor it will bounce off of it.  But if it does fall through support it can fall fast!)

According to SLV's support and resistance the ETF looks in good shape to continue moving upward.  Its technical indicators on weekly charts (long term) also show signs of good things to come.  We do, however, seem to lose clarity when looking at SLV's technical indicators on daily charts (short term).  Stochastics and MACD both look to have peaked a bit and are wanting to head south. 

What does it all mean?  It means that I am keeping my eye on this ETF and you should too.  I may recommend it in my apps, The Stock Advisor MTG and The Stock Advisor Elite, but I'm not sold quite yet.  I'd like one (or both) of two things happen:

1.  SLV's technical indicators on daily charts show more clarity of a continued movement upward.

and/or

2.  SLV drops a bit but then bounces off of its up-trending support floor (light blue line on above graph).