Updates on SPY, Crude Oil, Silver and Gold Outlook_Getting Closer To Inflection Points Which Could Come Next Week
This expands on my exchanges with lionfish2. He asked: "SPX is below 2050. Does it signal a downward movement towards 2000 in a short-term?"
My response:
"I was thinking about that myself. But there a few things we should consider:"
Consideration No. 1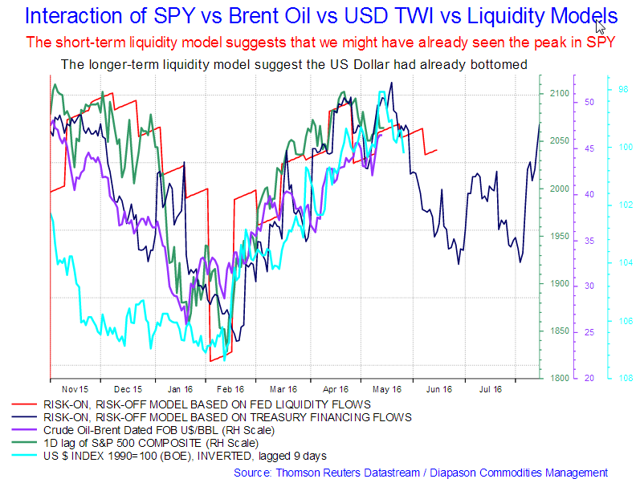 This is a live chart. Click on the link below to get an updated chart:
There is still room for SPY to rise further per the model (see chart above).
Consideration No. 2.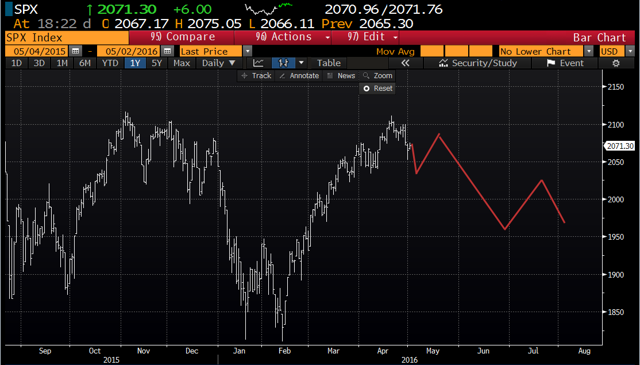 This SPY outlook is still valid (it was drawn up on May 2), and maybe this is what we should really start focusing on (see chart above).
Consideration No. 3.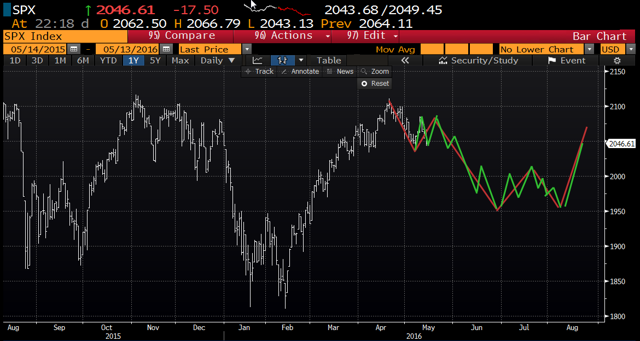 The above scenario is the favored one which is starting to emerge.
We should be focusing on this SPX scenario from here on (see chart above).
There is still scope to the upside until May 19 per the model, but looks like SPX is now unlikely to make new highs from here. It is running out of time. And so is Crude oil. We may still get those upticks next week, but increasingly, the upside is limited. This was illustrated in the blog entry I uploaded Friday afternoon. If this is the case, then Gold and Silver have seen their peaks in the near-term.
See it here:
seekingalpha.com/instablog/910351-robert...
What may bring this about is that the US Dollar DXY will probably make a final test of the low early next week. But after that it should move higher and maybe even take out 95.00. That would be making a strong statement indeed, as the PMs, commos and the equity markets will probably head for the opposite direction -- sharply lower
The rationale: the strong retail sales/consumption data has helped change some of the perception that the Fed will be unable to tighten policy this year. There are other growth reasons to suspect that the Fed may finally have the conditions that will cover their ass in finally making the first hike for the year (likely in July, but don't count out June yet).
One evidence is this: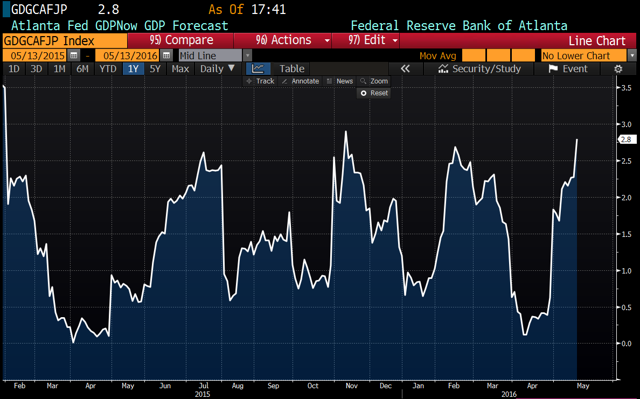 www.dropbox.com/s/gey59so1giiu4wk/atlant...
If the US Dollar does ratchet higher to the upside, it will hit the PMs and the Miners hard. Gold and Silver and the GDX Miners have already seen their tops:
Gold, Silver and GDX Miners
See the model's illustration of that fact: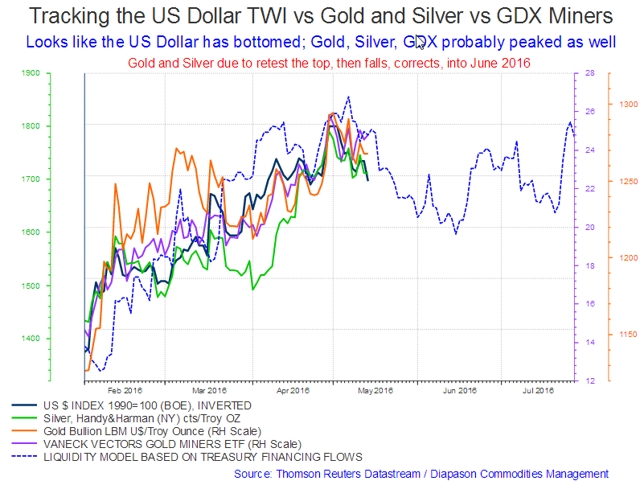 This is a live chart. Click on the link below to get an updated chart:
product.datastream.com/dscharting/gatewa...
Conclusion:
Expect an uptick early next week for PMs and Commos, including Oil as well as an upside test of SPY, but but after that (post May 19), the USD DXY would be ratcheting higher (per the model) and those assets on the inverse side of the US currency should fall in accordance to the model projections.
Disclosure: I/we have no positions in any stocks mentioned, and no plans to initiate any positions within the next 72 hours.