The Fed's reaction function revisited: should we fear the two rate hikes in 2016?
Commentary by Robert Balan, Diapason Chief Market Strategist
"It's appropriate - and I have said this in the past, I think - for the Fed to gradually and cautiously increase our overnight interest rate over time; probably in the coming months such a move would be appropriate." Janet Yellen, Chair of the US Federal Reserve, May 27, 2016
For several quarters now, the spectre of financial turmoil brought on by the prospects of a series of Fed policy tightening is like a sword hanging over the market's head. There were, and still are, incessant debates whether the Fed should or could tighten policy by 25 or 50 basis points in 2016. The points are debated pro and con, in what is increasingly looking like a theological debate of old about how many angels can dance on the head of a pin. The truth is that 25 or 50 basis points increase in the short-term rates do not matter; there is no commonsensical reason to think that 25bps or 50bps should make a material difference to the economy or to the financial markets, really. In an age of near-zero interest rates, an aggregate policy tightening of 50 basis points this year does not pose catastrophic economic or financial dislocations.
The most impact such a new monetary policy regime will have, we believe, is mostly psychological but which could precede structural adjustments. It likely signals the beginning of the end of the decades-long bull market in bonds, and it does further underline the volatile effects of a monetary policy divergence between the Fed, the BoJ and the ECB, the stewards of the most stalwart competitor-currencies of the US Dollar, the Yen and the Euro, respectively.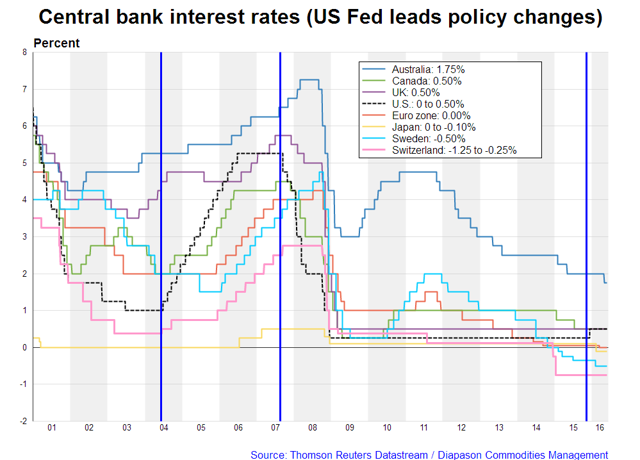 However, the salient point (and a part of our thesis) is that this debating platform of a train has left the station a long time ago, and further argumentation is really moot. A case in point: have a look at the balance sheets of the central banks of developed economies, and then on their monetary policy regimes. Focus especially on the Negative Interest Rate Policy (NIRP) regime in Europe and in Japan. Mix in the fact that the US central bank first raised policy rates in December last year by a diddly 25 bps, after holding them near zero for nearly eight years. The premise that two 25bps hikes by the Fed this year (if they even follow-through on their promise) would constitute an epochal shift on their ultra-accommodative monetary stance, or even serve as a serious blow towards normalization of monetary policy, is wishful thinking on the part of the markets. To say the Federal Reserve "remains accommodative" (as the FOMC is likely to claim in their accompanying statement, following a policy rate raise) is a laughable understatement.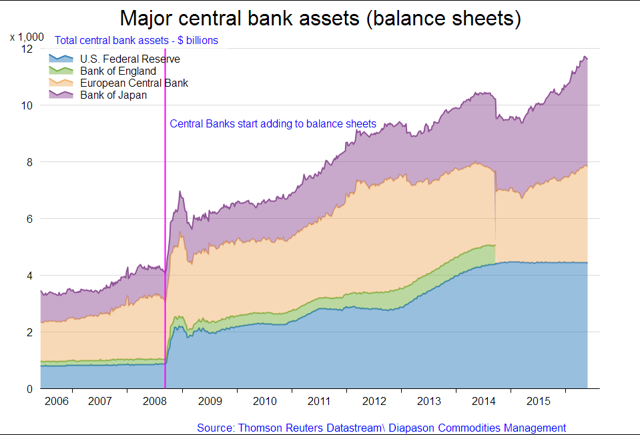 The Fed (and for that matter, global central banks) is ultra-accommodative still, and so even a 50 basis-point policy raise this year does not change that fact. An expected cataclysm that will befall the EM and commodities space due to these two 25 bps rate hikes is unlikely to happen. Yes, a stronger USD on a Fed hike is likely to drive down commodity prices and thus facilitate some outflows from EM. But in our view 50bps is really not so material as to precipitate the kind of humongous USD surge and subsequent EM and commodities collapse that everyone fears.
The Fed is still ultra-accommodative; no need to fear for EM and commodities
This fear for the EM and commodities is not rational. Here is why: earlier this year, many commodities hit their 21st century lows but have since then recovered strongly, even violently in some cases (e.g. iron ore). And we still have people talking about how aggregate 50bps Fed hike this year would trigger a deeper rout. While it was true that the rapid and strong rise of the US currency was mainly responsible for the commodities rout in the past 3-1/2 years, the commodity price movements on the downside had previous counterparts on the upside. Let's not mistake volatility for a secular downtrend -- commodity movements tend to overshoot on the downside and on the upside once in a while.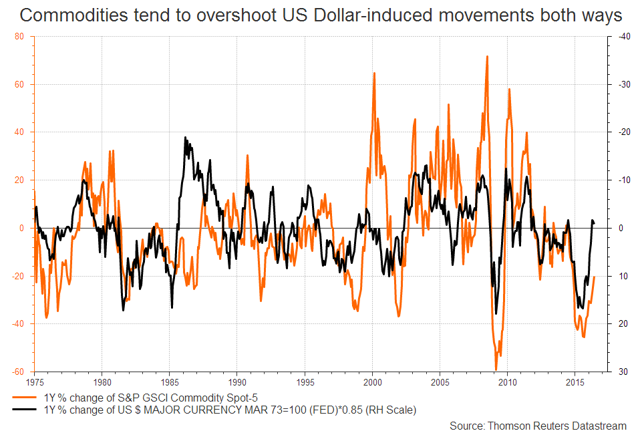 In a sense, commodities just gave back some of their previous gains coming from previous cycle lows. For instance, gold prices fell from $1778 in October 2012 to $1062 in January this year - a 40.26% decline. But that is minuscule compared to the run-up in gold prices from $256 in 2001 to 1778 in 2012 - a 594.53% gain in just 11 years. Another example is crude, the "star" of the news lately: spot oil fell from $124.25 in April 2012 to $29.3 in January this year - a 76.4% decline in four years. But this precipitous fall was preceded by a parabolic rise from $38.8 in January 2009 to $124.25 in 2012 - a 220% rise in three years. There are other examples, which have even better profiles: LME spot copper fell from 9650 in 2011 to 4705 in January this year. It fell 51.25%, which is not a disaster, considering that copper rose from 3199 in January 2009 to 9650 in January 2011, a 201.65% increase. All of these while the Fed funds rate are varying as well (see the first fortnightly chart below).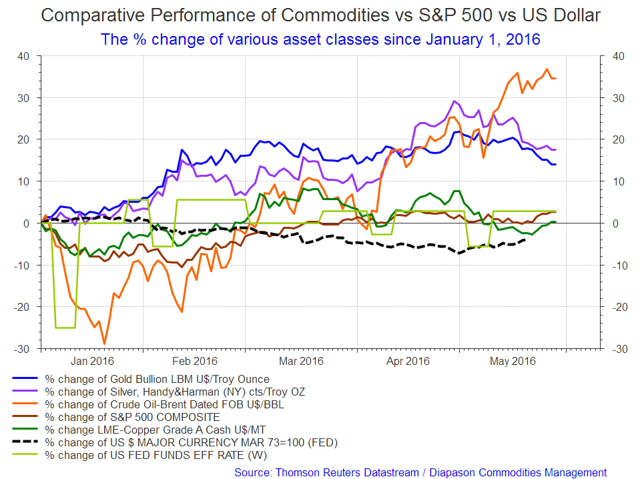 What does this prove? It proves only that commodity prices are volatile, and that a very strong US Dollar could severely impact the valuation of resource materials. The focus should rightfully be on the US Dollar. If the US Dollar's strength is the prime consideration for the immediate future prices of commodity assets, then how would the resource material universe react to a two 25bps rate hike in 2016?
The negative impact should be muted. As we explained in a previous CIW ("Gold net long positions are overstretched: gold price may correct as the US Dollar makes a short-term recovery", May 9, 2016), "if the Fed tightens policy sometime soon, it should strengthen the US Dollar, and that, mechanically, would weaken the price of gold, precious metals and commodities. But we do not see another overpowering US Dollar performance - we start with the assumption that two rate hikes this year could allow the greenback to claw back circa 50 percent of its losses from its recent highs. That could also undercut gold and commodities prices by the same amount (see chart below). However, we see a forthcoming "correction" as a "healthy" development from a price discovery point of view. The next uptake in risk asset prices including gold should make back the ground that will be yielded in any short-term correction - and gain even more thereafter."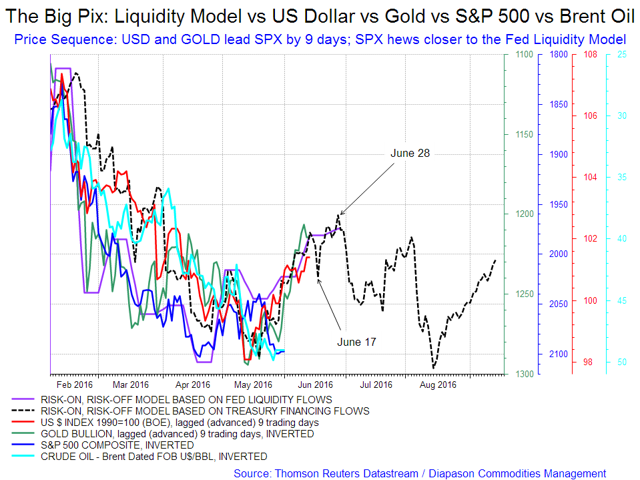 For gold and commodities, a 50% retracement (giving back 50% of previous gains) is not a disaster in any form or manner. The US Dollar's rally is now on its fourth week, and a pause in the trend should be expected sometime soon. By and large, the overall pattern that we expect to see is a sideways range between the recent low and the level representing 50% of declines this year. This kind of activity should not kill off the rallies seen previously in precious and base metals, in energy, and in the agriculture sector but just generate a corrective phase. We expect the US Dollar to substantially weaken further after that, so broadly, by late Q3, the commodities universe should be back in a bull market gearing.
Disclosure: I/we have no positions in any stocks mentioned, and no plans to initiate any positions within the next 72 hours.