The Algiers and Moscow Oil Output Cut Agreements: Much Reliance on Trust; Very Few Mechanisms In Verification
After being left for dead, the Organization of the Petroleum Exporting Countries (OPEC) pulled some very sticky levers, agreed on a still-murky deal, and oil prices soared since November 30 agreement to cut output at Algiers. Moreover, OPEC and non-OPEC producers agreed on Saturday, December 10, to curtail oil output jointly and ease a global glut after more than two years of low prices that wreaked havoc on the fiscal budgets of all the oil producers, big and small. This is the first deal OPEC and non-OPEC since 2001. The deal on Saturday caps the efforts of the Kingdom of Saudi Arabia (NYSEARCA:KSA) to craft a mechanism to limit the production of oil. It took almost a year of arguing within the OPEC amidst doubts that non-OPEC Russia will cooperate. Last Saturday's OPEC and Non-OPEC's deal in Moscow put paid to those doubts. The market's focus will now switch to the really hard part -- compliance of the oil producers with both the Algiers and Moscow agreements.
OPEC may be back in the driver's seat, but with this what appeared to be a KSA coup (even with plenty of backstopping provided by Russia), we remain wary. There are many reasons not to get too delirious about the OPEC's agreement to curtail output by 1.2 million barrels a day from January 1, 2017 over the next six months, with the possibility of prolonging the cut if necessary. However, the Brent forward curve suggests that production cuts need to last for one full year to stabilize the oil price between $60 and $70 per barrel (we see little KSA desire at this time to push prices much higher - those significantly higher prices will just unleash the US fracking industry again). And so given where oil prices are today, KSA may need to push for another OPEC agreement in six months.
Top exporter Saudi Arabia will be hit with the biggest cut (as much as 486,000 bpd), as Nigeria and Libya were exempted from the deal due to production-denting civil strife. Some analysts believe that the return of disrupted supply from Libya and Nigeria will be considerable, thereby, offsetting some of the announced 1.2 mbd cut. As such, that will be seen a deal-breaker. Russia agreed to participate in the deal crafted in Moscow, in which producers from outside the 13-country OPEC group agreed to reduce output by 562,000 bpd, slightly short of the initial target of 600,000 bpd. But investors may also remember that Russia 15 years ago failed to deliver on promises to cut in tandem with OPEC. Nonetheless, with Mr. Vladimir Putin's personal intervention in the process (basically giving the order to the Russian oil companies to comply), Russia is expected to perform real output reductions this time of up to 300,000 bpd. Be that as it may, many analysts question whether other non-OPEC producers are attempting to present a natural decline in output as their contribution to the deal.
But now comes the hard realities, post the Algiers and Moscow deals -- the most prominent being the cheating of OPEC's own members. Both agreements depend on self-compliance, and the commitment to cut from key countries, particularly Iraq, has been described as "weak". Iran, which was allowed to produce more, but agreed to a cap of 90,000 barrels a day, is described by veteran OPEC watchers of showing signs it could go rogue and produce more than they pledged. There are still disagreements among OPEC members and also between OPEC and Non-OPEC on how to measure production, so the deals may be very hard to implement or much more, to monitor and verify. The oil market understands all of these, so it is no surprise therefore that there was muted price reaction to the meeting results - the market has adopted a wait-and-see attitude.
The next few weeks will be crucial in another aspect. What commercial hedgers and shale producers do following the price rise will be key to the short-term oil price moves. There is already evidence that commercial hedgers are starting to hit the currently elevated oil prices (see chart below). US producers have been very aggressively hedging their production over the last week; we have never seen such large volumes, which basically stopped the rally for a while. It may be a puzzle to some why shale producers are so eager to hedge their revenues when they can't just yet hedge their costs. The enthusiasm, we believe, stems from the productivity gains that horizontal fracking has achieved since the height of the Oil Wars (see chart below). And for many of these producers, the rising prices will enable them to rescale their output alongside increase in potential revenues while costs remain under control. We think the hedging process will start hitting crescendo once $55 is taken out.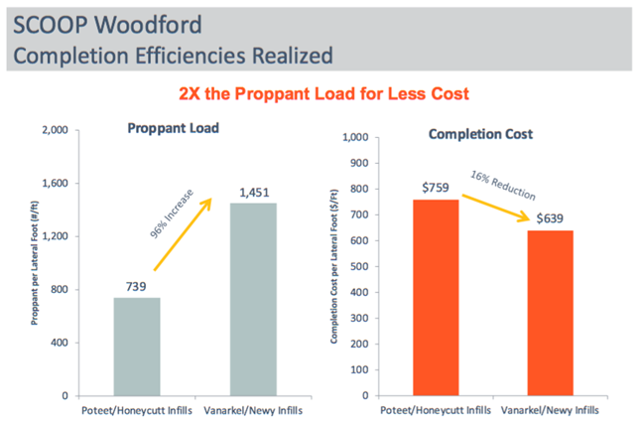 Our reckoning also shows that the oil price may have to rise to $60 per barrel before drilled, but left uncompleted wells ( DUCs) are reworked on a larger scale. Nonetheless, we suspect that many of these DUCs are not good prospects, otherwise, they would have already been in production. So, we likely have the dregs remaining, not the first-class elite wells that would be needed for easy fracturing and high production. The DUCs, we believe, will not be a strong factor for a significant increase in oil production going forward.
Horizontal oil rigs in US shale country started to reappear when oil prices went north of $42.00, and as oil prices rise further, the frack army will attempt to mobilize just as fast. However, shale oil may not be able to deliver what it was hyped it can do for the following few reasons: (1) with no or little development capital presently available, the decline rate is probably more like 10 percent or 9 million barrels per day. How much capital would be required to, say, double production? (2) Second, rapid development happens in the best spots, where economics are best. The fact is almost all previous activity had happened on the "sweet spots". How much of those "sweet spots" are still there?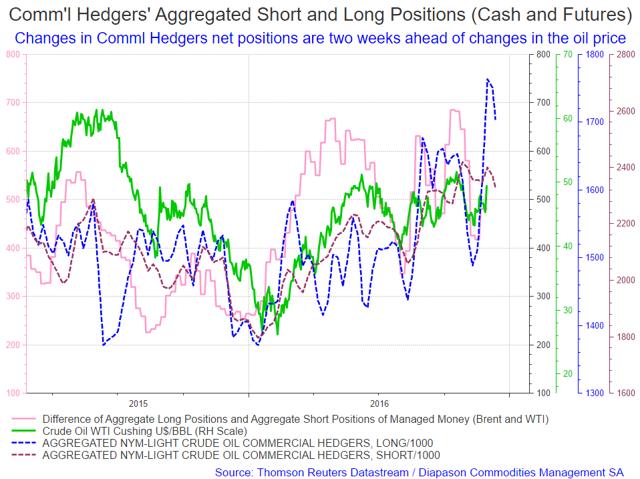 OPEC's decision to drive down prices in 2014 dried up Capital Expenditure (MUTF:CAPEX) flows around the world. Bloomberg had calculated that $200 billion was removed from global energy capex budgets in 2015, with a similar amount due to be lost this year as well, if not slightly more. Let's just focus on the actual capex which were lost. It means that $450 billion that was earmarked to keep global oil production growing roughly in lockstep with demand growth was gone. And that number will grow, and maybe by a lot, for as long as oil prices remain low (as in below $60.00 per barrel) for very long.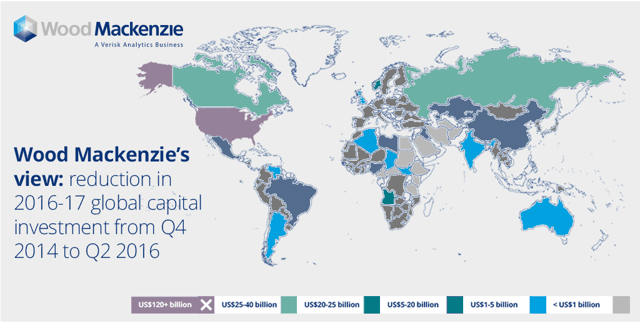 Discussion on the subject of oil well natural decline rates is a big omission on most discussions of supply-demand aspect of the oil market. Natural decline rates (NDR) globally are hard to nail down with great precision - rates vary depending on amounts of maintenance capital available and incurred, for example - but some reasonable assumptions can be made. Most studies to put the number at circa 5 percent, but we get slightly conservative, and pick on 4 percent. That simply means that each year natural declines will take about 3.6 million b/d out of the 90 million b/d production base. Or put in a better context, the NDR of oil wells globally is close to one entire shale-revolution, a revolution that took more than 5 years to develop. Our proposition therefore is that the price of oil will materially strengthen over the next few years, and that argument owes it origin to the vectors shown in the chart below.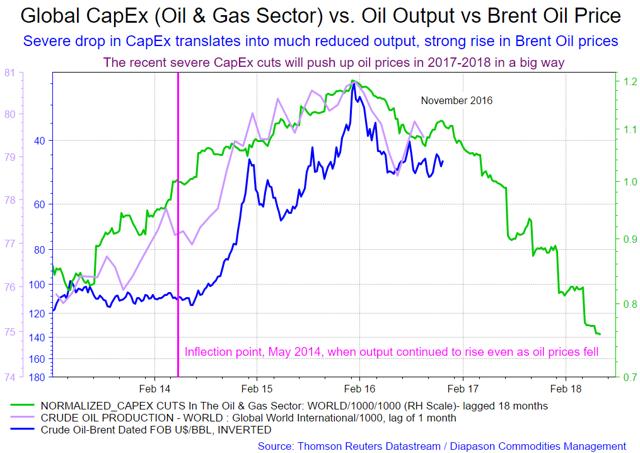 We believe that one of the rationales for KSA and Russia teaming up for a production cut deal, despite geopolitical differences, is awareness of severe supply dislocations in the years up ahead. More than enough investments had been cut (actual and planned) by the oil industry as a whole and that if prices do not go back up fast enough (thereby encouraging rationalized production), the world will face $100/bbl oil in the coming years. The Algiers and Moscow deals were the turning points of the Oil Wars, and catalysts for higher prices in the coming months and quarters. However, the agreements may have come too late, and we still believe that the spectre of $100/bbl, or higher, crude oil is still in our not-too-distant future.
Disclosure: I/we have no positions in any stocks mentioned, and no plans to initiate any positions within the next 72 hours.