Crude oil's range-bound price may not stay that way very long - expect prices to trade lower until mid-year
"At the time when producers signed the deal, the initial commitments were to gradually increase cuts until April and May, so we were expecting to see some producers not fulfilling the 100 percent cuts. We understand the circumstances, and in February we are talking to non-OPEC producers to raise their cuts according to their commitments."
Oil Minister Essam Al-Marzooq, Kuwait Oil Minister, February 13, 2017
Six weeks into the agreements to cut output, total US crude imports from OPEC, Saudi Arabia in particular, and elsewhere have risen to 8.661 million barrels per day, their highest levels in 4 years. As a consequence, US crude inventories posted a new record high, 5.1812 mb per day. This is happening even as US crude oil exports set a new two-week record, as reported by the Energy Department. For the week ending February 10, it reported crude exports averaged 1.026 mb per day, and 1.211 mb per day for the week ending February 17 -- up nearly 200,000 barrels a day from the week earlier and about 350,000 barrels above the four-week average. Until recently, the US was exporting exporting about 500,000 barrels a day.
The US export data is highly significant because the volume reported is very close to the estimated cut made by OPEC members. Simply put, US exports are replacing the OPEC barrels that have been cut, in the world market. The OPEC and Non-OPEC producers agreed to cut about 1.8 million barrels a day from the world market in an effort to stabilize oil prices -- OPEC removed about 890,000 barrels a day from the world market in January. But there may be some legerdemain involved with these numbers, as they included outages due to planned maintenance in January.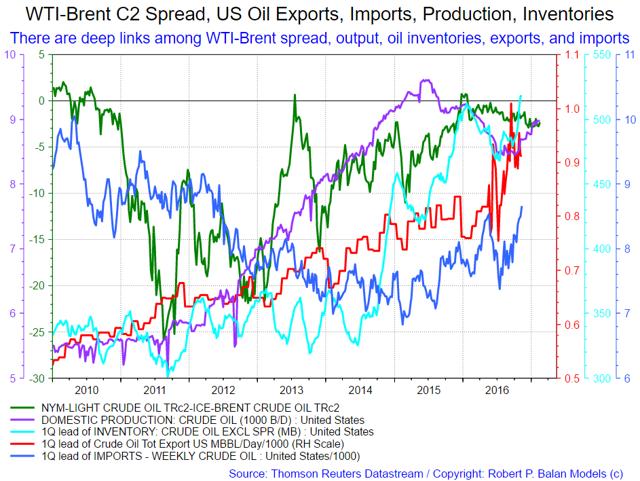 Live link:
product.datastream.com/dscharting/gatewa...
Moreover, the Energy Department will begin the scheduled sales from the Strategic Petroleum Reserve (NYSE:SPR) in the coming weeks. This is expected to add about 100,000 b/d to U.S. supplies --relatively small amount (but not insignificant), and still about half of the cut in exports to the US that analysts expect from OPEC members. These, among other issues, are the reasons why crude oil prices have been range-bound since December, despite universal investors' enthusiasm for the output deals. The other issues are less stark, but it is looking like higher or lower oil prices in the near-term will depend on Saudi Arabia's willingness to cut further to make up for these outputs, or whether or not KSA can keep its nerve while it continues to lose market share. To us, it strains credulity that KSA will cut further to make up for renewed vigour in US production, and that KSA will sit on their hands while their major competitors (OPEC and Non-OPEC) get the major benefit from current, relatively higher, oil prices.
It is also almost certain that oil production in the US will continue to ratchet higher. There is a particular temporal sequence that governs the influence of oil price on the number of operating oil rigs, and the consequent production after a short lag. Two months after oil prices sufficiently rise, the number of oil rigs begin to pick up. Six months after a significant oil price recovery, oil output increases significantly (see chart below). Baker Hughes reports that the number of rigs drilling for oil has risen by more than 280 (almost 90 percent) since the end of May 2016. Exploration and production firms are deploying an average of an extra 10 to 15 rigs each week to boost their oil output, according to Reuters News. Rig counts tend to affect recorded output with a significant lag because of delays in fracturing and other completion services as well as the gap before new production is reported.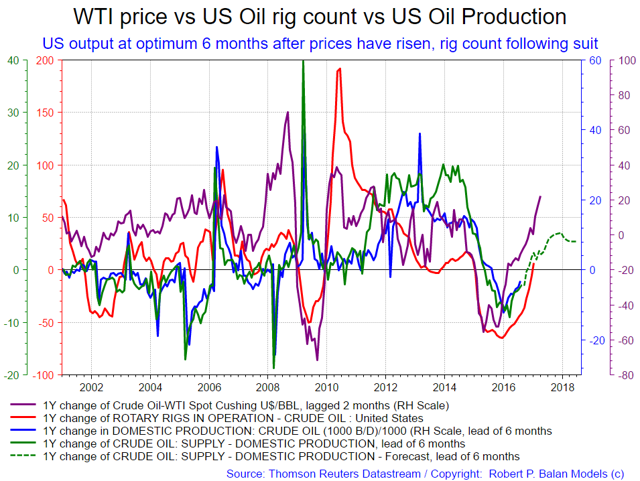 Live link:
product.datastream.com/dscharting/gatewa...
Recorded increases in US oil output during October and November were likely the result of extra rigs deployed several months earlier. So the continued rise in the rig count during the fourth quarter of 2016 and in early Q1 2017 should ensure that recorded output rises for at least the next six months. The volume of output during this period may even be higher than historical norms -- productivity per rig has soared tenfold or more since 2010; it is still rising. Therefore, even assuming that oil prices will weaken soon, oil output should still be rising over the next 6 months (see chart above) - which of course puts more pressure on oil prices, even if the continuing increase in production is a mechanical response to the previous rise in oil prices.
US domestic output will rise by 430,000 bpd between December 2016 and December 2017, according to the EIA. Production from the Lower 48 states excluding the Gulf of Mexico is forecast to rise by 360,000 bpd ("Short-Term Energy Outlook", EIA, Feb 2017). However, history suggests that shale output often turns out higher than forecast due to various reasons, which suggests a strong possibility that domestic output will increase by even more than 360,000 bpd over the course of 2017. In fact, the EIA made upwards adjustments recently, as reported by Reuters:
The EIA has already revised up domestic production growth for the period December 2016 to December 2017 from 210,000 bpd as recently as November, and shale growth up from just 10,000 bpd.
EIA is now forecasting U.S. domestic output of 9.28 million bpd in December 2017, up from 8.94 million bpd at the time of the November forecast ("Short-Term Energy Outlook", EIA, Nov 2016).
Forecast production from the Lower 48 states excluding the Gulf of Mexico has been revised to 7.06 million bpd, up from 6.48 million bpd in November.
The EIA has revised both the baseline and predicted growth rates higher in recent months, adding hundreds of thousands of barrels per day of extra production by the end of the year.
Paris-based International Energy Agency (IEA) is more optimistic about shale oil performance this year -- it reported last week that U.S. shale oil output is set to rebound by as much as 500,000 bpd over the course of 2017, which would be a new record.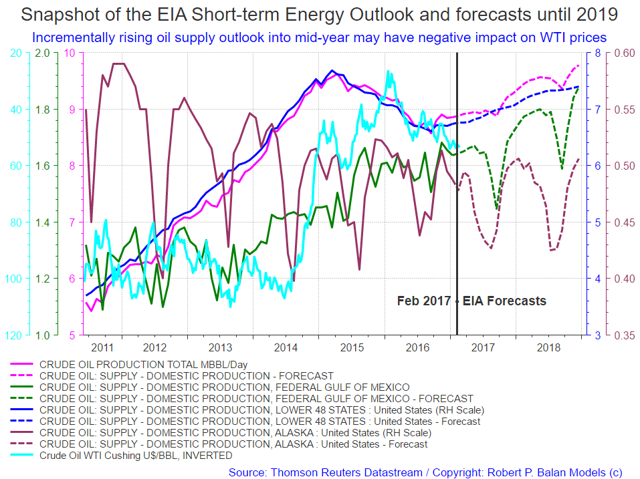 Live link:
product.datastream.com/dscharting/gatewa...
US oil production is offsetting cuts in OPEC's exports to the US at a time that US crude exports are gaining global market share. It is a different situation for Saudi Arabia, which has been losing some of its Asian markets share to Iran. Report show that Iran has taken market share from Saudi Arabia in South Korea. While South Korea's imports of crude oil from Iran doubled in January., the country's crude oil imports from Saudi Arabia fell 17.3 percent in January compared to December 2016. Russia has also been making inroads in South Korea at Saudi Arabia's expense -- South Korea began buying crude from Russia for the first time in a decade, as Asia as a whole increased purchases of Russian crude. That Russia benefits from the Saudi's self-imposed cuts will start to bring more focus to OPEC-non-OPEC deal. And what could be galling to KSA is that Russia overtook Saudi Arabia as the world's largest crude producer in December, just before both countries started restricting supplies to implement the agreed cuts with other global producers to curb the worst glut in decades. Obviously, Russia had gamed the output cut process; KSA also did it, as well as other lesser members of the OPEC. And now all that last-minute surge in output is coming home to roost (it takes 47 days, on average, for OPEC exports to make it to the oil agencies' data bases).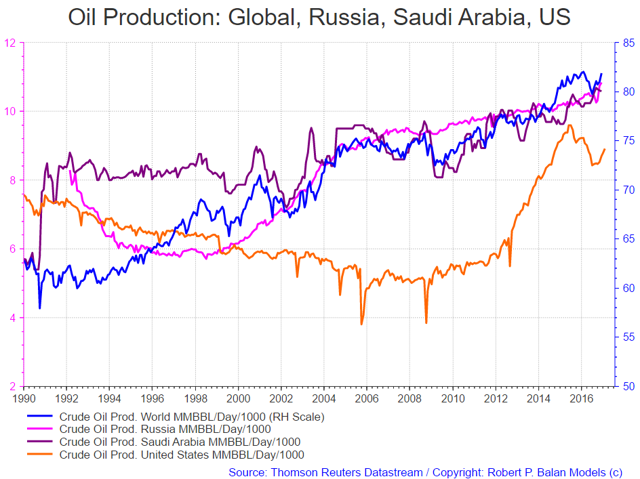 Live link:
product.datastream.com/dscharting/gatewa...
There is yet no reason to believe that the output cut deals are unravelling, but even within OPEC, there are some disturbing hints of ill-discipline as competition intensifies. The CEO of Kuwait Oil Company (KOC) Jamal Jaafar, said in a report that Kuwait's oil production reached 2.75 million barrels per day, well above its quota of 2.707 mmbd as agreed at the November 30 th meeting, and higher than the 2.710 mmbd reported by January. This would not mean much otherwise, except that the Kuwaiti oil minister, Essam Al-Marzooq, is head of OPEC's monitoring committee, and he himself stated at the monitoring meeting's press conference last month that OPEC will accept no less than 100% compliance by its members. Mr. Essam will have a difficult task ahead -- US Bank JP Morgan reported that its own sources do not confirm OPEC claims of compliance. Four countries are actually increasing output above their reference levels, including Iraq, Venezuela, Algeria, and the Emirates, the bank said.
That oil prices have been very resilient and steady, despite the difficulties being met in compliance of the agreements (particularly from Non-OPEC), stems from investors' enthusiasm that the deals will stick and eventually produce higher oil prices -- Managed Money (hedge funds, MM), particularly, feel that the agreements (and OPEC assurances) have provided them a put on oil prices. Morever, the MM positioning has been encouraged by the transition of the one-year oil forward curve from very deep contango in Q4 2016 to marginal backwardation presently (see chart below). However, the transition is still tenuous, and for us to use this factor as rational for bullish trades, we would like to see the curve move deeper into backwardation, and for some time.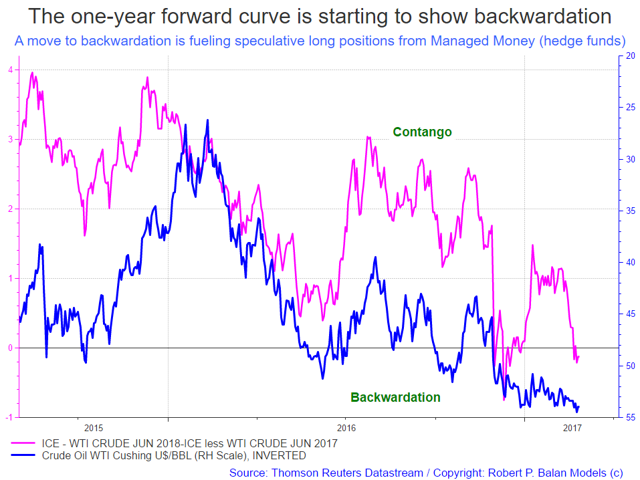 Live link:
product.datastream.com/dscharting/gatewa...
Managed Money's enthusiasm shows -- the positioning length is still increasing. For the latest weekly report, WTI Managed Money's net length increased by about 33k contracts, erasing last week's net length reduction. Of these, speculator longs built circa 13k contracts while speculators shorts covered built circa 20k contracts. Speculators longs made a new record this week while speculator shorts are at the lowest level since early Aug 2014. These are hallmarks of the extremely bullish interpretation of oil fundamentals and of the belief that the output deals will power through by money managers and speculators.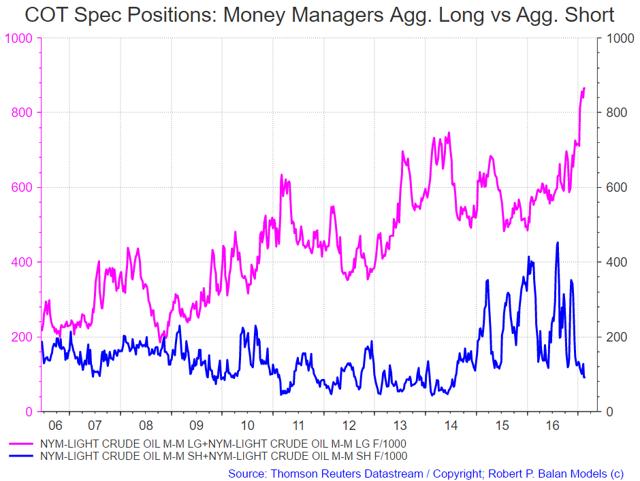 Live link:
product.datastream.com/dscharting/gatewa...
The combined WTI and Brent Managed Money speculative long position is even more positive. Historically, the change rate of the net aggregate position had driven the changes in the oil price -- but there is a hiccup this time around. The moves in the underlying price have not kept up with the moves in super-bullish length, so far. But momentum is definitely on the side of the oil bulls, and this could drive the Brent price to the $60.00 area in the short-term. But that is not a given, and even if that takes place, the rally will almost certainly be met by a wave of selling from institutional hedgers. New speculative buying has to reappear to overcome that selling wall, to bring Brent oil prices beyond $60.00.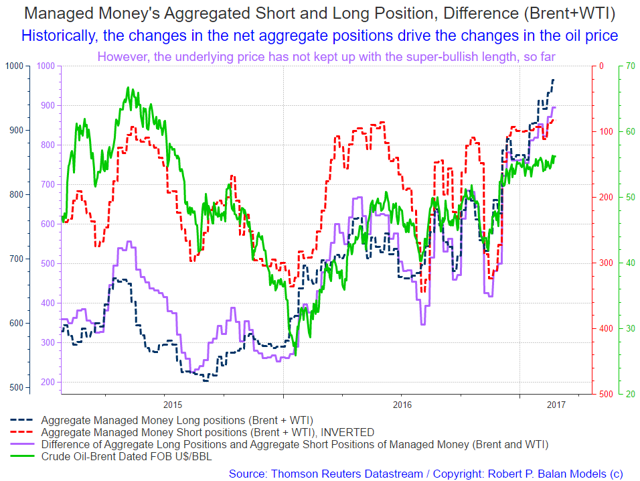 Live link:
product.datastream.com/dscharting/gatewa...
The extremes seen in speculative longs are seen in similar degree from commercial hedgers -- but with a bearish connotation: While commercial net length did not change much (up by ~2k contracts), both commercial longs (+~56k contracts) and shorts (+~54k contracts) are near or at record highs - commercial hedgers' short positions are almost twice as those of the long hedgers (see chart below).
Live link:
product.datastream.com/dscharting/gatewa...
The bearish stance holds holds true for US crude oil producers, who sold additional 48 million barrels last week, raising short hedges to 756 million barrels YTD. The record short interest is 789 million barrels. Producers appear to want to ensure they can maintain future oil prices in the $50s in the event that the market does break lower under the weight of high inventories. Producers' current hedges represent about 23% of US crude production for one year, and so hedge sales are far from constrained, so there is still room for short hedges to build. Hedge longs increased length by 36 million barrels to end at 477 million barrels YTD. This buying offset some of the selling by hedge shorts, but the fact remains that aggregate producer-users' short positioning is almost twice as much as those of aggregate producer-users' long positions. This group also includes end-users as well as refinery processors.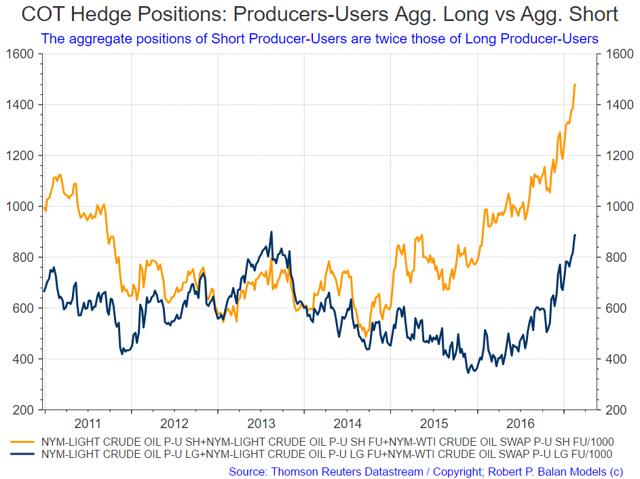 Live link:
product.datastream.com/dscharting/gatewa...
Those extremes in the two-way positioning from speculators and hedgers are what have caused oil prices to be range bound since December - but something will give way soon. We are watching US oil producers-users which are using swaps to implement their hedges, as proxy in tracking the battle of the hedgers. Large oil producers-users using swaps are said to be more sophisticated in the hedging process and are usually in there for the long haul. What we are seeing is that long producers-users in swap hedges are starting to unwind longs, while short producers-users using swaps continue to furiously add to their short positions (see chart below). We expect the short hedgers to win this particular battle.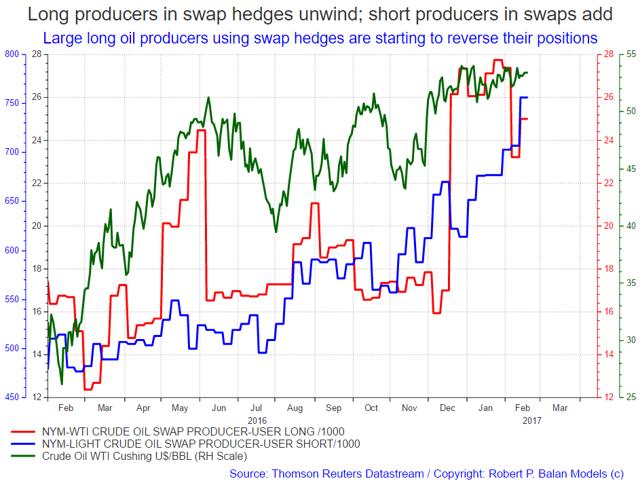 Live link:
product.datastream.com/dscharting/gatewa...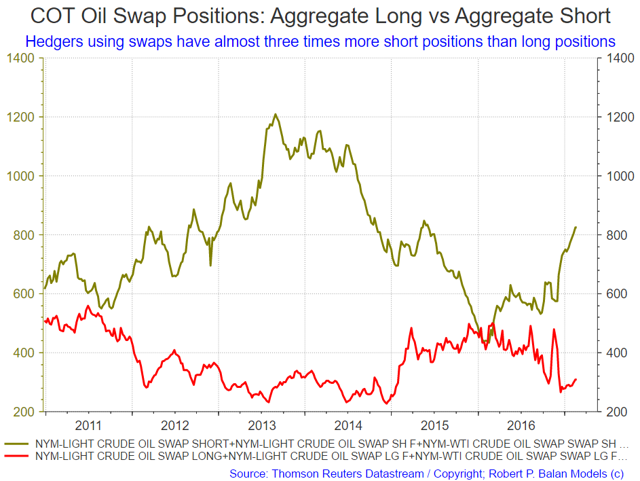 Live link:
product.datastream.com/dscharting/gatewa...
In fact, the summary of the positioning is that while Managed Money has been an over-all supportive factor, the bigger impact has been Producer-User selling -- a LOT -- nearly 219k contracts YTD while Managed Money length has increased by merely 74k contracts YTD. Commercial interests have been predominantly short as well. But there was no offsetting effect because the foci of the investments have not been the same: managed money's build in length has been supportive to the front of the curve while the back end has been hit with a lot of hedge selling by producer-users and commercial interests. Price has indeed responded, but not in the front end of the curve which has remained essentially flat for over a month. The back end of the WTI curve, however, has gone lower by $3 YTD since year-end (the green dotted line below is the futures curve as of 31Dec16 and the orange dotted line is as of today).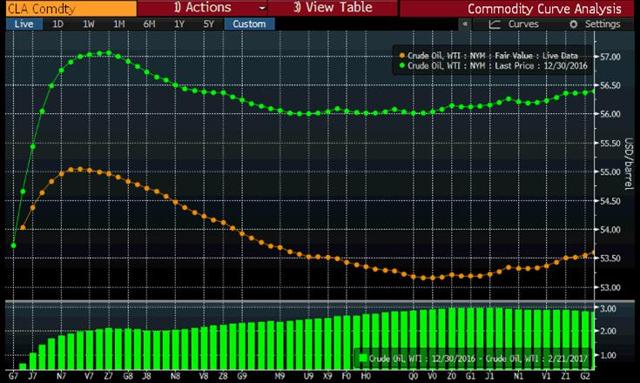 This price divergence is a manifestation of the process where speculative longs are hitting the front contract, while the hedger shorts are selling the far contracts. Oil producer-users establish hedges for the second, third, fourth, fifth, sixth, and seventh contract months against his production during the first, second, third, fourth, fifth, and sixth months ahead. This has flattened the curve, and has given rise to backwardation, a market condition where the nearby month trades at a higher price relative to the outer months. Such a price relationship usually indicates actual or expected tightening of supply, which in the current situation can also be attributed to seasonal factors -- refiners' oil input is about to rise any day now (see two charts below).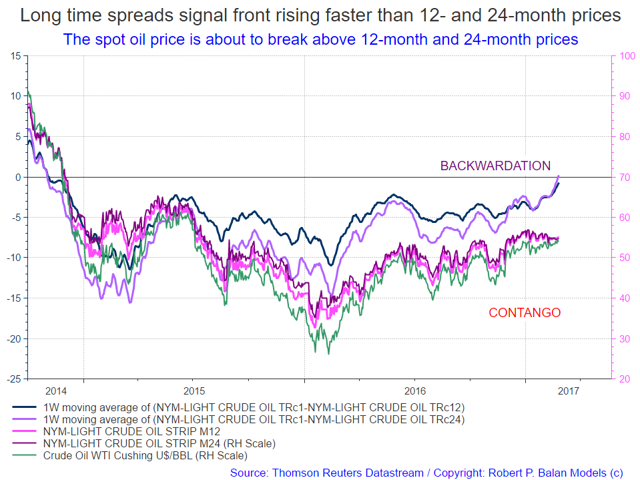 Live link:
product.datastream.com/dscharting/gatewa...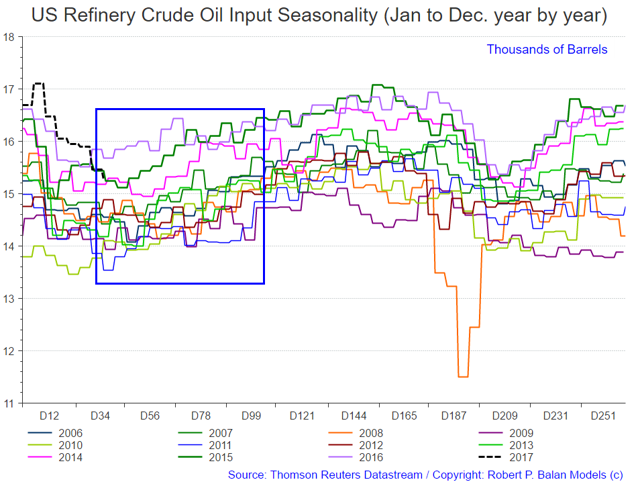 Live link:
product.datastream.com/dscharting/gatewa...
Conclusion:
We did not speak about actual demand and demand expectations as we concur with the EIA's forecast that the oil market will balance only by mid-year, and that demand will peak (due to seasonal factors) only by early Q4 2017. So, in the interim, it will be supply-side issues which would determine the evolution of crude oil price until mid-year. It is possible that the powers that be in the KSA will grit their teeth and cut output further and allow their market share to dwindle, so as to keep the spirit of the oil agreements intact.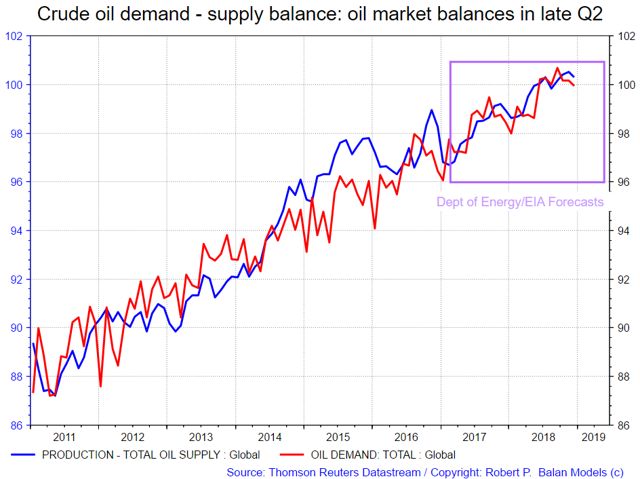 Live link:
product.datastream.com/dscharting/gatewa...
But . . . that may be asking too much from the Saudis, and for that matter, from any major oil producer similarly situated in their shoes. Indeed, it may also happen that the oil producers will find a way to meet the agreed upon targets, without any further shenanigans. However, with US oil producers threatening to make a repeat of pre-2014 surge in oil output, we doubt very much if OPEC and the Non-OPEC signatories to the agreements will leave the field to the Americans. They certainly have to be concerned that US oil producers are eating into their market share, and are undermining on a daily basis their efforts to rationalize global oil supply. Saudi Arabia will take its state-owned oil company Saudi Aramco public in 2018, and so it has interest in pushing oil prices higher, as the initial market offering will gain from it. That is considered as one of the key factors driving the Saudis right now, but we have no idea how much a factor this is on a KSA response to the new US production onslaught, or even if any is forthcoming. Moreover, just because KSA wants to push oil prices higher due to Aramco, or for any other reason, means to say they will get. The time is long past when KSA and OPEC can dictate the price of oil -- with US oil production spoiling their game at every turn, they will have to fight hard to get what they want.
Unless the Saudis and the Russians find a way to make US oil output moderate soon, the period between now and mid-year could see oil prices coming down as investors lose their enthusiasm and conviction that the agreements will stick. Nonetheless, we expect H2 to be a more favourable period for rising oil prices, well into early next year, using the EIA forecasts (see above chart) and the oil terms structure as bases (see charts below).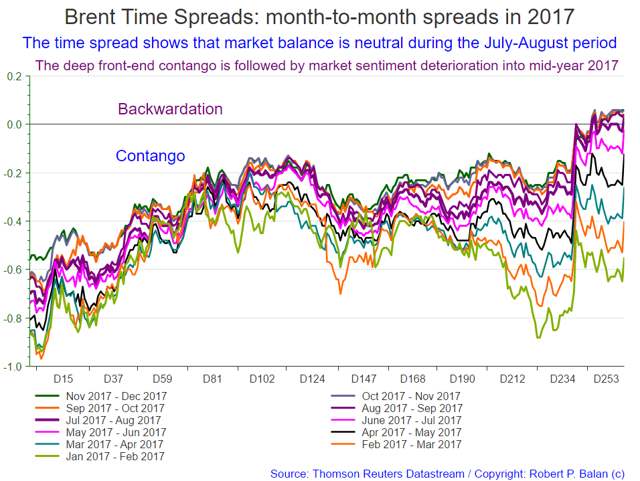 Live link:
product.datastream.com/dscharting/gatewa...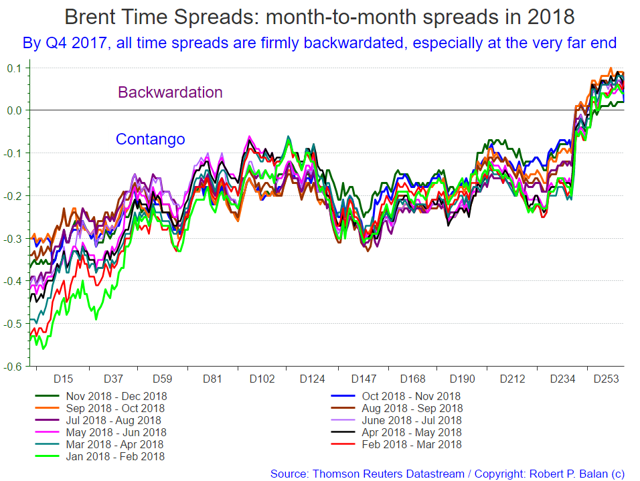 Live link:
product.datastream.com/dscharting/gatewa...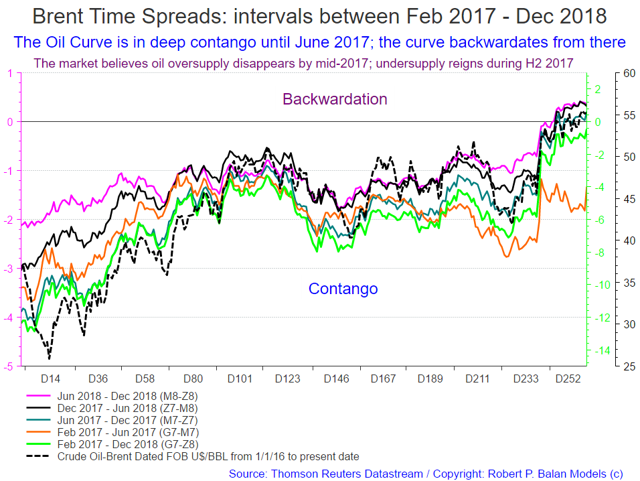 Live link:
product.datastream.com/dscharting/gatewa...
However, that back-end selling has us concerned about the longer-term bullish view, because of the single-minded focus of producer-users and commercial interests' short-hedging forward oil prices, especially as spot prices continue to remain firm at these levels -- that may not bode too well for bullish interpretations at the back-end. And it will also definitely hamper any price rise in the front-end, as producers and commercial interests continue to sell at any appreciable uptick in price, as was happening this week. Moreover, it is logical to conclude that the reason for hedgers' predilection for the back-end is the expectation that if the output cuts end in June, the OPEC-Non-OPEC normalized output would quickly add circa 1.0 million barrels per day to the market (the estimated current global production). That would be significantly bearish for the price of oil. This outlook is, in fact, implicit in the consolidated EIA and IEA forecasts of global oil supply and consumption over the next two years (see chart below). Producer-User and Commercial Interests looking at these consolidated numbers would be justified in piling short position hedges heavily at the far-end crude oil contracts .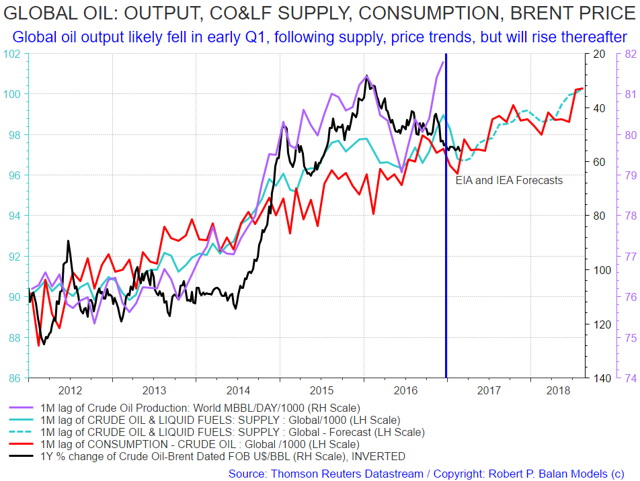 One resolution of this bleak scenario is to extend the output cut agreements further into the future. But we wonder if KSA is willing to turn its current mere discomfort over lost market share into real pain of huge opportunity losses -- which it will have to bear twice in a row. The first was the 2014-2015 KSA output surge fiasco, which collapsed oil price -- a direct response to US shale oil's sharp increase in output. We point out that the current oil agreements were crafted under KSA leadership to rectify exactly that 2014-2015 disaster.
If global oil demand grows significantly, then it may be that all is well that ends well. But it better be that global oil demand improves by about 1.0 million barrel per day or better by July, otherwise, we could possibly have another supply surge during H2 2017 (which would add an aggregate of circa 15 to 17 billion barrels in 6 months). Paris-based IEA expects world oil demand growth of around 1.3 million bpd in 2017.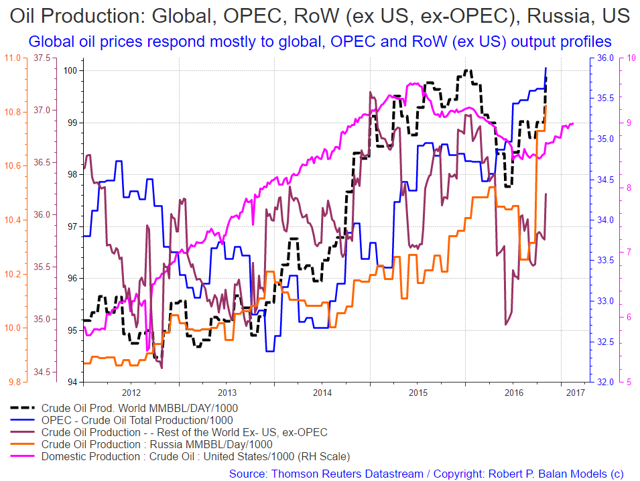 Live link:
product.datastream.com/dscharting/gatewa...
Meanwhile, the 3-month volatility of WTI oil continues to fall, and will probably decline to circa 20 sometime in the next few weeks. After that we expect an uptrend in vol as genuine two-way pricing comes back in the market. This could be a good trade if you have experience in vol trades. See the chart below.

As a guide to those who want to trade oil volatility, here is one tip: impending changes in price and volatility tend to show up first in the changes in the oil term structure (see chart below). This makes sense, as most of oil structural trading is in the form of spreads, even in hedging operations. This makes sense as the temporal dynamics of output-supply-consumption are better understood (due to well-established seasonality factors) than the vagaries of global growth, which ultimately drives oil demand and consequent price.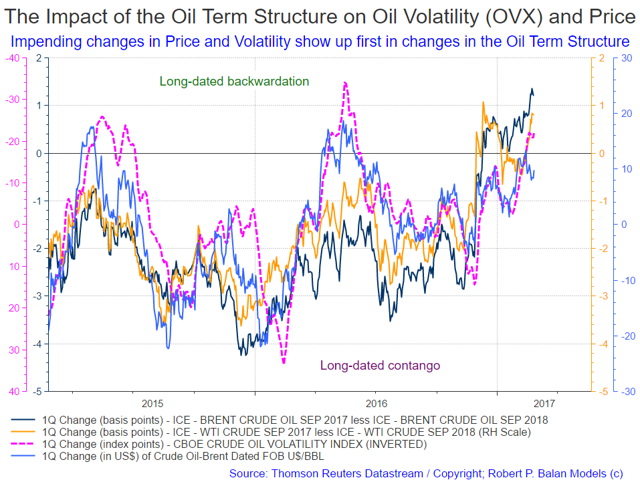 Live link:
product.datastream.com/dscharting/gatewa...
NB:
The original post can be found here:
sut2.co.uk/l/c.php?c=41501&ct=112573...
Disclosure: I/we have no positions in any stocks mentioned, and no plans to initiate any positions within the next 72 hours.