(This actual Market Report was written pre-NY market opening, on October 8, 2019, and was updated until the NY market closed. Seeking Alpha has been encouraging SA service providers to become more transparent, and show actual reports and interaction between providers and subscribers. We are providing this report to showcase what PAM provides to the members of the community).
Why not take a free two-week trial subscription, have a look at us and see if this community of veteran investors is a good fit for you?
Please go here
Robert P. Balan @robert.p.balanLeaderOct 8, 2019 3:36 PM
GOOD MORNING
Market Report At The Chat, October 8, 2019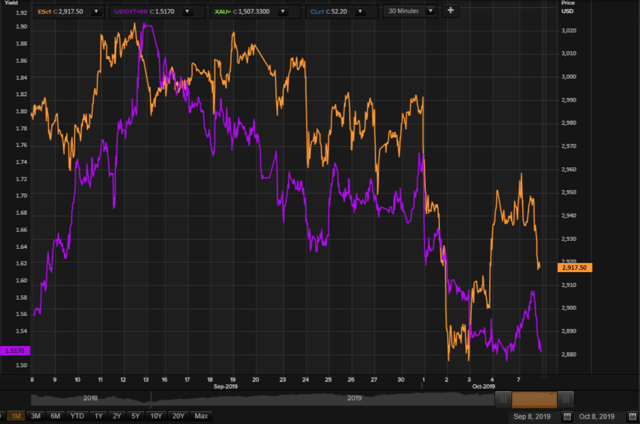 The expected correction in ESc1 is happening, and it has brought the market back to the middle of the 2920 - 2910 target. Lets see if the correction ends near these current levels.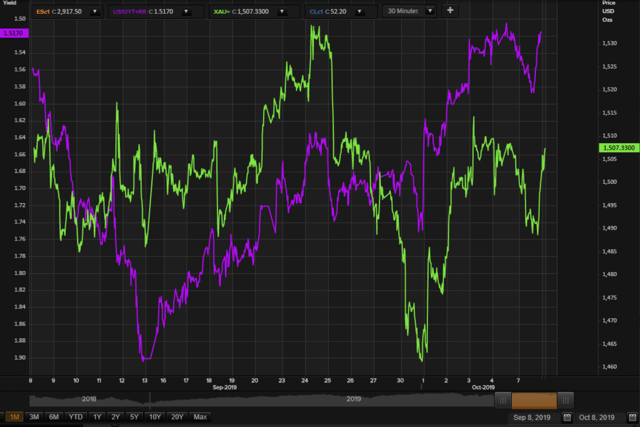 So gold came alive after yields fell, and looks to test the recent 1.50 low. I don't know if this pushes up gold to the model-indicated 1,520 target, but we will certainly look for the potential for that target to be reached.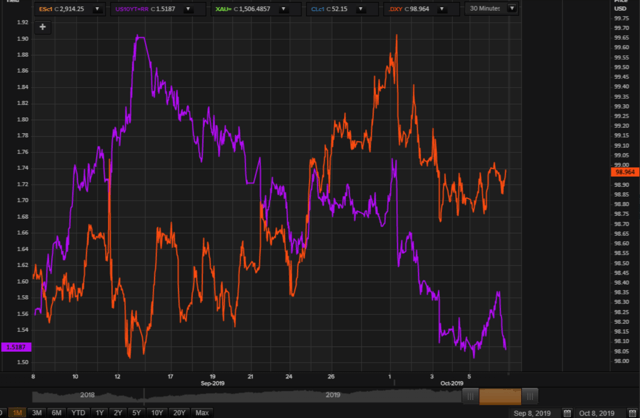 The lagged positive covariance seems to coming back, but is has just been one day, and with equities lower, DXY is bid while yields fall. Seems to a a little bit of safe haven jockying again. It seems fruitless to count of the covariance model to provide us timing as to when DXY should be sold. We will look for triggers for the short DXY trade elsewhere.
Crude oil probably provides the best lead into the manner the current asset price correction will take. CLc1 may make a small bounce and then tests the recent trough. If it holds, and we believe it would, we should see a double bottom in the CLc1. Ditto for the 10yr yield -- a marginally lower yield completes the yield set up, when oil and ESc1 resumes the uptrend.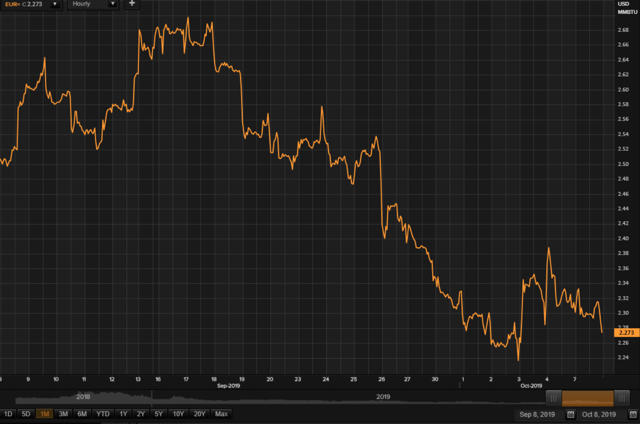 NGc1 -- set for a move lower to 2.26, then we see if the wave 2 set up takes hold.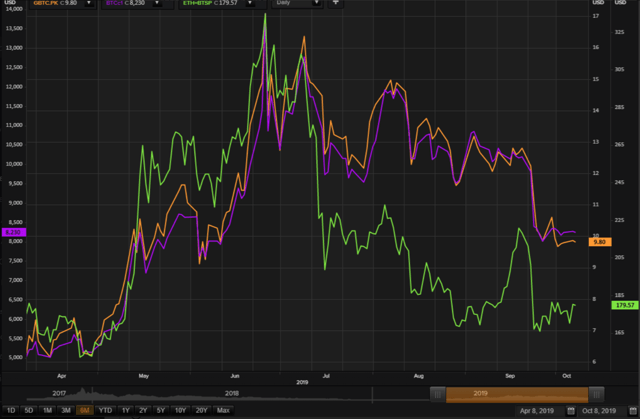 ETH holds promise, but need to convince the rest of the crypto universe. We'll keep watching.
Current status of models.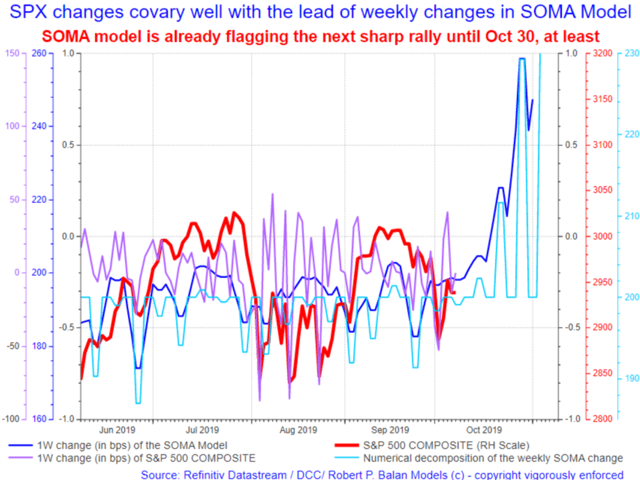 HF model still looking for a significant uptick, following the humongous amount of liquidity the Fed is doing in support of the repo market, which is virtually stealth QE4. We don't have long to wait to find out whether or not the models are lying to us.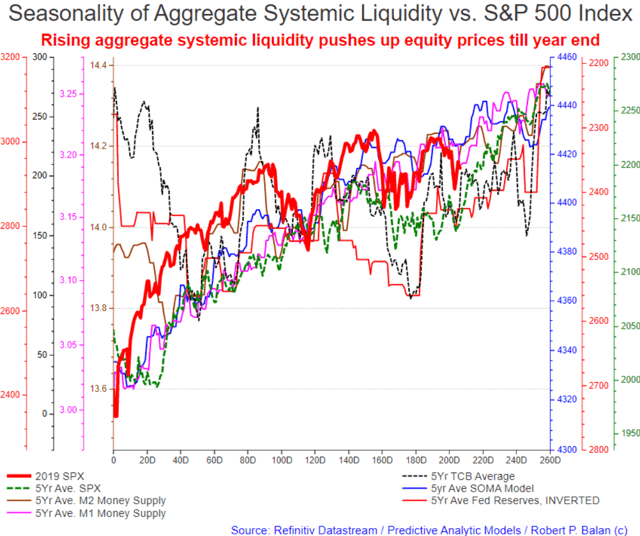 The *suggestions" of a strong uptrend in equities in the near term as derived from the HF SPX model gets plenty of support from the historical seasonality of all the major sources of systemic liquidity (see chart above). The aggregated model values also point to a rally in equities up to year end.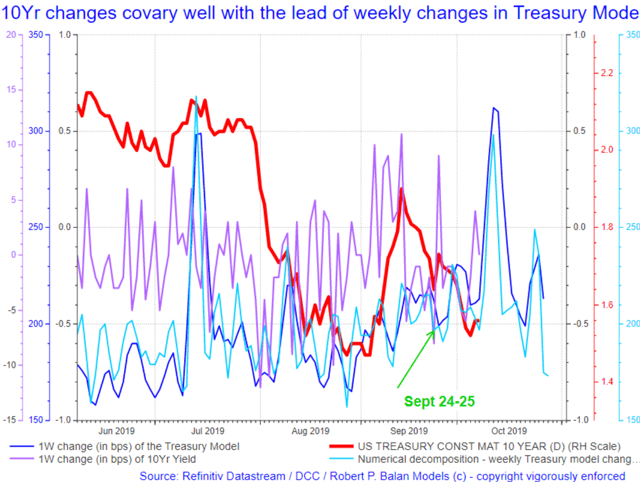 Robert P. Balan @robert.p.balanLeaderOct 8, 2019 4:24 PM
The 10yr yield, as usual, leads the turn. It's at the verge of a lift-off, which may be spectacular, if the previous 5-yr average of yields holds in this cycle. If the close today will be higher than the close yesterday, we might just have a LIFT-OFF in our hands. 
The thing to watch for, if that happens, is for a strong updraft in yields until Oct 11 to Oct 18, as provided by the historical relationship shown in the chart below.
October 8, 2019: bond yields are at the verge of a sharp lift-off.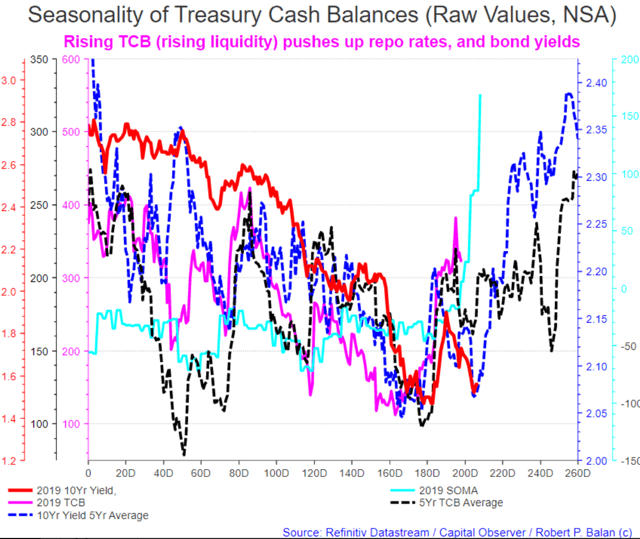 The actual (2019) 10yr yield has hewed back to the 5yr historical trajectory of the US 10yr yield (dashed blue line), in the chart above. If the effect of the Fed' current (2019) balance sheet (light blue line) proves similar to what has been seen in the past, then the 10yr yield should rise significantly from here.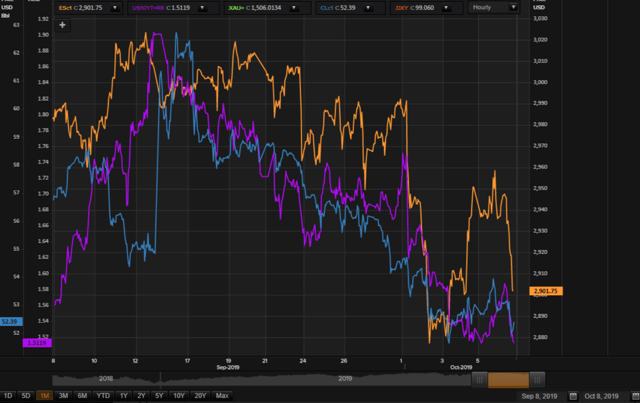 Let's see if the CLc1 delivers the double bottom goods. Then that could true for ESc1 and the 10yr yield as well (see chart above). 
Open to discussions.
FlyTight @flytightOct 8, 2019 5:11 PM
Robert Good morning Robert. Another messy day in the markets. Watching gold, it appears that the London markets are focussing on buying gold as a safe haven given the Brexit mess hanging over the pound. So sure enough gold bullion which was down yesterday, can't seem to stay down, with London again this morning raising gold up $13.00 or so. Gold then hits New York who hates gold, tries to knock it back down as usual. Doesn't seem like a good month to trade gold, given other unstable factors such as the Feds likely dropping yields again at month end, and China/US negotiations basically a farce right now. You feel any differently Robert?
vjapn @vjapnOct 8, 2019 5:24 PM
Robert, is this the retest on crude you were talking about?
Robert P. Balan @robert.p.balanLeaderOct 8, 2019 5:39 PM
flytightIf it is meaningful to you, we are looking for levels to exit all PAM long gold positions.
vjapnYes, it is.
FlyTight @flytightOct 8, 2019 5:45 PM
Yes, I have been shorting gold in and out using Dust, and that has worked fairly well, but gold is just so volatile day after day. Dust is moving about 5% on the day, and not trending or stable. Decided to sell yesterday and step back until a defined trend gets established.
I suppose the same can be said for crude....
What's up one day, is down the next....
Cherrytoffee @CherrytoffeeOct 8, 2019 9:23 PM
If China talks are a failure, would that override the PAM model? Would all that fed liquidity override all that bearish sentiment from the failed talks?
Cherrytoffee @CherrytoffeeOct 8, 2019 9:29 PM
There just seems to be too much bearish news these days. Hard to be bullish
Robert P. Balan @robert.p.balanLeaderOct 8, 2019 9:29 PM
Retail will definitely dump stocks if that happens. Negative random news will definitely hit prices. But I've seen this again and again -- the pros will be on the lookout for bargains when retail panics. That is why we ask individual traders to manage their own risk, with an eye on their own risk capability. We at PAM do not know the circumstance of everyone in the community. We likely have different risk tolerance capacity, it is up to everyone to trade according to their risk profile -- not ours.
But the markets have performed according to seasonal patterns of liquidity (although not on a day to day basis) remarkably well over the past decade at least. The work of Stephane C. shows that as well.
So at PAM we make the punt according to what our tools tell us, and watch for any divergence from historical performance. We understand how different the circumstance of everyone from us so we take the trades that illustrate how we see the market. That is the best way to show what we think since we are not allowed to directly provide trading advice.And of course, everyone is free to do something else. Or do nothing at all.
Alan Longbon @Alan.LongbonOct 8, 2019 9:38 PM
The trade is just a sideshow Trump Trade War Is A Side Show
Robert P. Balan @robert.p.balanLeaderOct 8, 2019 9:39 PM
And by the way, the uncertainty is there everyday for all the more than 45 years I have been in the market. Everyday is different -- the only constant is the uncertainty.
Cherrytoffee @CherrytoffeeOct 8, 2019 9:49 PM
Thanks for response..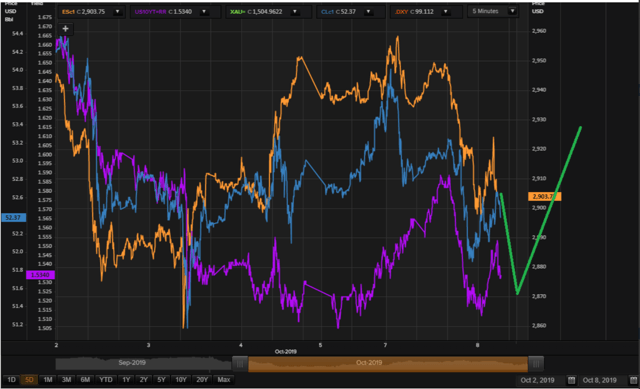 Robert P. Balan @robert.p.balanLeaderOct 8, 2019 9:52 PM
Maybe we will see the last downleg that we have been expecting, during overnight in Asia/Europe. Hopefully the previous support levels will hold on these Wave 2 corrections.
MARKETS CLOSED
Disclosure: I am/we are long equities. I wrote this article myself, and it expresses my own opinions. I am not receiving compensation for it. I have no business relationship with any company whose stock is mentioned in this article.
Predictive Analytic Models (PAM) provides REAL-TIME trading advice and strategies using guidance from US Treasury, Federal Reserve and term market money flows. PAM also provides LIVE modeled tools to subscribers in trading equities, bonds, currencies, gold and oil -- assets impacted by ebb and flow of systemic money. Sophisticated LIVE models to trade and invest in the oil sector are provided as well. PAM's veteran investors and seasoned traders can use PAM's proprietary tools 24X7 via PAM's SA service portal.
Try us for two-weeks, free. Please go here
Disclosure: I am/we are long oil, euro, bonds.