(This actual Market Report was written pre-NY market opening, on January 6, 2019, and was updated until the NY market closed. Seeking Alpha has been encouraging SA service providers to become more transparent, and show actual reports and interaction between providers and subscribers. We are providing this report to showcase what PAM provides to the members of the community).
Rida Morwa, principal at the High Dividend Opportunities, the #1 Seeking Alpha service provider at the MarketPlace, the largest community of income investors and retirees with +3000 members and ranked #1 in dividend,income and retirement, has this to say about Predictive Analytic Models (PAM):
Rida Morwa • Dec. 14, 2019 10:28 PM
Best Predictive Analysis!
"I have followed Robert on Seeking Alpha for a long time and decided to subscribe. He is one of the best analysts out there in his predictive models. You will get much more value out this membership than its cost. Robert talented with a very strong track record. Highly recommended. Take a 2-week free trial and see it for yourself!"
See all PAM Member reviews here
Why not take a free two-week trial subscription, have a look at us and see if this community of veteran investors is a good fit for you?
Please go here
----------------------------------------------------
Robert P. Balan @robert.p.balanLeaderJan 6, 2020 3:08 PM
GOOD MORNING
Market Report At The Chat, January 6, 2020
Our lead chart today is for equities, the yields (front-end and back-end).
Pardon me for being blasé, but I do not see any WAR spelled in any of these risk assets e.g., equities yields (chart above).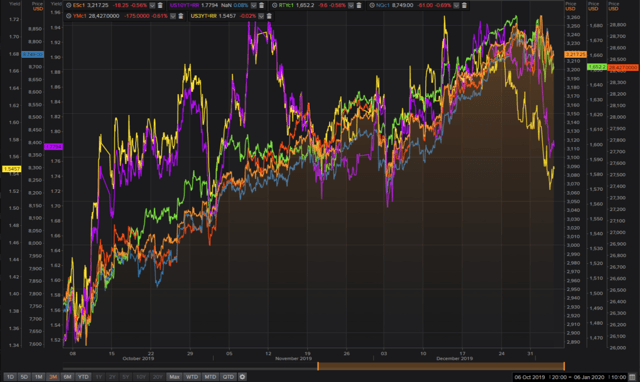 We don't see it here, either, in the energy sector (chart below).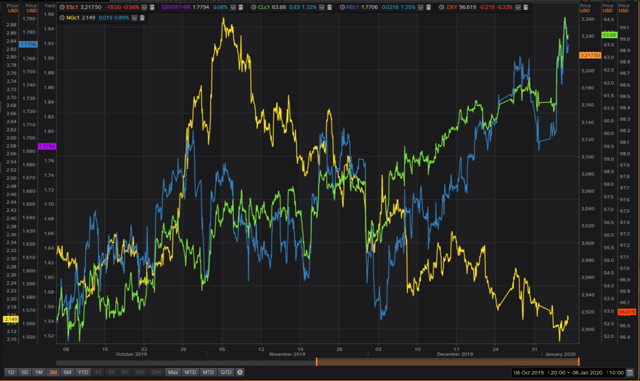 Robert P. Balan @robert.p.balanLeaderJan 6, 2020 3:18 PM
Two things may explain this muted reaction from risk assets:
(1) The markets believe that the global central banks will come to the rescue and any risk asset decline will be an opportunity to pick up cheapened assets, and/or
(2) The market believes that despite hot words, Iran is not really willing to go to war with the US -- at least not at this time, and not in the form that many believe it would take: a clash of arms.
Just as Ayatollah Khamenei tweeted to US President Trump right before he then killed Iranian Revolutionary Guards Council head Qassem Suleimani--"You can't do anything " -- at this point, Iran can't or more likely, won't, do anything to bring on a massive US retaliation on their military and "cultural" assets. Not right away, that is.
That means, we don't have to rely on catastrophic turn of events to provide risk assets the negative motive force. There are other, broader-based factors that are at play -- even before the US killed Suleimani. The systemic liquidity situation, which is undergoing a mini-seasonal drought, and has helped initiate the downturn process in risk assets as early as December 23 in the 10yr yield, and on January 1 in the SPX.
We saw the 10yr yield keel over as shown in this original chart published in the PAM Market Report of December 23. The 10yr yield at that time was right at the precipice of a brief mini-liquidity cliff which last about two weeks.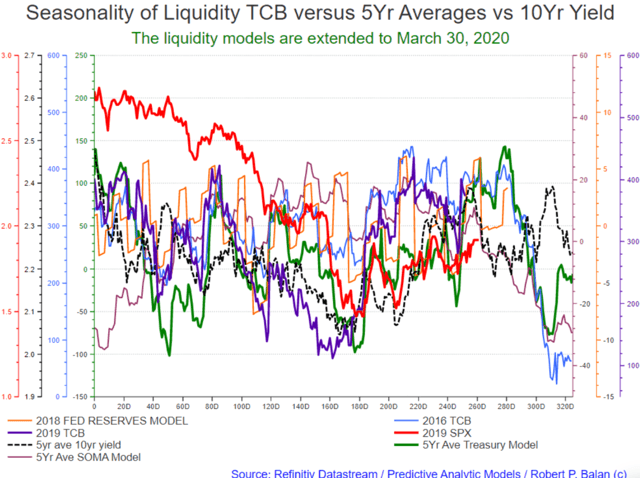 The SPX at that time has not topped out yet, and that was clear from the original chart coming from the same PAM Market Report of December 23. SPX needed a few more up days before it hits the start of the mini-seasonal liquidity drought (see chart below)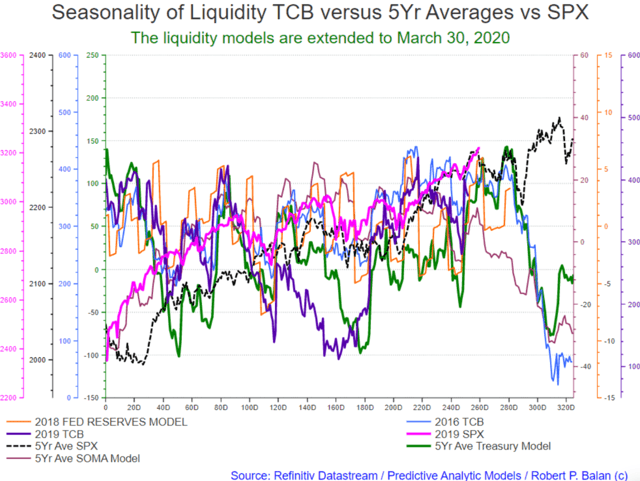 Clearly, the assassination of Sulameini significantly helped the risk assets lower, but the killing as not the only motive force for the risk asset price declines. Liquidity outflows were also cutting the markets at the knees.
It was also true that Gold was sharply higher, but it has been heading that way (all due to falling yields) even before Trump took out Suleimani. As we said before, Gold was due to make a higher high, primarily due to structural reasons (discussed in detail in the Dec 26 PAM Market Report), and the fact that we expect yields to (possibly) make a play on the 1.50% area again. Gold is in a long, structural bull-phase, and should be propelled by weakening US growth in H2 2020.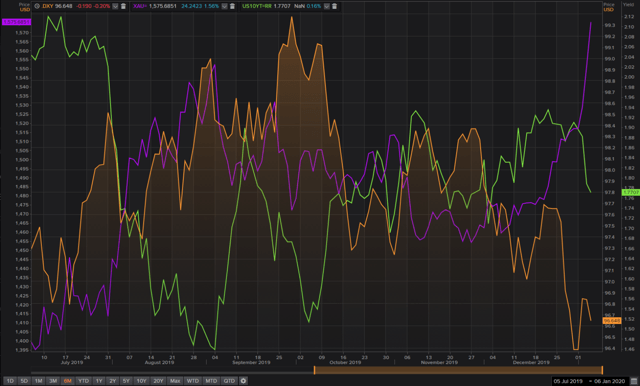 Robert P. Balan @robert.p.balanLeaderJan 6, 2020 3:29 PM
And we said earlier that the DXY was completing the wave of of a large Wave 3 series, and should be followed by more declines. Well it looks like the DXY is just about to resume the downtrend after a triangle-like consolidation pattern is completed, see chart below.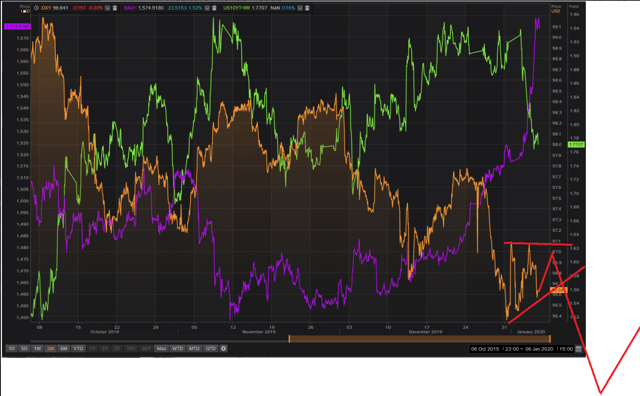 Robert P. Balan @robert.p.balanLeaderJan 6, 2020 3:36 PM
That would complement the completion of wave 5 of Wave 3 in the Gold (XAU) long term EWP structure.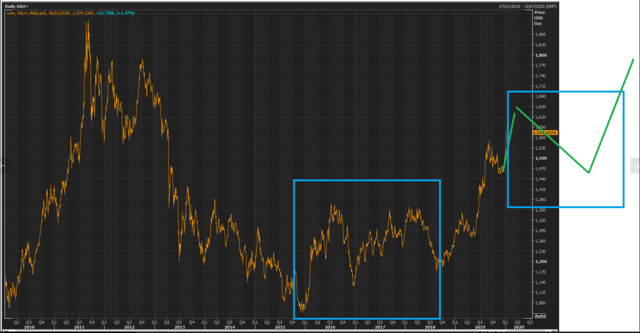 We explained this in greater detail in the PAM Market report of December 26.
So the hit on Suleimani helps the already on-going Gold rally, and may in fact help it overshoot normal EWP targets. But to assume that Gold will perform extraordinarily merely on this brouhaha might be a significant mistake. Nervous sentiment will help, but the gold rally will build on structural/growth and liquidity factors, further out, as in H2 2020.
This is what we said in the December 26 PAM Report:The grand rally in Gold will very soon resume with a vengeance. The Gold market has just completed a small wave 4 in a larger series of Wave 3, itself part of a grander time series which should end testing the previous high at circa $1,900 in 2011 (see chart above).
The expected declines for DXY are for the near-term. I am recycling a chart which we published a few days ago in the PAM Market Reports At The Chat, showing a near-term DXY decline.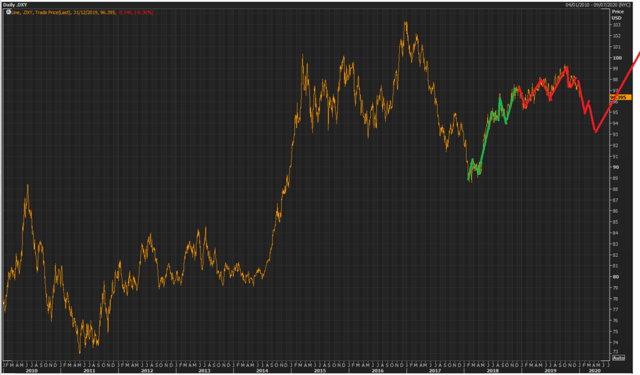 Nonetheless, the power of liquidity flows (plus a little understanding of the evolution of market structure), may help analyse asset price trajectory without being carried away -- at some point in the next few days, DXY may rise again following the broad strokes of the Treasury Cash Balance (light blue line, see chart below).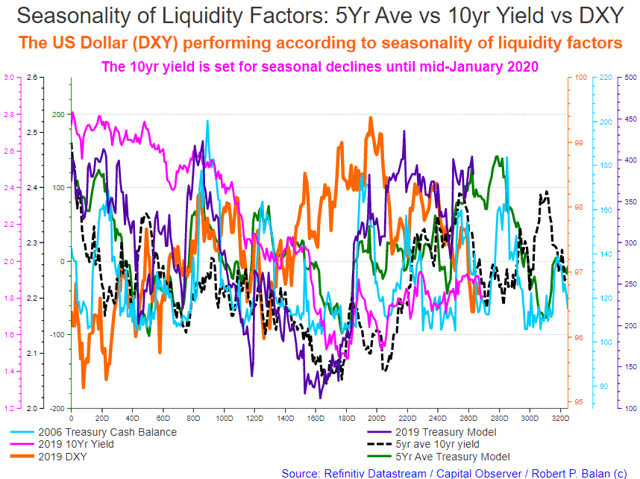 Robert P. Balan @robert.p.balanLeaderJan 6, 2020 3:51 PM
I am putting all of these stuff up because at some point the current risk-off moves in risk assets and yields will have to come to an end -- and we have to do something without the fear/hope of a potential war coloring our decision making process.
And I believe that is not being imprudent -- I just can't see how the Iranians (if they are rationale) will want to bring on the might of the US military on their heads. Oh they will exact revenge -- but now that the US has displayed capability to take out their leadership, they have to be very careful not to get out of bounds.
Well, if they are being non-rationale, that is a different story altogether. But I firmly believe that the Ayatollahs also believe in self-preservation -- that is a very powerful incentive to keep the narrative and action symmetrical.
So instead of geopolitics, maybe we just keep an eye on what is happening in the systemic liquidity front.
Before I show the liquidity chart updates, it stuck me that perhaps we can time some intraday moves, now that NY market is on the go.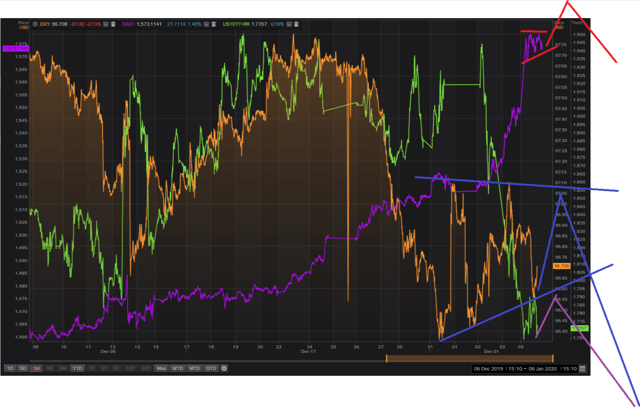 Robert P. Balan @robert.p.balanLeaderJan 6, 2020 4:08 PM
I believe there is a good case for the DXY pulling back as yields pull back higher as well. I am not too keen on Gold rising on a yield pullback higher, but that is what the nice triangle implies. We are also due to make a significant correction in the gold rally (after a prior brief rally), so perhaps that rally makes sense after all.
Here is a compact and simple illustration of the liquidity situation, just using the seasonality of the Treasury Cash Balance. I can add more bells and whistles, but that won't change the story. You will see the limited potential for an SPX pullback, which could be a week or longer, depending on how the Inv and Hedge Funds front run the TCB.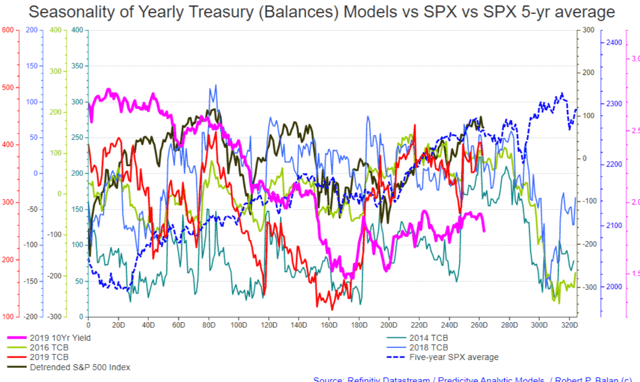 Robert P. Balan @robert.p.balanLeaderJan 6, 2020 4:21 PM
And here is the same analytical platform used on the 10yr yield and its five-year average. Same timing -- a week or perhaps longer on the downside.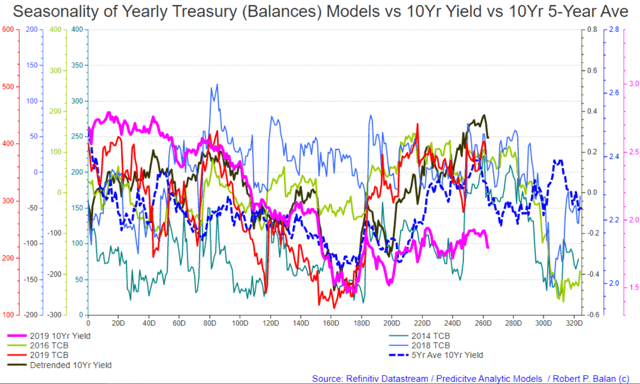 Robert P. Balan @robert.p.balanLeaderJan 6, 2020 4:32 PM
Ahead of the January 15 signing of the China -US trade deal, we do not really expect much from equities on the downside. The gullible are still waiting for an equity uptick upon signing of documents (as if it will make further difference .. where are you EMH?). I just wonder what market pump mechanism Trump and Kudlow conjure up next to lead the equity markets to the end of the rainbow? I wonder if the gullible starts the countdown to the Phase 2 agreement.
Looks like we have plenty of gymnastics to do, given the mini-seasonality galore in the liquidity models. But swing we will with the models. And lets just hope the Inv Bank and Hedge Funds do not screw us up again-
Open to discussions.
JdEFP @jdefpJan 6, 2020 4:41 PM
Robert - What is your rationale that the potential for a SPX pullback is limited given the amount of liquidity that will be disappearing in the near term? If gold is going to get near 2000 and the 10yrT is going to get near 1.5%, I can't imagine that equities will just linger in a tight range.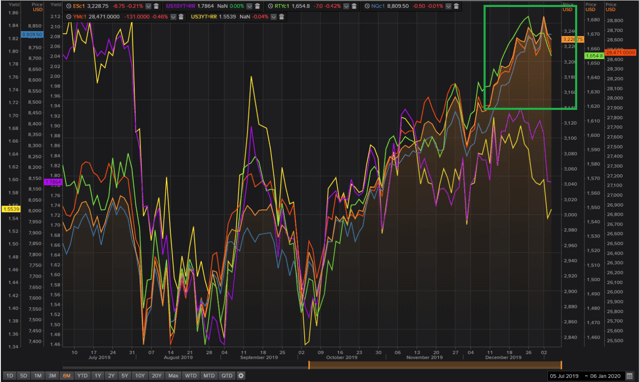 Robert P. Balan @robert.p.balanLeaderJan 6, 2020 4:47 PM
Not a tight range jdefp -- but it will not reflect the true potential as measured by the expected decline in yields. The Trump effect is still echoing, keeping equities relatively firm. Maybe after January 15, as I said, when this BS about trade agreements should die down -- maybe replaced by BS from the Fed, I hope not.
JdEFP @jdefpJan 6, 2020 4:48 PM
It seems to me, at some point, there has to be a reversion to the mean on equities.
Robert P. Balan @robert.p.balanLeaderJan 6, 2020 4:52 PM
Let me show you JdeF -- I have shown this chart before and I am just waiting for validation.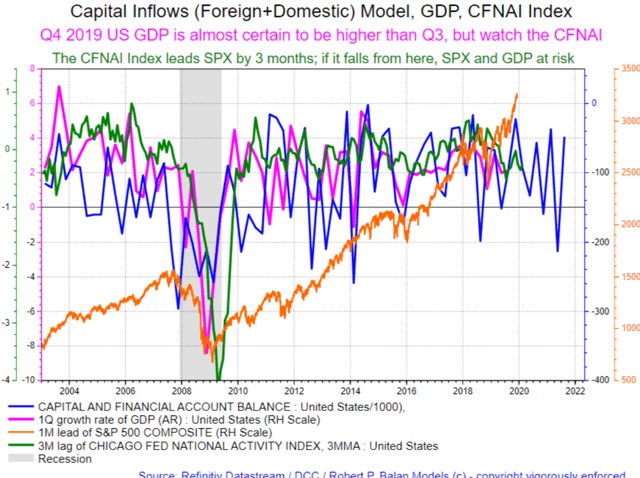 Robert P. Balan @robert.p.balanLeaderJan 6, 2020 4:58 PM
That is validation from further decline in the US CFNAI. That warns of US GDP at risk, and perhaps even Trump cannot prevent the SPX from falling if GDP QoQ falls below 1.5%
pa292 @pa292Jan 6, 2020 5:01 PM
Robert, you are not interest to go long DWT after this extend oil up ?
JdEFP @jdefpJan 6, 2020 5:02 PM
Thanks, Robert. Remember you posting that chart.
pa292 @pa292Jan 6, 2020 5:03 PM
and also to go long UGAZ ?
Robert P. Balan @robert.p.balanLeaderJan 6, 2020 5:07 PM
pa292 -- we want to do all of those things -- just a small matter of timing. We will do all of those when we believe the time is right, not before.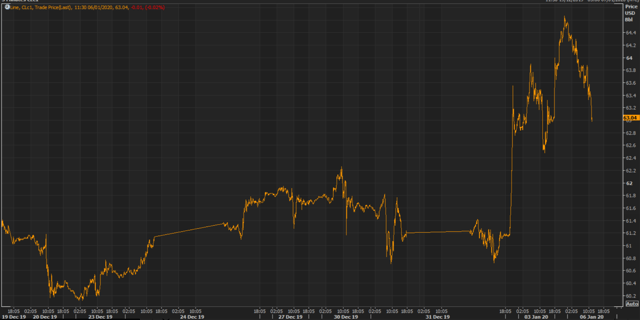 Robert P. Balan @robert.p.balanLeaderJan 6, 2020 5:27 PM
Perhaps pa292 is right. Oil is coming off. War is postponed. We will start looking for a place to buy DWT after we have seen a ratchet back back higher in yields.
Be on the lookout for this "irregular" wave 2 in the ESc1, chart below.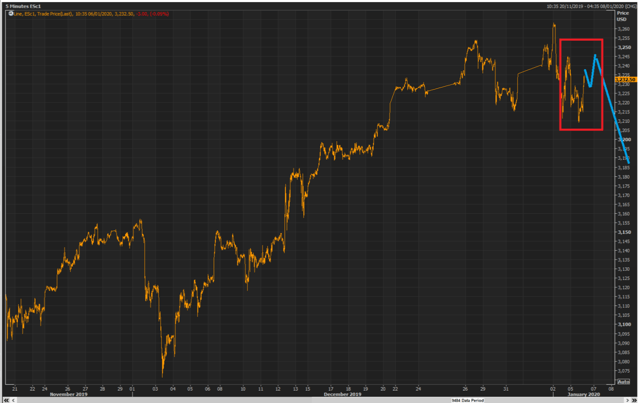 Robert P. Balan @robert.p.balanLeaderJan 6, 2020 5:41 PM
How much longer can SPX and RTY defy the 10yr yield decline and VIX rise?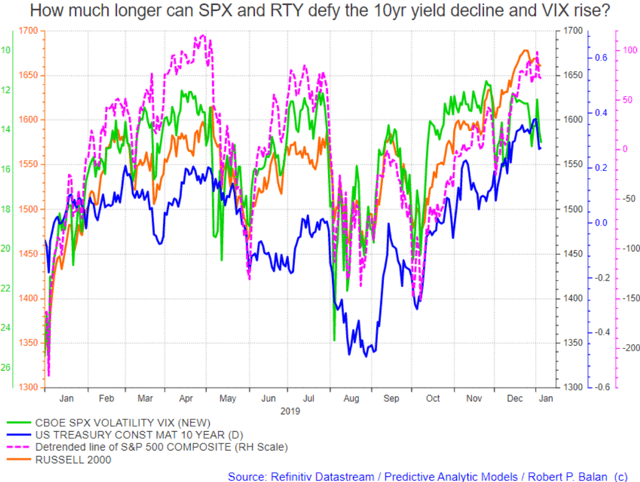 User 12932881 @User.12932881 Jan 6, 2020 3:20 PM
JdEFP @jdefp
Beginning to look like the irregular wave 2 on ES is only going to make it to the .618 retracement vs the .786 fib.
Robert P. Balan @robert.p.balanLeaderJan 6, 2020 5:41 PM
No desire, sorry. That is extra work that has no relevance in the analytical framework. I just take the aggregated data and it works well.
MARKETS CLOSED
Disclosure: I am/we are long bonds, euros. I wrote this article myself, and it expresses my own opinions. I am not receiving compensation for it. I have no business relationship with any company whose stock is mentioned in this article.
Disclosure: I am/we are long bonds, euros.