Tracking A New "Buy" Opportunity In Cryptos (On-Going Convo At PAM): "Another Smaller Dip, Then We're Off To The Races"
Please Note: Blog posts are not selected, edited or screened by Seeking Alpha editors.
Asset class modeling, Macro analyst, Bonds & Equities, Currencies & Commodities
Seeking Alpha Analyst Since 2011
Robert P. Balan runs Predictive Analytic Models, #1-rated trading unit at Seeking Alpha. PAM trades Swiss HF funds using Federal Reserve, US Treasury, and term (money) market liquidity data flows as basis for trading decisions. He is domiciled in Zurich, Switzerland.


Robert Balan has 5 decades of experience in the financial markets. Education in Mining Engineering, Computer Science & Engineering, M.S in Quantitative Finance, and training in Economics led to a commodity analysis career during the commodity boom of the early 1970s. Robert made a switch to global macro focus in the early 1980 when the commodity bull market waned, with specialization in foreign exchange. Robert wrote a very high profile daily FX analysis while Geneva-based (Lloyds Bank Int'l) in the mid-1980s (the first FX commentary with a real global readership, "most accessed" in the Reuters and Telerate networks from 1988 to 1994).


He worked for Swiss Bank Corp and Union Bank of Switzerland (precursors of today's new UBS) as head of technical research in various finance centers (London, New York, and subsequently, head of prop trading at SBC in Toronto ) from the late 1980s to mid-1990s. A stint at Bank of America as head of global technical research followed in late 1990s to the early 2000s. 


Robert returned to Switzerland in 2004 as head of technical research and strategy, and FX market analyst for Swiss Life Asset Management in Zurich. Robert wrote FX analysis and capital markets commentary for Saxo Bank (Denmark) in the early 2000s. He joined Diapason Commodities Management (CH) in Lausanne in 2008 as senior market strategist, and subsequently Chief Market Strategist, utilizing fundamental macroeconomic drivers and structural/technical data in modeling asset price and sector movements. 


Robert wrote a book on the Elliott Wave Principle in 1988, which has been hailed by the London Society of Technical Analysts as best ever book written on the subject. Robert is a member of the National Association for Business Economics (NABE), U.S.A. 
At PAM, we have been having a long conversation about the desirability of going back into cryptos, for about three weeks now. We all want to get back into the fray, but we were waiting for the lagged, negative impact of the China-sourced mini-liquidity outflow cycle to bottom. We are probably very close to that trough -- and cryptos should bounce back.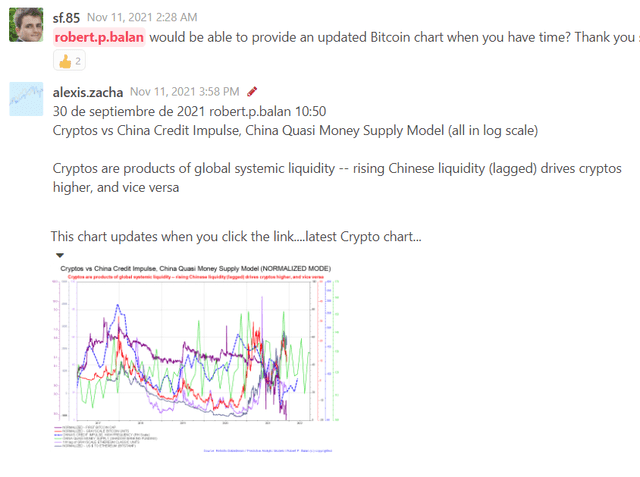 China's Credit Impulse (CCI, High and Low-Frequency) has provided us at PAM very good results since we started using it in May 2018 to trade Bitcoin (OTC:GBTC). So it was just natural that we all have our eyes focused on the model results.

robert.p.balan ModeratorLeaderOwnerNov 12, 2021 1:31 PM The main impulse (low frequency) is still trending higher (blue dashed line), but the higher frequency (green line) moves also impacts the short term BTC price. The up and down short term moves are influenced mostly by the green line.
user.53128743 Nov 12, 2021 1:40 PM
Sorry RB/Others - Any idea what does this mean ? I'm in btc/eth so want to understand what does this mean..I want to ride this 4yr bull end cycle so expecting decent rise in Dec before bust
robert.p.balan Nov 12, 2021 2:30 PM
Liquidity is still receding -- that's why we are starting to become slowly fearful for equities as well. I don't know if BTC/ETH can continue rising in that environment.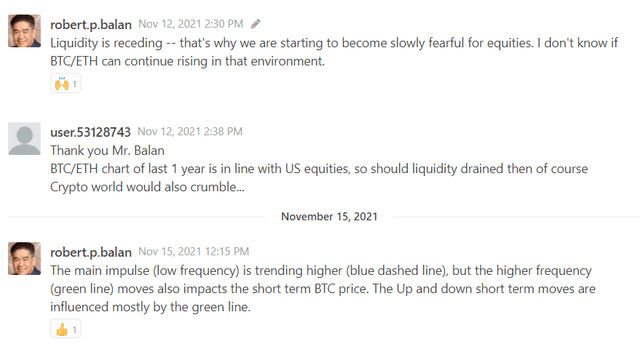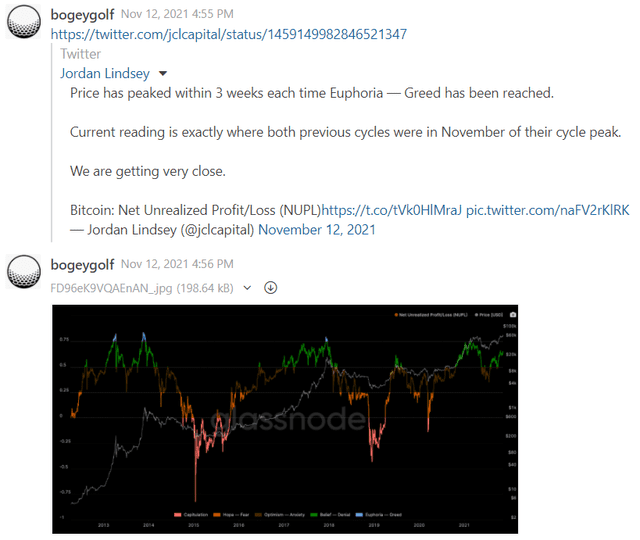 robert.p.balan ModeratorLeaderOwnerNov 16, 2021 2:27 PM
Cryptos just puked. Bitcoin usually has a few days lead on equities (SPX) -- so hoist down the sails, and batten the (equity) hatches!!

robert.p.balan ModeratorLeaderOwnerNov 17, 2021 8:59 AM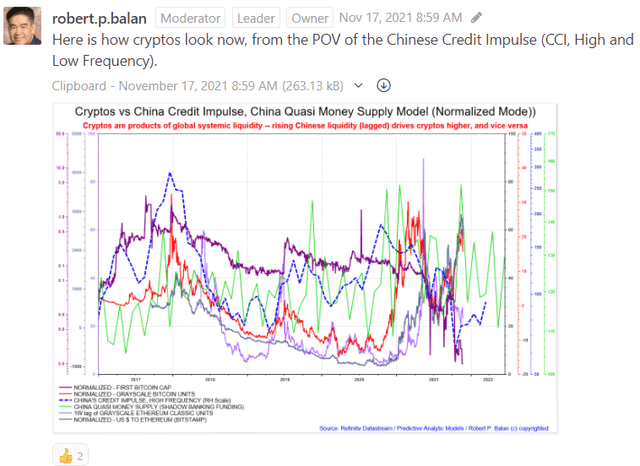 Here is how cryptos look now, from the POV of the Chinese Credit Impulse (CCI, High and Low Frequency).
neil.lin Nov 17, 2021 9:22 PM
Mr. Balan, would you please show us a zoomed in chart that shows that trough of the green line? When is the estimated date when the green start to turn up again?

joshweir Nov 24, 2021 11:05 PM
Seems like its coiling for breakout soon (probably lower?), if 53k holds i'll buy a bag of crypto gaming tokens.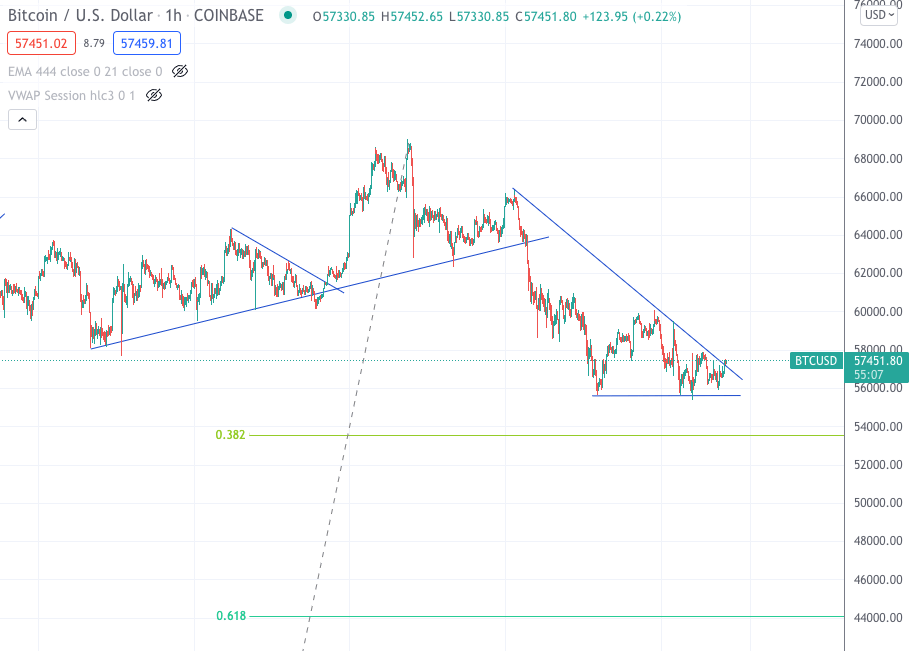 joshweir Nov 27, 2021 3:34 AM
fakeout up then breakdown to target 38% retracement 53k level. Trying to learn patience like RB -- looks like a bear flag for another leg down. Im going to wait a bit and see what happens.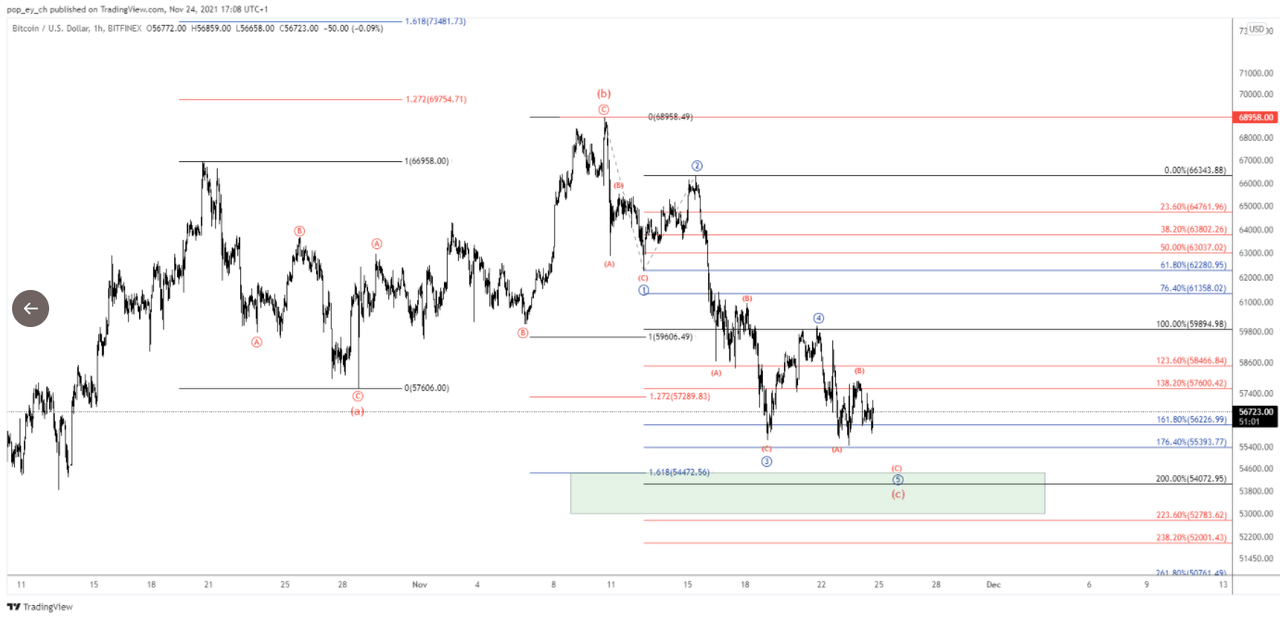 neil.lin Nov 29, 2021 9:18 PM
Mr. Balan, can you please give us an update on the liquidity situation in Crypto? Are we close to the time when liquidity turn up again?
robert.p.balan Nov 29, 2021 9:39 PM
The model is now in the PAM Analytics Mr. Lin. Another week or two, we should be ready to buy.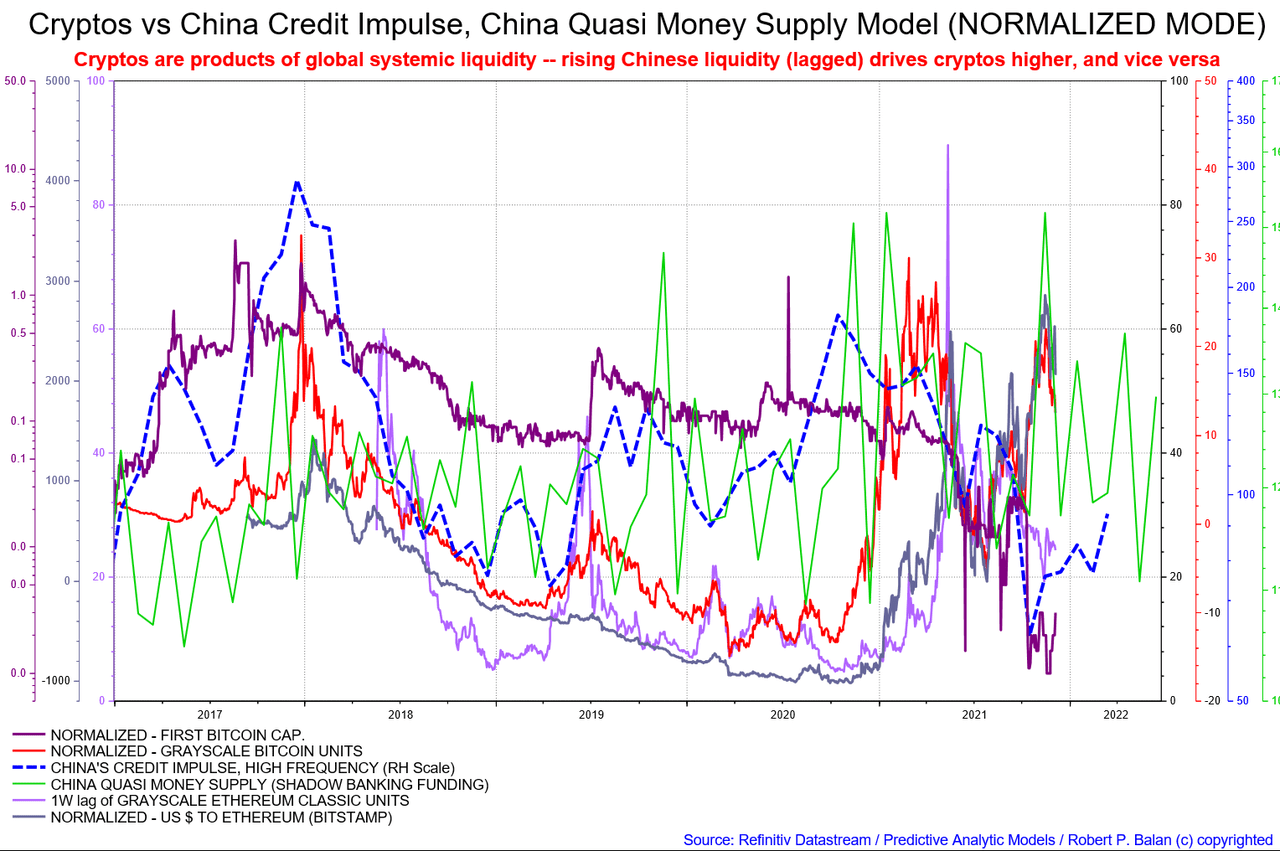 neil.lin Nov 29, 2021 9:53 PM
Thanks Mr. RB...as always.
robert.p.balan ModeratorLeaderOwnerNov 30, 2021 1:53 PM
Mr. Lin -- my 2 cent's worth . . .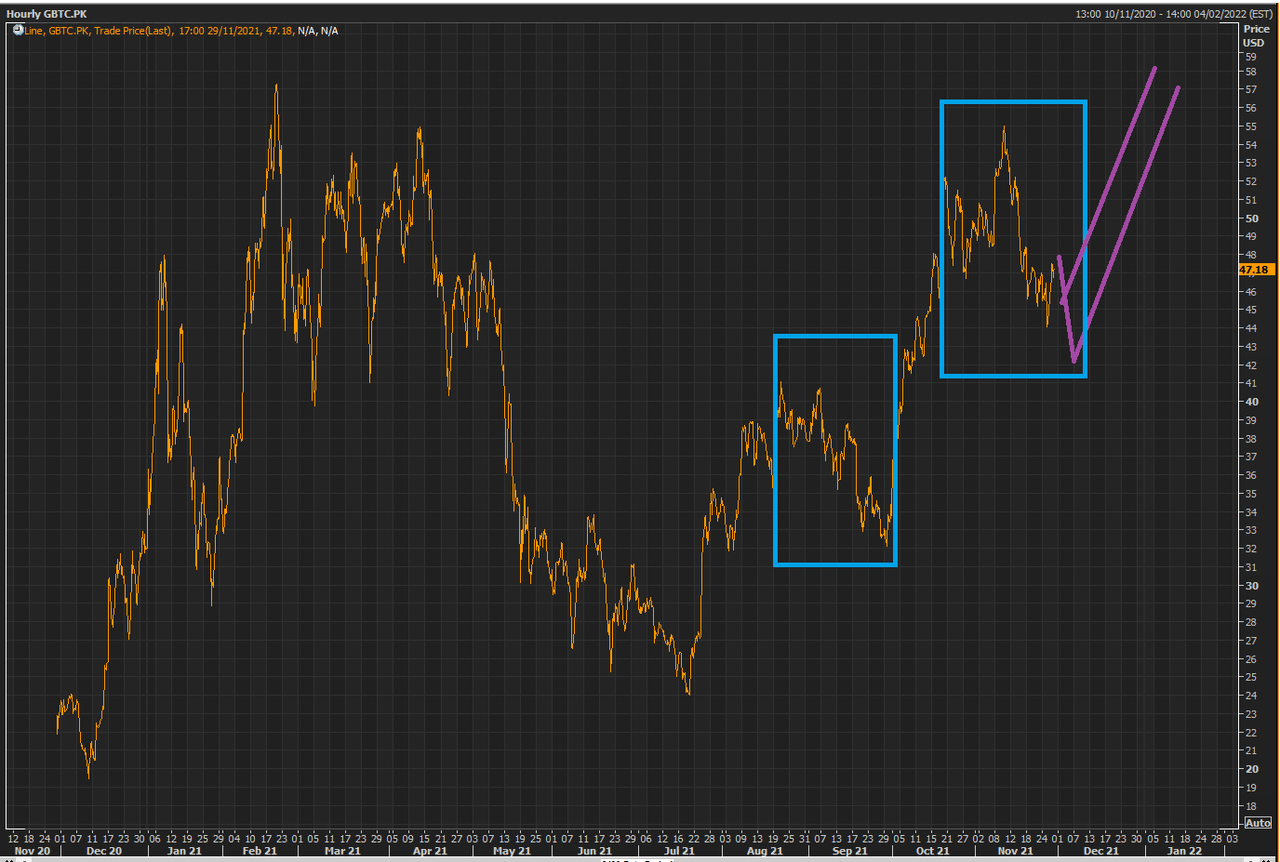 joshweir Dec 1, 2021 3:42 AM
Price failed to break out of trendline, no higher highs, im still on sidelines expecting a drop as per RB forecast above, if price breaks and holds above this trendline i'll add a small position.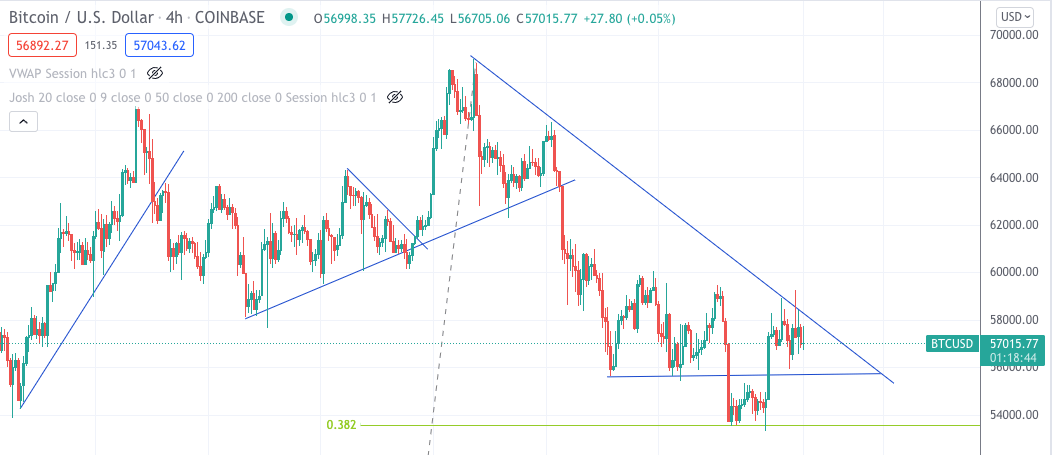 joshweir Dec 2, 2021 1:06 PM
BTC same shit different day, again failed breakout trendline resistance, ETH failed to reach ATH, see if we get another more successful attempt. I hope not cause I wanna load up to the tits at 52k level.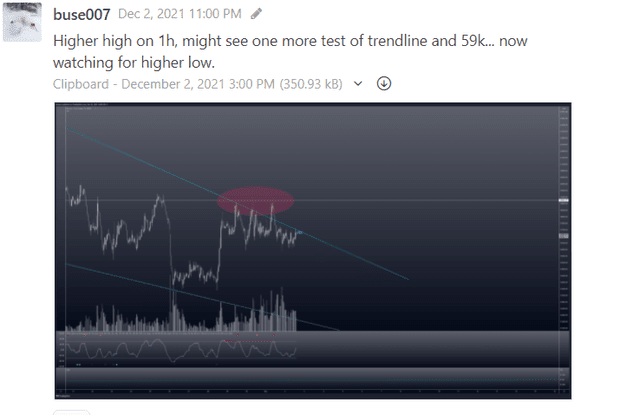 mohammed.usama Dec 4, 2021 6:54 AM
Cryptos felt left out so they had to join the action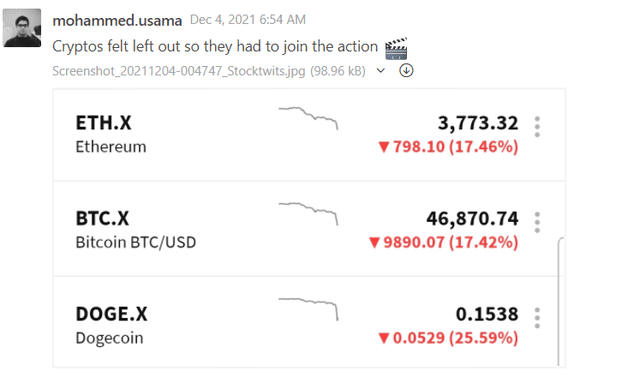 joshweir Dec 4, 2021 8:58 AM
This was capitulation I was hoping for, I'm a buyer now.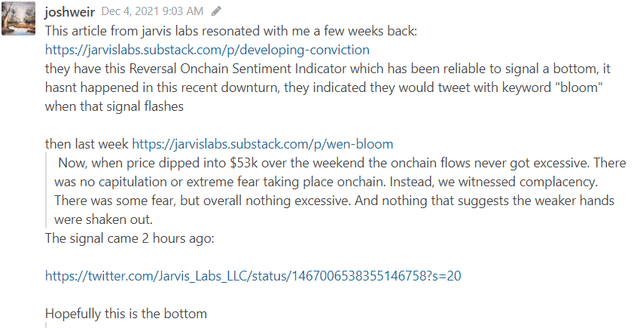 robert.p.balan ModeratorLeaderOwnerDec 5, 2021 10:04 AM
This is how the China Credit Impulse (High and Low Frequency) model looks now.
Cryptos are products of global systemic liquidity -- rising Chinese liquidity (lagged) drives cryptos higher, and vice versa.At this juncture, the CCI's high and low frequency impulse have both turned up -- usually a very good environment for cryptos.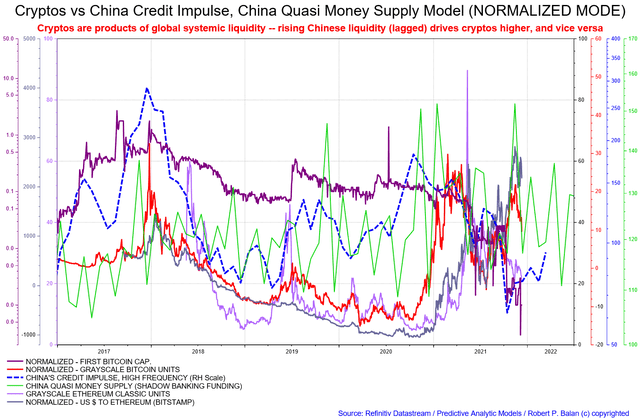 robert.p.balan ModeratorLeaderOwnerDec 5, 2021 8:38 AM
I totally agree with joshweir Josh -- its time to position for another rally in the Crypto space. The lagged, distributed (negative) impact of recent liquidity outflows are about to end (likely in a week). Just one more small dip next week -- then off to the races we go, going back to cryptos and the traditional asset classes (equities).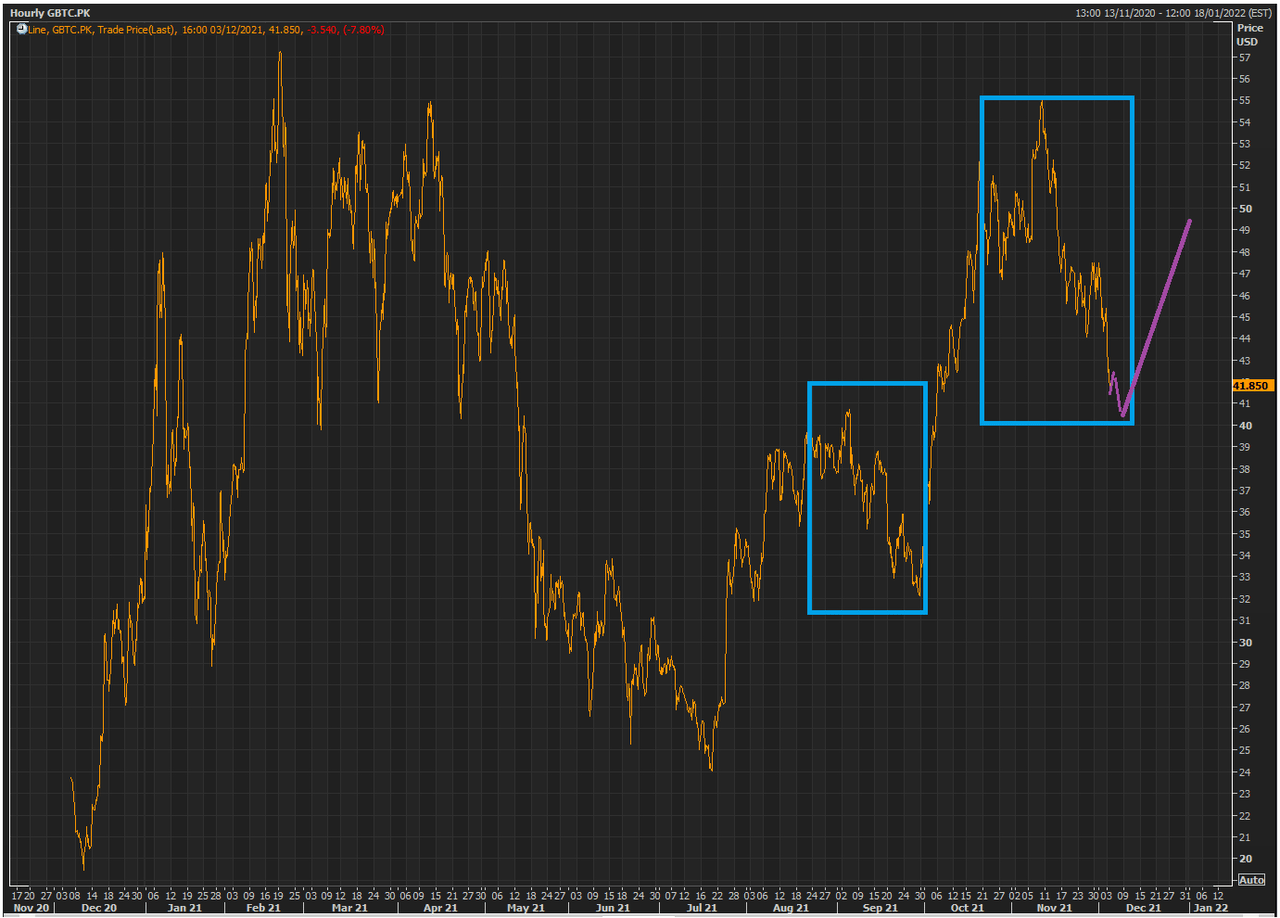 robert.p.balan ModeratorLeaderOwnerDec 5, 2021 10:07 AM
I am personally buying Cryptos sometime late next week. We will fine tune that timing by Wednesday, December 8, 2021.
Seeking Alpha's Disclosure: Past performance is no guarantee of future results. No recommendation or advice is being given as to whether any investment is suitable for a particular investor. Any views or opinions expressed above may not reflect those of Seeking Alpha as a whole. Seeking Alpha is not a licensed securities dealer, broker or US investment adviser or investment bank. Our analysts are third party authors that include both professional investors and individual investors who may not be licensed or certified by any institute or regulatory body.