Did We (PAM) "Freeze Up" During The March 2020 COVID-19 "Flash Crash?" -- Reviewing The Trade Performance For The Answer (No, We Didn't)
Please Note: Blog posts are not selected, edited or screened by Seeking Alpha editors.
Acexxxx Dec 4, 2021 12:05 PM
I remember March 2020 where we were speculating on the Short Side , like now. The markets starting to fall big way in our favour. We went out near the 200sma on the short Side. Than going long as of the Liquidity Model. Than we were loosing all that money and more, Robert didn't know for about 2 weeks where the markets were heading, because such a broad sell-off overwrites EWP and the Liquidity Model. As new money was poured in by the FED Robert forecasted a recovery till July. But this time Money will be taken out of the System. The development could be at a slower pace, but for the next 5 months will be difficult to find good news.
robert.p.balan timothy.r.kiser What are your thoughts on the actual Macro environment, coupled with the Corona development ?
robert.p.balan ModeratorLeaderOwnerDec 4, 2021 2:43 PM
Ace, there are some major disagreements between the actual PAM trading performance during that March 2020 period and your narrative.
Indeed, it was true we were short going to the COVID-19 trough on the second week of March 2020, but we were doing small potatoes due to the uncertainty of the situation. The performance tally shows that very clearly.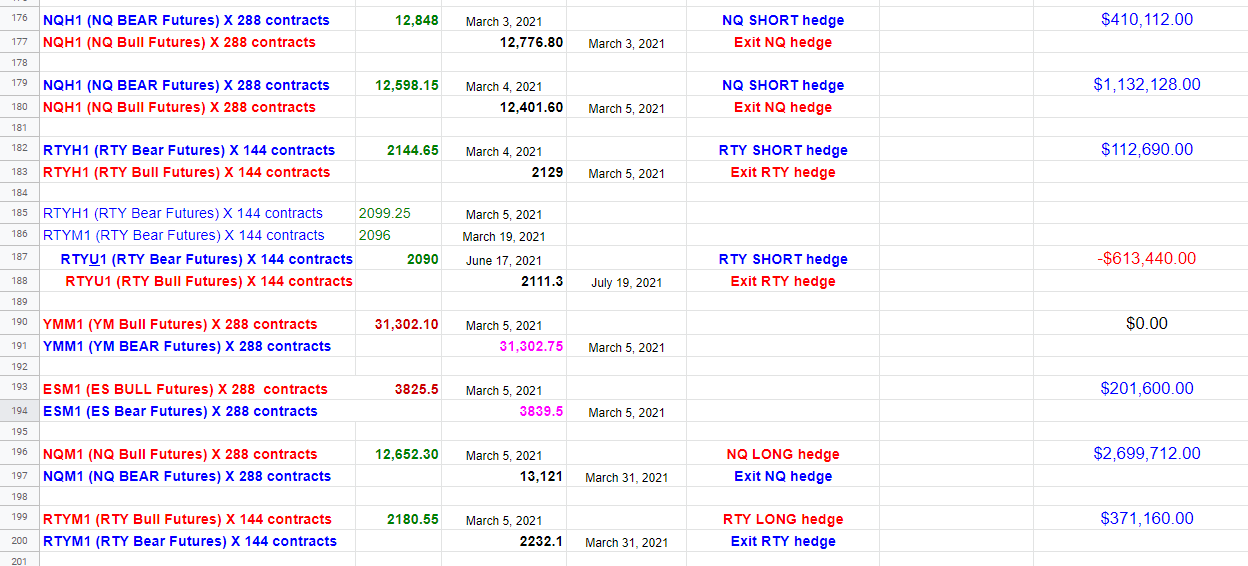 robert.p.balan ModeratorLeaderOwnerDec 4, 2021 2:45 PM
But from the second week of March we were dominantly long, all the way to the end of the month, although we were still were very cautious and trading only small potato trades. What I am trying to say is that COVID-19, and the Fed QE response, has been very good to us as a community. That was very clear from trades taken after the Fed jumpstarted QE4.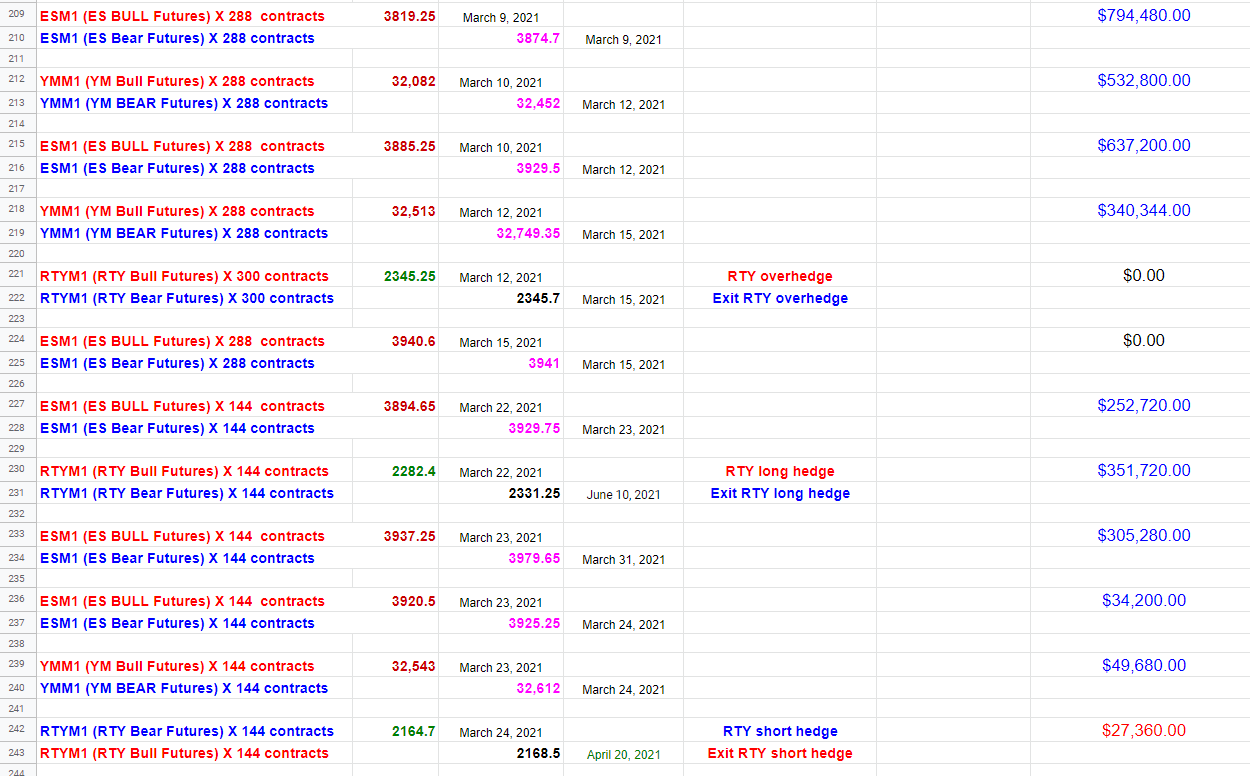 robert.p.balan ModeratorLeaderOwnerDec 4, 2021 3:05 PM
What saved our hide, and generating outperformance (while many were losing their collective hides), was that the equity markets and the VIX followed the seasonality of historical liquidity flows almost to the day. That we "did not know what to do" was entirely wrong -- we were making money almost with every trade we did. I know you you mean well, but I just have to set the record straight. This is even more important for us than making a lot of money -- which happens, nonetheless (knock on wood).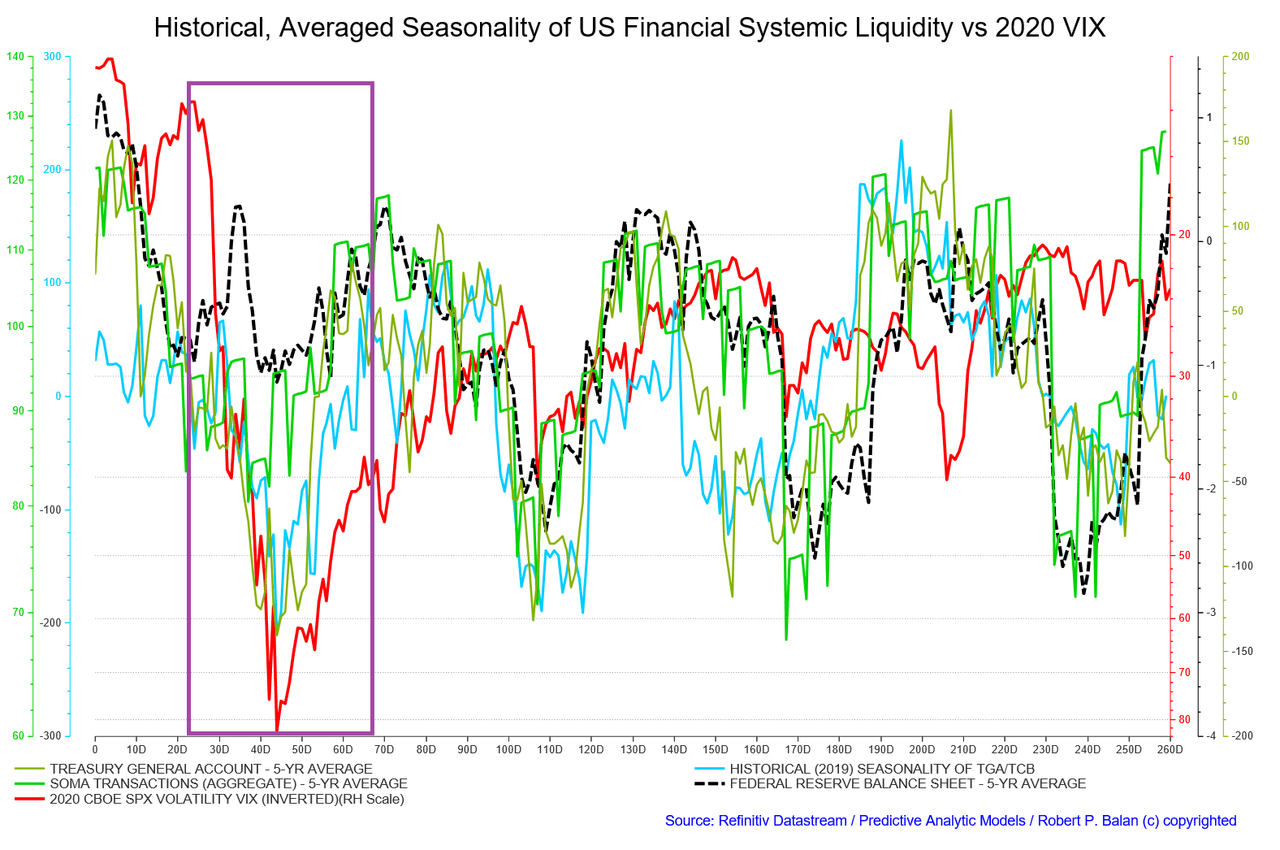 andresg Dec 4, 2021 3:11 PM
Thanks for clarifying RB, was surprised to read that comment. I wasn't a member in March 2020 but had a look at the performance sheet before I joined Pam and seeing how well you've navigated through March 2020 was one of the reasons why I joined in the first place.
You clearly haven't disappointed since then and my guess (!) is that some members are getting nervous because they simply oversize.
robert.p.balan Dec 4, 2021 3:14 PM
Thanks a lot andresg for letting me know. That is one reason why I wanted to keep the record straight.
andresg Dec 4, 2021 3:15 PM
No, thank you for making your service available to people like me. Once in a lifetime opportunity!
jenny2014 Dec 4, 2021 9:29 PM
Totally agree. It's once in a lifetime opportunity for us ordinaries.
wayne_2020 Dec 5, 2021 7:03 AM
What was equally important was Robert called the mid-Feb 2020 market top within a couple of days. RM13 kept a record of PAM's major market top/bottom calls since 2018, which was amazing and the reason that brought me to PAM.
tico.trader Dec 4, 2021 3:16 PM
and final of the annual 4 liquidity lows is 240D, right around Dec 14 to match current market correction!!! This is the BEST seasonality model I've encountered
robert.p.balan ModeratorLeaderOwnerDec 4, 2021 3:18 PM
Thanks tico.trader -- I have not gotten around to nailing that down. Here is the current VIX (2021) iteration vs the historical liquidity flow seasonality.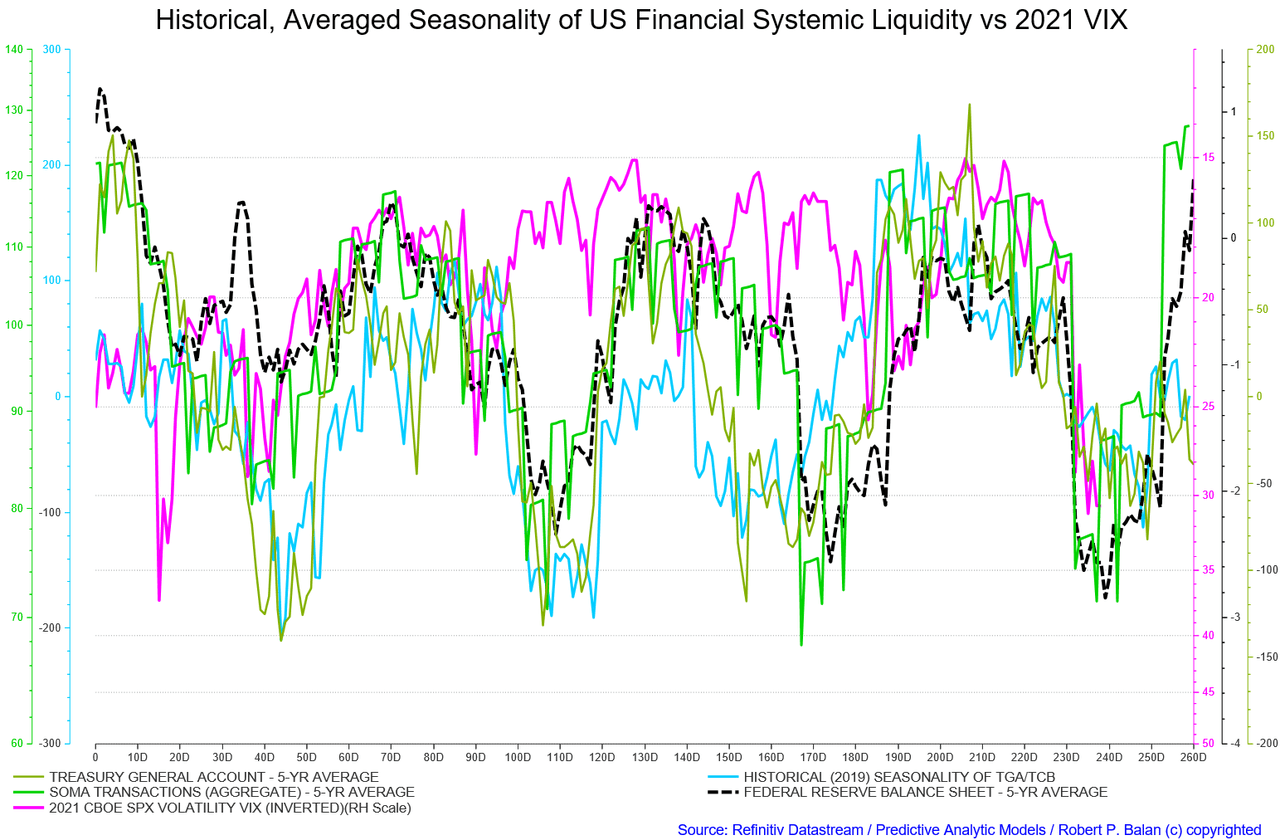 robert.p.balan ModeratorLeaderOwnerDec 4, 2021 3:31 PM
Now, to go back to the second point of Ace -- yes it does look that this sell-off will soon see a bottom. Second week of December seems OK, although we will should allow room for slop because the data is weekly and I am just trying to interpolate to get actual calendar day/date targets.
timothy.r.kiser Dec 5, 2021 3:39 AM
A sideways market would be excellent for the liquidity models. Models help identify turns but not levels. We may get that sideways situation next summer. QE is still going strong right now despite financial press. Markets tend to go up, overall, during QE periods. The rest is noise. Stop watching the news.
Look up the taper in 2015 and end of QE last time. Sideways market resulted.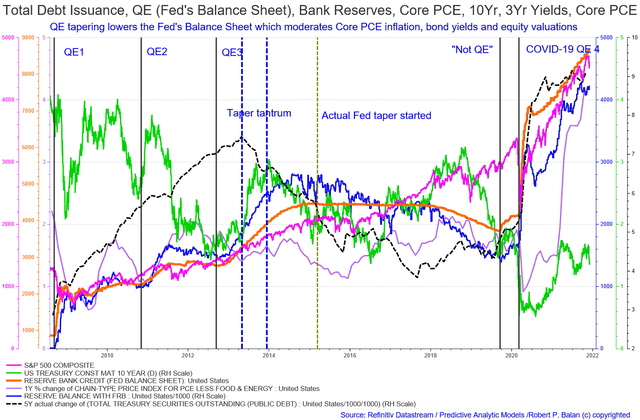 timothy.r.kiser Dec 5, 2021 2:42 PM
Wizard of Oz "follow the yellow brick road". Investing with PAM " follow the orange line aka Fed balance sheet". Then trade/hedge the turns.
frank5 Dec 4, 2021 3:32 PM
I have subscribed to many investment advisories, PAM is the best in returns and education. Thanks so much RB.
robert.p.balan ModeratorLeaderOwnerDec 4, 2021 3:34 PM
frank5 -- thats a wonderful attest -- thank you very much.
john.der Dec 4, 2021 4:38 PM
I personally made a lot of money thanks to Robert in March 2020. .... 80% return in that one month. Corrections are an opportunity to make a lot of money fast if you can keep your wits about you and know when to get out/de-lever.
robert.p.balan ModeratorLeaderOwnerDec 4, 2021 6:15 PM
Despite what I said about a bump up in late December .. this spectre of global liquidity drought still worries me. Nonetheless, as Mr. TK said, we could see a long period of sideways market as was seen after the 2015 QE taper. But we will all let you all know, if this massive liquidity withdrawal creates bigger trouble than we expect.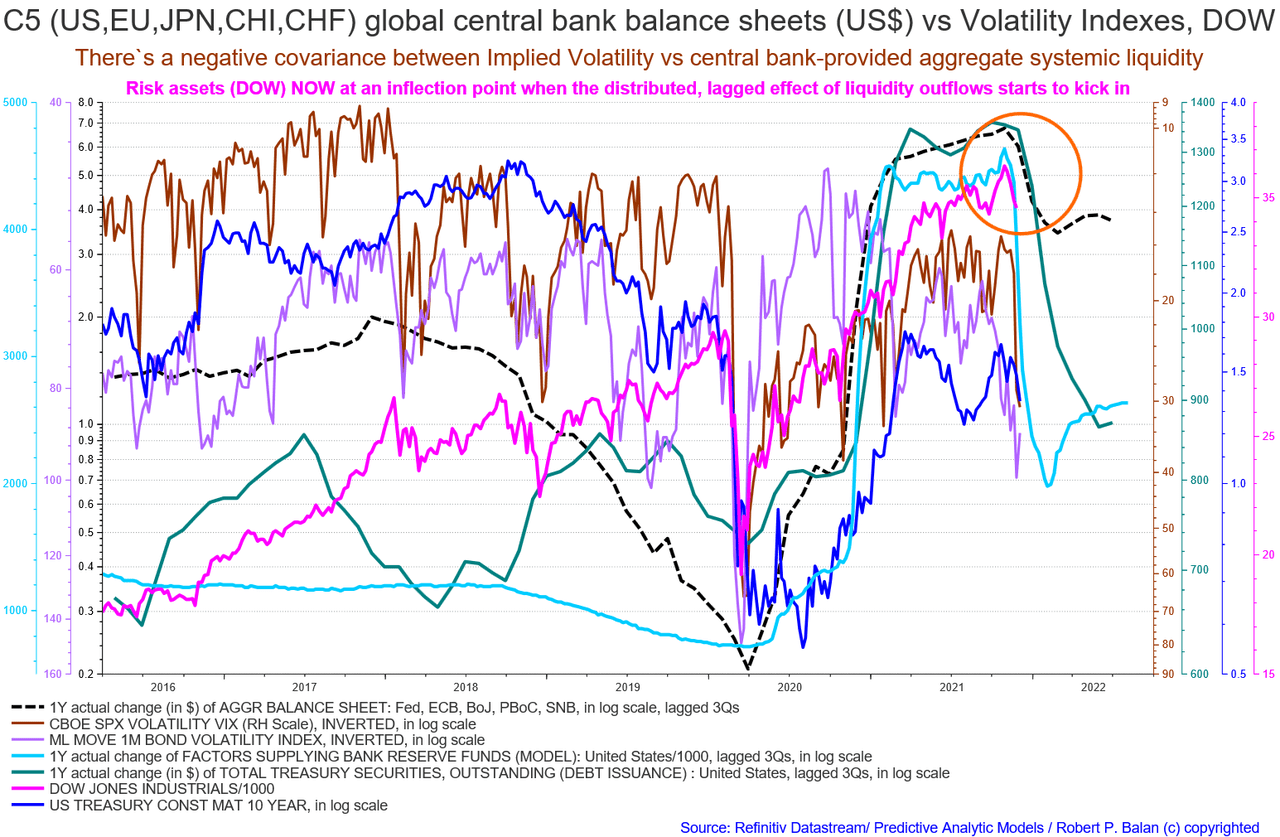 Seeking Alpha's Disclosure: Past performance is no guarantee of future results. No recommendation or advice is being given as to whether any investment is suitable for a particular investor. Any views or opinions expressed above may not reflect those of Seeking Alpha as a whole. Seeking Alpha is not a licensed securities dealer, broker or US investment adviser or investment bank. Our analysts are third party authors that include both professional investors and individual investors who may not be licensed or certified by any institute or regulatory body.