10Yr Yield Still Heading For 1.51, Some Tradeable Twists/Turns; We Exit Most Equity Longs, And Reset A Lower Levels; Also Exiting Short TN Hedges
Please Note: Blog posts are not selected, edited or screened by Seeking Alpha editors.
DECEMBER 7, 2021
ASIAN OPEN BRIEF:
MORE OF THE SAME -- 10YR YIELD LIKELY TO RISE FURTHER IN ASIA -- WE ADD TO LONG YM POSITIONING
The 10YrYield will likely rise further in Asia -- we add to the long YM positioning. I would like to add more that 576 contracts, but we are already long 1,728 contracts in aggregate, and I am apprehensive having such a large position when I am asleep (I need to hit the sack very soon -- it has been a very long and hectic day, for me).

DECEMBER 7, 2021
EUROPE OPEN BRIEF:
10YR YIELD SEEMS HEADED FOR 1.50 STILL, BUT SOME TRADEABLE TWISTS AND TURN AHEAD TODAY; WE RATIONALIZE AND EXIT MOST LONG EQUITY POSITIONING (AND TN SHORT HEDGES) -- MAY RESET THES LONG TRADES LATER IN NY TRADE TODAY
Outlook on the 10Yr yield becoming clearer -- Yep, it is likely heading for 1.50, with some intresting and tradeable twists, along the way-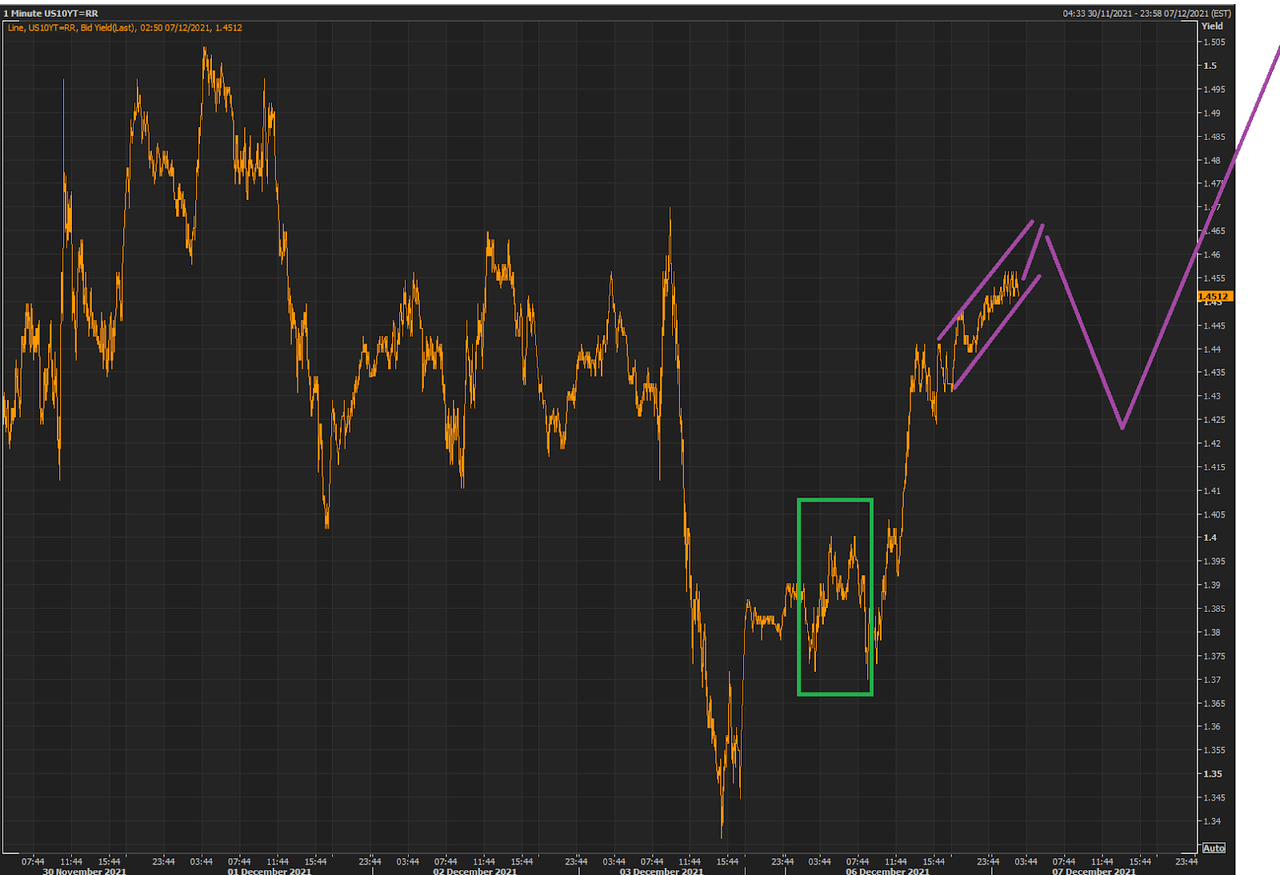 YM has been the index that responded to the Yield rise the most -- this are the twists and turns that we expect the YM to make, aas the Yield wends its way to 1.50.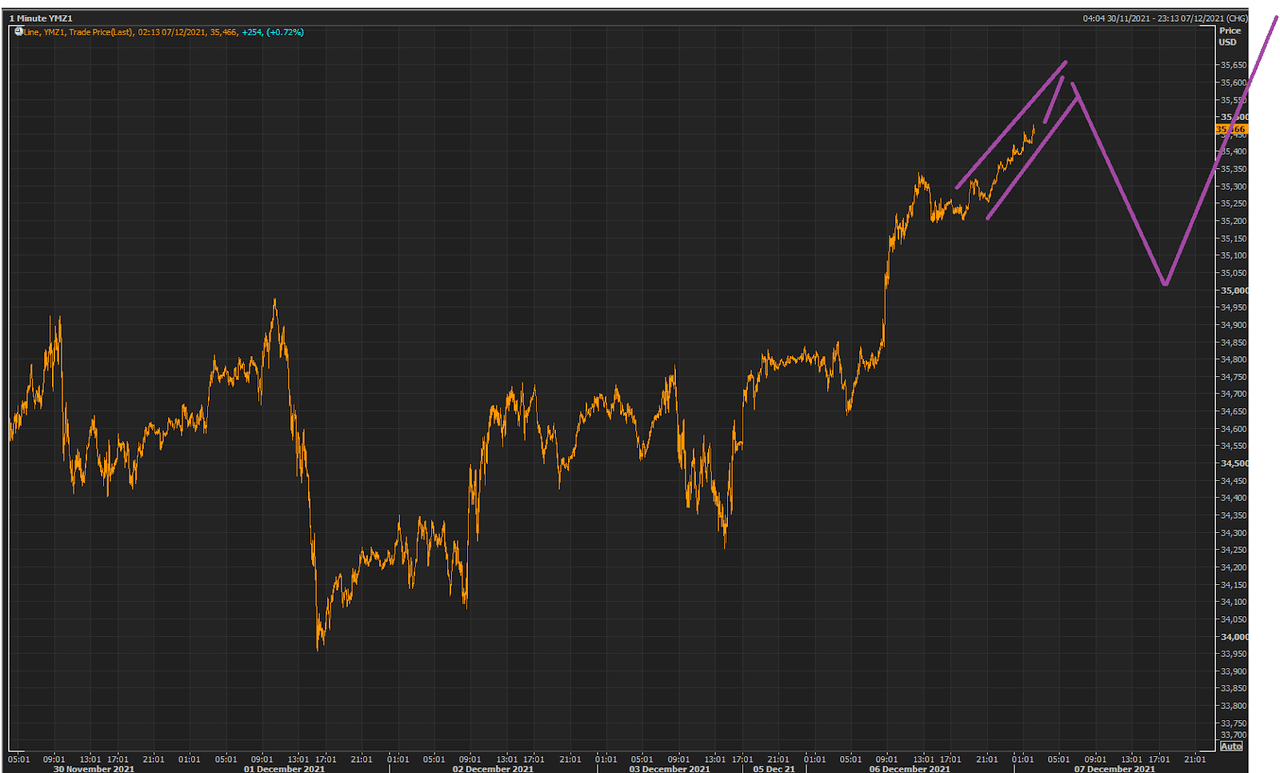 Two things we have to do now -- (1) set provision to take profit from long trades, where applicable; (2) hedge the large pulback from Europe high to New York low today for impacted stranded long positions. This is also needed as the rally has been one-way for some time. Expect large pullbacks, and sometimes those pullbacks lower, go much lower than expected (especially with the put wall at 4100 ES)-
We also have to monetize the paper profits from the short TN hedges -- and reset at relatively higher levels (from here).
These are the positions that we want to "rationalize". All of these are in the green, except for one previously stranded RTY long at 2258.8 (Nov 29). This RTY strandee we will hedge its downside (just in case, we don't have another chance to take profits in this coming first round).

Mr. TK and Accountant presenting good cases for exiting ALL longs, very soon. Mr. TK says he may even frontrun PAM -- rabbit running scared and cautious. Accountant just looking out for YTD performance (and bonus at year-end). OK we exit all longs, including the YM long we opened earlier in Asia today.


We've used the bond auctions over the next three days (Dec 7-9) as one basis for calling Yields higher (with equities tagging along) over the next few days.
But this is just one tool -- there are liquidity-based tool which tell us the same thing -- and much more.

Changes in the Fed's SOMA Transactions also supported higher yields in the first tree days of the week. The subsequent liquidity outflows argue for lower Yield until early 3rd week of December. That suggests a very late Santa Claus rally, if equities hew to the directional bent of yields, as the indexes are doing now.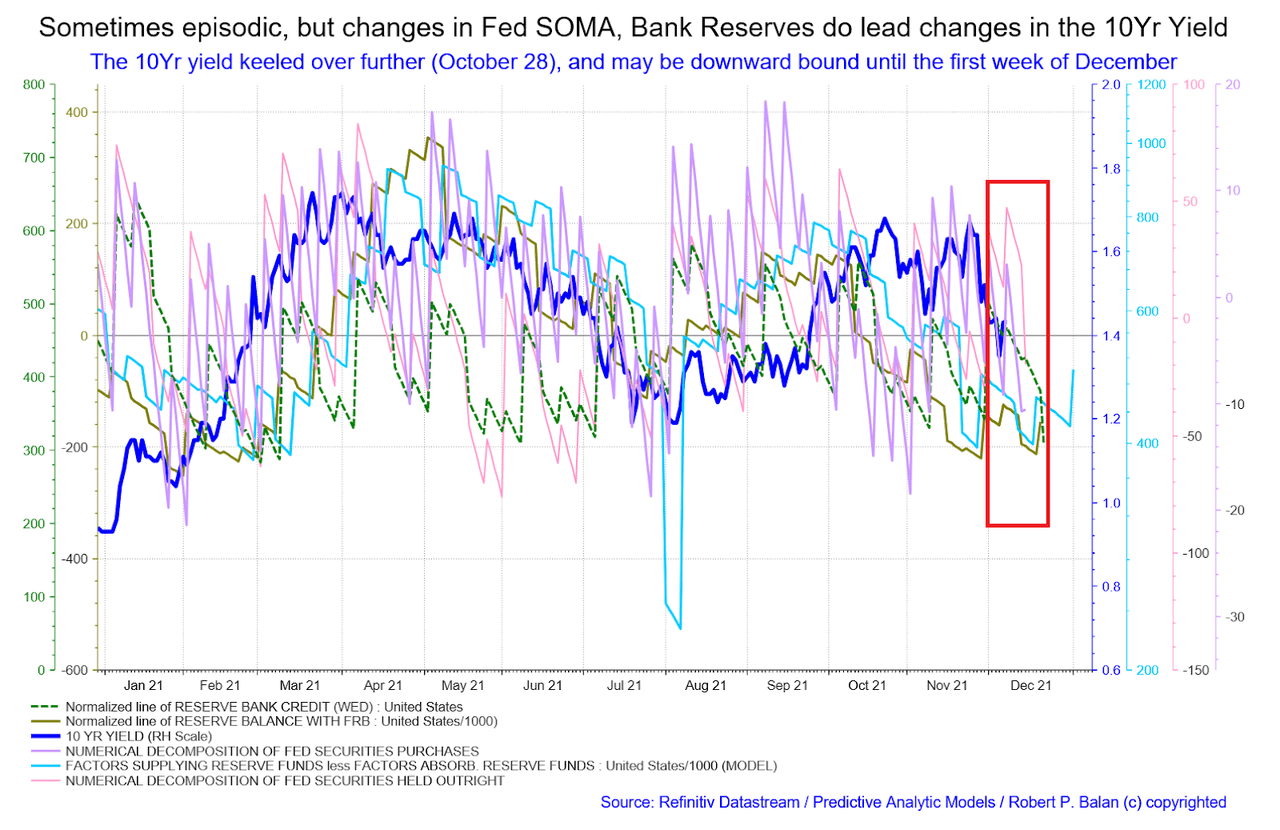 We continue the updates after NY market has opened.
This homoungous rally will soon hit its apex -- it's time to fine tune the exits for the long trades.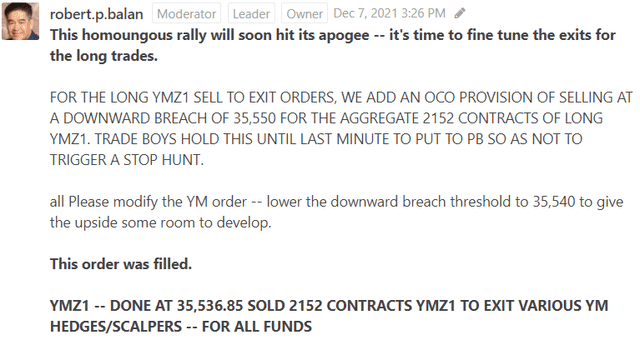 We still have the RTY sell order unfilled. But we may yet a final uptick in RTY and other indexes -- we should get a higher fill.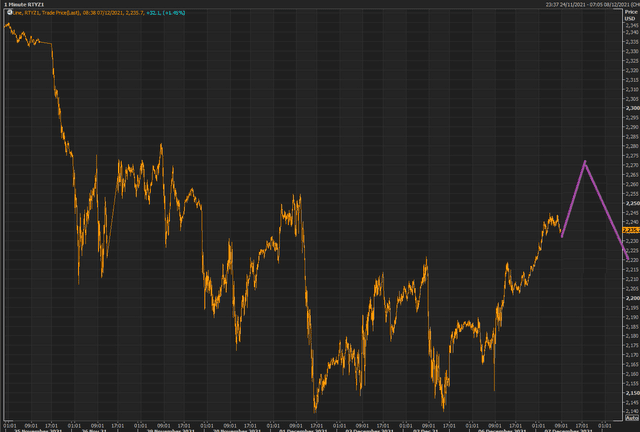 We got filled in RTY at higher levels.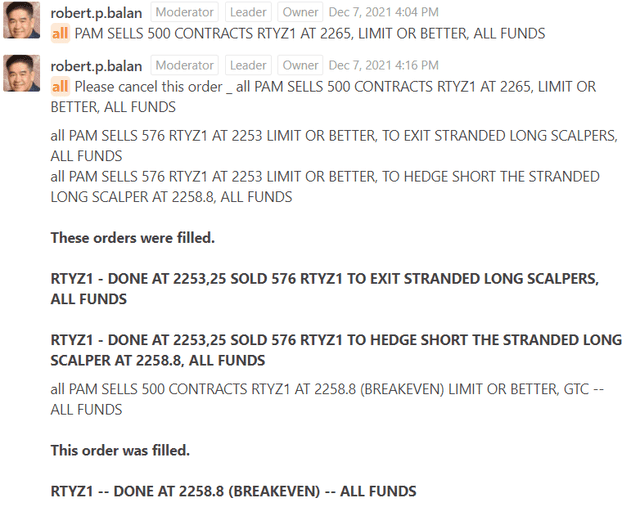 These are the YM, RTY and ES long trades (plus 600 contracts of short TN hedges) which we wanted to offload today:

This is how these trades (see above snag) fared today, with the rally -- market loot of $7,26,306.00. We broke the $5million mark in loot, three trading days running.
Due to order double posting, we are now short 576 contracts of RTYZ1 at 2253.25.
The buyback order on the TN short hedges is still unfilled.

We will do a post-NY close summary, if we see more market action.
Due to order double posting, we are now short 576 contracts of RTYZ1 at 2253.25. The buyback order on the TN short hedges is finally filled.

CUIDAO -- A few hours ago, an equity surge was triggered by falling yields. But yields higher again -- this may trigger a pullback in indexes. And be careful -- Primary Dealers toying with us over the auction period -- there's no telling how "dumb" money (retail) responds.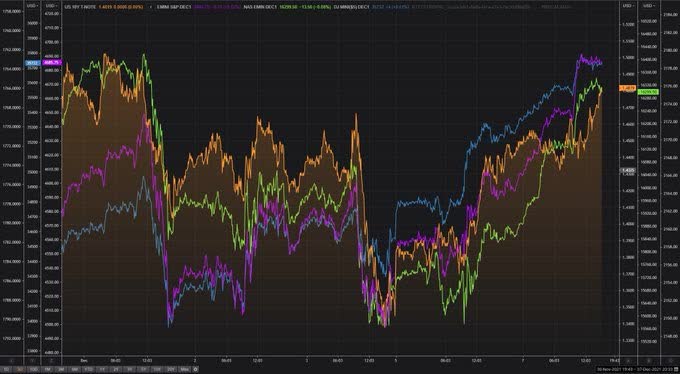 If no support for ES firms up at those levels, we get another massacre.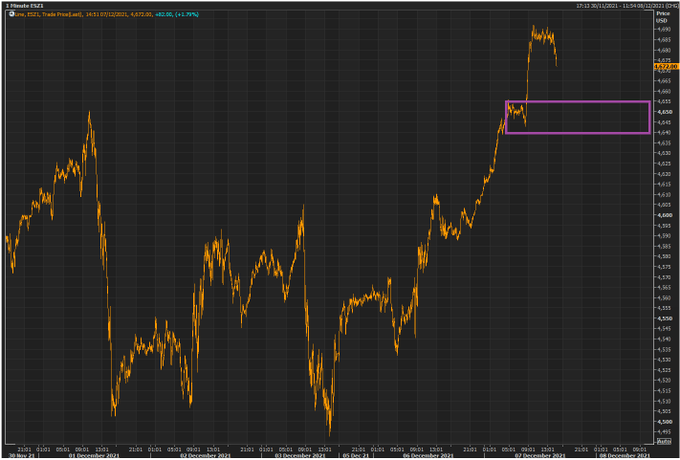 If no RTY support firms up at those levels, we also get another RTY massacre.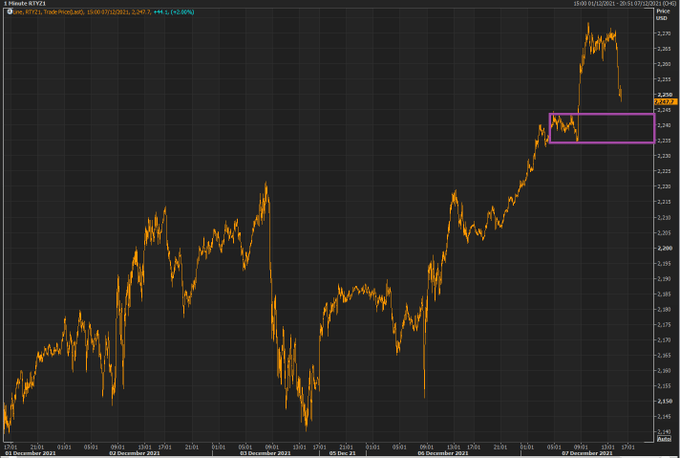 . . . Which is just as well -- the "accidental" short RTY scalper is in the green!

I will see you during Europe Open Wednesday.
Seeking Alpha's Disclosure: Past performance is no guarantee of future results. No recommendation or advice is being given as to whether any investment is suitable for a particular investor. Any views or opinions expressed above may not reflect those of Seeking Alpha as a whole. Seeking Alpha is not a licensed securities dealer, broker or US investment adviser or investment bank. Our analysts are third party authors that include both professional investors and individual investors who may not be licensed or certified by any institute or regulatory body.