In the last few months we saw major global events that would normally lead to substantial gains in the dollar. But the reaction was the opposite and the dollar has been losing ground steadily in the face of global risk aversion and geopolitical tensions. So one has to wonder if the US dollar is still a safe haven. The problems in europe have been more intense than ever and considering that the euro makes up 57.6 percent of the dollar basket, one would reasonably have expected a dollar surge. We saw exactly the opposite and this seemingly irrational reaction may be a warning signal of turbulence in the forex markets coming very soon.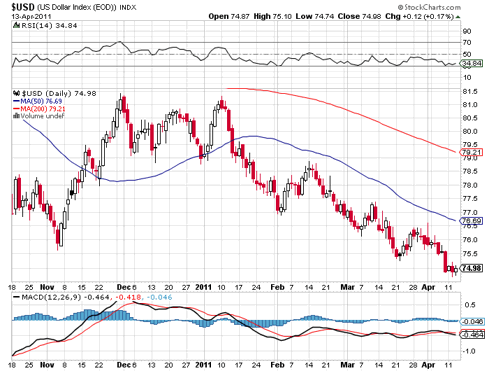 The US dollar index is already at a very crucial level and should the current support break the drop could be fast and dramatic. The truth is that very few really want this to happen. Although a steady slow decline could be seen as a positive for the near term goals of the Fed, a sharp drop will cause panic and send the volatility in the financial markets to the heights we saw in 2008-9.

If we try to dig a little deeper in search for the underlying causes of the dollar's recent weakness we will see that the Fed's exit strategy has some serious uncertainties. The third round of QE is being discussed more and more and at the same time the US debt which is already at a worrying threshold keeps ballooning, creating further uncertainty and fear. The combined federal and local debt of States and local governments approaches 100% of GDP, comparable to the debt of countries like Portugal and Greece. The Fed has already surpassed China as the top holder of US debt. It's clear that we are in an unsustainable path and the US cannot keep borrowing without increasingly heavier consequences for it's citizens and for the global economy.

Disclosure: I have no positions in any stocks mentioned, and no plans to initiate any positions within the next 72 hours.