Tesla (TSLA) is about to unveil a semi truck on Thursday. As such, we believe the truck makes no economic sense for Tesla. More so, given the Model 3 quagmire that the Company is in.
So, why unveil a truck now? Especially given that trucks have very little synergy with cars?
To get to the root of this, it serves readers well to understand Elon Musk's modus operandi. The MO here is to hype the next generation products wildly without much basis in reality. Over the course of time, as the product development nears completion reality comes crashing on the hype. As the product prospects and returns do not live up to expectations, it becomes clear to investors that more capital is needed for the survival of this cash burning Company. As the day of reckoning nears, Mr. Musk artfully moves the discussion to a next generation product and begins the hype cycle all over again.
As can be seen in the image below, Elon Musk has mastered the art of hype by consistently hyping unattainable goals to raise spectacular amounts of capital (base image from here). Given the MO, it should be no surprise that Mr. Musk is now on the fourth generation of automobile products at Tesla – Roadster, Model S, Model X, and Model 3 – and has nothing to show in terms of ability to make a dime of profit.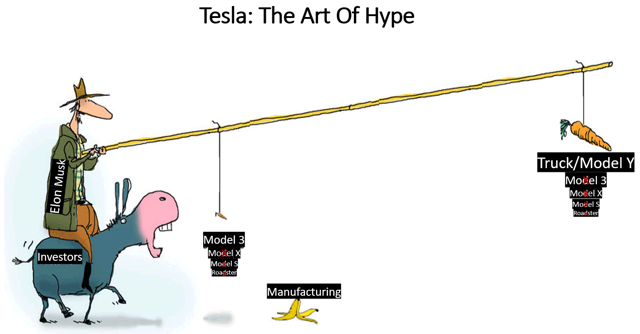 With Model 3 increasing the cash burn, it is clear that Tesla needs to raise cash in 90 days to avoid a cash and credit crunch. A well planned truck unveiling serves this precise function.
In the coming days and weeks, we will be sharing more about the economics of Tesla truck.
Watch the space.