1/18/2013 - Sohu.com (NASDAQ:SOHU) had a little Cross Doji1 at $48.28 after small range-trading. This implies that bulls and bears are still struggling around $49.00, while the bears start dominating the price trend.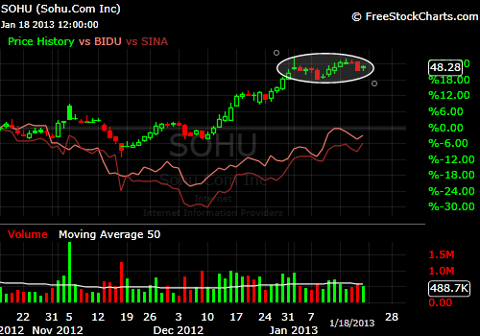 From 11/20/2012 to 1/02/2013, SOHU was up more than 30% or $11.57 to $47.99. A strong ending signal of this uptrend, a long Gravestone Doji2, appeared around $48, which was followed by three days of narrow range-trading. Since then, the bulls have lost its dominance over the price trend. Although the bulls retook some lost ground between 1/9/2013 and 1/15, they almost lost it again two days later. A moderate price correction is coming up after the price topped out near $50. However, it's still too early to conclude that SOHU has been bearish. If the bulls regain strength to boost the price above $50, then another round of uptrend can be expected. It is also possible that the bulls and bears keep struggling around $49 for a couple of days.
It deserves to be mentioned that other Chinese Internet stocks such as Baidu.com, Inc. (NASDAQ:BIDU) and SINA Corp (NASDAQ:SINA) have the similar runs to SOHU. This might suggest the sector of Chinese Internet stocks be experiencing some price correction altogether.
Investment recommendation for SOHU
· Have band operation3
· Sell covered call4
· Buy straddles5
1 Cross Doji - The doji is a commonly found pattern in a candlestick chart of financially traded assets (stocks, bonds, futures, etc.) in technical analysis. It is characterized by being small in length-meaning a small trading range-with an opening and closing price that are virtually equal. (From Wikipedia, the free encyclopedia)
2 Gravestone Doji - The gravestone doji is a type of candlestick pattern that is formed when the opening and closing price of the underlying asset are equal and occur at the low of the day. The long upper shadow suggests that the day's buying pressure was countered by the sellers and that the forces of supply and demand are nearing a balance. This pattern is commonly used to suggest that the direction of the trend maybe be nearing a major turning point. (From Investopedia)
3 Band Operation - The band operation is a stock trading strategy of buying low and selling high within a certain price range.
4 Covered Call - A covered call is a financial market transaction in which the seller of call options owns the corresponding amount of the underlying instrument, such as shares of a stock or other securities. If a trader buys the underlying instrument at the same time the trader sells the call, the strategy is often called a "buy-write" strategy. In equilibrium, the strategy has the same payoffs as writing a put option.
5 Straddles - A straddle is an investment strategy involving the purchase or sale of particular option derivatives that allows the holder to profit based on how much the price of the underlying security moves, regardless of the direction of price movement. The purchase of particular option derivatives is known as a long straddle, while the sale of the option derivatives is known as a short straddle.
Disclosure: I have no positions in any stocks mentioned, and no plans to initiate any positions within the next 72 hours. I wrote this article myself, and it expresses my own opinions. I am not receiving compensation for it (other than from Seeking Alpha). I have no business relationship with any company whose stock is mentioned in this article.
Additional disclosure: Maxsoar is a team of financial analysts specializing in emerging market stocks. This article was written by one of our senior analyst. Maxsoar did not receive compensation for this article (other than from Seeking Alpha), and we have no business relationship with any company whose stock is mentioned in this article.Use of MaxSoar Financial and Investments LLC's research is at your own risk. In no event should MaxSoar Financial and Investments LLC or any affiliated party be liable for any direct or indirect trading losses caused by any information in this report or on its website MaxSoar.com.