In the week ended April 29, BlueTrader, a leading provider of insider trading analytics services, recorded open-market insider activity at 313 companies ha
ving a total value of $1.4 billion. This is 134.6% higher than last week, and 19.1% higher when compared to activity a year ago. Insider selling accounted for almost all activity, with purchases accounting for 4.5% of all open-market trades last week.



Our proprietary insider sell-to-buy ratio, which excludes derivative conversions and certain other types of transactions, ended the week at 21.26, a very bearish reading. The 4-week moving average also moved up smartly to 10.86, placing it, too, firmly in bearish territory.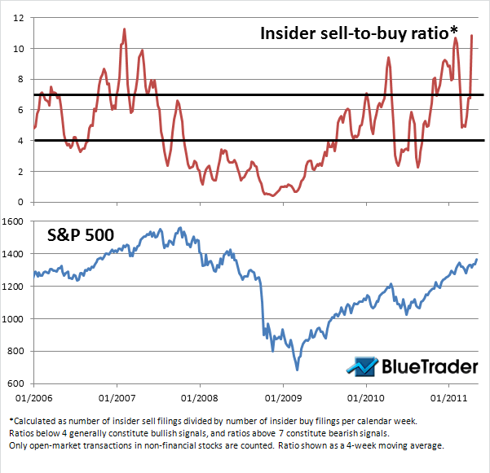 The last time the 4-week moving average gave off a reading this high was in spring 2007, a couple of months before the S&P 500 topped out. Interestingly, price-based momentum indicators, such as RSI and MACD, are telling a similar story: RSI is making lower highs and upward momentum is fizzling.
Add that to not-very-compelling valuations, a mixed Q1 earnings season and expectations for higher inflation in the back half of the year (read: margin squeeze), and the adage of "Sell in May, and go away" seems like half-decent advice.
 
For the 3rd consecutive week, activity was the most concentrated in the Technology sector, where 160 insiders filed trades having an aggregate market value of $443.1 million. Rounding out the top three sectors were Industrials (107 trades for $105 million) and Financials (116 trades for $540.2 million). There was a large spike in activity in the Utilities sector, where the number of trades filed was up 100% on the previous week.
The largest open-market transaction of the week was in ETFC stock, where Kenneth C Griffin, a director of the firm, sold 27,500,000 shares for a total of $450.4 million. The biggest buy last week was for 290,633 shares of RCRC, worth $8.1 million.
Largest insider buys last week










Largest insider sales last week



For more stuff on insider trading, visit BlueTrader.com.
Disclosure:
I have no positions in any stocks mentioned, and no plans to initiate any positions within the next 72 hours.