In the week ended July 8, we recorded 767 open-market insider trades at 392 companies having a total value of $870.7 million. Transaction dollar volume was 51.7% lower than the previous week and 271.2% higher when compared to insider trading activity a year ago. Purchases accounted for 9.1% of all open-market trades last week. Our insider sell-to-buy ratio, which excludes derivative conversions and certain other types of transactions, ended the week at 9.09, up from a previous reading of 6.76. On average, a sell-to-buy ratio below 4 is considered bullish, while readings above 7 are bearish.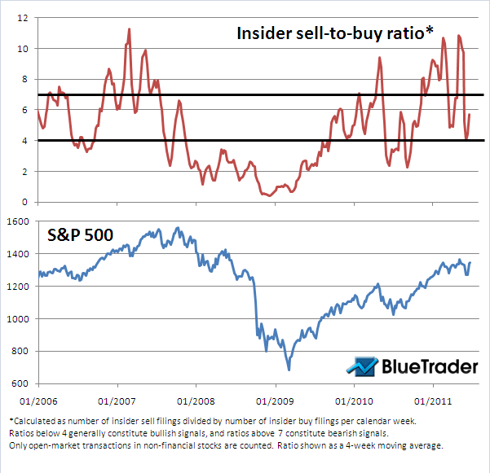 As we head into the Q2 earnings season, our expectations are for decent numbers overall. Guidance updates will be mixed as companies balance coping with moderating (but sill growing) final global demand with relief on the input cost side, given the recent stabilization of commodity prices on a rate-of-change basis. Investor risk appetite appears to have returned following the delay of a Greek default, with the VIX volatility index nearing its cycle low during the week. Interestingly, Portugal's sovereign downgrade went largely unnoticed until Friday's U.S. jobs numbers disappointed. We view this as a good opportunity to get some downside portfolio protection following the strong rally in the last couple of weeks.
For the 13th consecutive week, activity was the most concentrated in the Technology sector, where 199 insiders filed trades having an aggregate market value of $216.7 million. Rounding out the top three sectors were Consumer Discretionary (115 trades for $225.5 million) and Health Care (98 trades for $52.6 million). There was a large spike in activity in the Technology sector, where the number of trades filed was up 115% on the previous week.
The largest open-market transaction of the week was in AZO stock, where 2 insiders sold 282,298 shares for a total of $84.3 million. The biggest buy last week was for 750,000 shares of ETE, worth $31.6 million.
Largest insider buys of the week


Largest insider sales of the week