In the week ended August 12, we recorded 1133 open-market insider trades at 594 companies having a total value of $971.6 million. Transaction dollar volume was 29% lower than the previous week and 0.6% lower when compared to insider trading activity a year ago. Purchases accounted for 67.3% of all open-market trades last week. Our insider sell-to-buy ratio, which excludes derivative conversions and certain other types of transactions, ended the week at 0.44, down from a previous reading of 2.17. In addition, the number of open-market insider buy transactions was the highest since March 2009.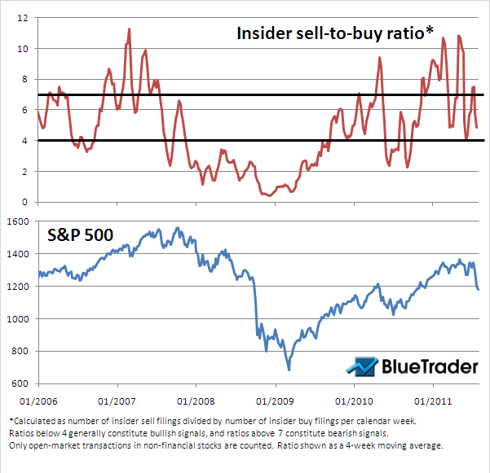 As we noted last week, we view continued aggressive insider purchases as a signal that stocks are now reasonably valued. Still, like in 2008 going into 2009, insiders may be early in terms of calling a bottom, as valuations could overshoot to the downside given the high degree of macroeconomic uncertainty. Net-net, while equities are now fairly priced relative to historical averages, we believe that we have not seen a firm bottom in stock prices (absent a new round of money printing at the Fed).
Insider trading activity was the most concentrated in the Financials sector, where 492 insiders filed trades having an aggregate market value of $228.2 million. Rounding out the top three sectors were Technology (196 trades for $264.5 million) and Industrials (195 trades for $82.6 million). There was a large spike in activity in the Utilities sector, where the number of trades filed was up 164% on the previous week.
The largest open-market transaction of the week was in FO stock, where William A. Ackman, a large shareholder in the firm, purchased 3,648,510 shares for a total of $193.9 million. The biggest sale last week was for 689,016 shares of FSLR, worth $68.7 million.
Largest insider sales of the week