When new technology embraces towards mobile end, people expect to see excellent products & services with unbelievable user experiences. In the near future, NOKIA's (NYSE: NOK) cellphone under the new windows platform is going to allow "fly eye" camera so that 3D printing can be fully applied through mobile imaging, photo processing, and photo realization. The merging of 3D printing and mobile application will help shorten the design time and create unique experiences for every user. In this article, I will focus on introducing why Nokia will be successful under Microsoft's ecosystem and profoundly improve the application of 3D printing technology. Therefore, we have reasons to believe Nokia is going to turnaround and moreover breed a mobile revolution.
3D Printing - "DIY" & "From individual to industry application"
If you are in the design profession, you have probably been familiar with the term "Additive Manufacturing", also called 3D Printing. The current technology allows creating 3-D objects directly from a computer model and depositing material only where required. Nevertheless, interest in additive techniques has grown swiftly as applications have progressed from rapid prototyping to the production of end-use products. Also, the hardware devices are able to use metals, polymers, composites, or other powders to print a range of functional components, layer by layer, including complex structures that cannot be manufactured by other means. It's worth mentioning that 3D printing allows the implementation of design ideas regardless the shape and complexity of the design models. In that regard, 3D printing ransoms the freedom of people's creativity and makes it happen for designers to do something they have not tried before.
The ability to modify a design online and immediately create an object without wasteful casting or drilling, makes 3D printing an economical way to create single items, small batches, and potentially, mass-produced items. Among all the advantages, the simplicity and personalization of the process from design to production demonstrates the 3D printing "Do It Yourself" (DIY) vitality. What's more, the sector-wide ramifications of 3D printing cover tremendously. The capability includes, but not limited to the following industries: automobile, construction, aerospace, clothing, and medical transplant. The future of 3D printing has strengthened the investors' confidences and widened their imaginations of diversified business modes.
However, investors would like to see two more prospects: the large scale of industrial application and modeling through mobile camera instead of PC. In my opinion, the large-scale application comes from advanced development of additive manufacturing techniques by 3D printing companies. As far as I know, Exone (NASDAQ: XONE), the newly IPOed 3D printing company based in North Huntington PA, has developed and been applying 3D printing technology into large-scale metal manufacturing. The industrialized products and services raise market's interests remarkably on 3D printing stock market in the recent past. The stock prices of 3D printing companies soared over 40% averagely during the first half of 2013. On the other hand, Microsoft's WP 8.1 (NASDAQ: MSFT), Nokia's Pureview technology and investing in Pelican Imaging's tech show large chance to see the imaging modeling technology on future Lumia series. It was hard to keep patient when this technology will arrive in real, commercially available smartphones. But all sources show that it's coming soon!
WP 8.1 - The "#93 gasoline" for 3D Printing industry
With the release of WP 8.1 on June 27, 2013, more dedicated apps would be welcomed by the majority of WP users. 10 updates were demonstrated on the most recent Build conference. Among those updates, the most difference was the native 3D printing support in desktop and tablets. WP 8.1 makes it easier for users to print from various applications on different 3D printers without having to exchange the data by exporting and importing design files. Users are going to print the products in the same way people would with a normal printer. The setup of new 3D Printing Application Programming Interface (APIs) shows the signs to simplify the 3D Printing technology application. At the conference, people tried it out with a Makerbot, a popular 3D printer that Microsoft will be selling in Microsoft Stores. Users will have the options to select materials, whether the object is solid or hollow, that is in a similar way to people picking paper size and printing in black or color today.
In order to develop apps to work with the 3D printing support in WP 8.1, Microsoft is releasing a Software Development Kit (NYSEARCA:SDK) so that developers can do that more easily to support the new 3D printing APIs. The transaction from PC to mobile has not been universally implemented, but the SDK helps developers to simplify and optimize the mobile application of 3D printing technology. Again, the simplicity here is the key to win customers' interests, especially when dealing with new technology that most people are not familiar with. I will give credits to Microsoft regarding to make a good start by emphasizing the big picture: the simplicity and consistency before all the different apps eventually come out.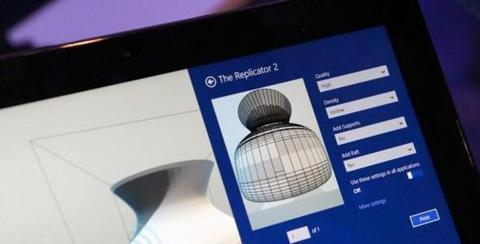 Let's look at other mobile software platforms that are currently utilized in Apple, Samsung and Blackberry. Remember, according to Building Information Modeling (BIM), the level of the details of the model determines how great the printed product could be. As far as I know, neither Android nor Blackberry OS supports desktop, which gives more reliability for both iOS and Windows to build more stable and accurate models that represent massive information in that regard. However, Microsoft's holistic ecosystem is definitely over iOS. Windows applies on PCs, Xbox, Tablets and mobile. The digital lifestyle covers SkyDrive cloud services, Bing search engine, Xbox device and Skype. Microsoft's comprehensive range of products and services allow us to see the backed force as well as the sustainability for Nokia to turnaround. Now, it's only the matter of time, I believe.
Nokia - Imaging instead of modeling, which makes life easier
On May 29 2013, Nokia Growth Partners (NGP) Partner Bo Ilsoe joined the Board of Directors of Pelican Imaging, the inventor of groundbreaking array camera technology for mobile devices. According to the Pelican Imaging's CEO, Chris Pickett revealed the 16-lens array camera is currently being trialed by device manufactures and is scheduled to be part of at least one new smartphone launching in 2014. He also said the carrier testing alone could take 6 months, which also implies the hardware deal is inked and the time most likely will be within the first half in 2014.
Now, let me introduce what will change if Nokia uses 16-lens array camera. Array camera is composed of multiple smaller cameras and all organized in an array. Arrays will open up the possibilities of post-capture focusing, which is similar to what Lytro does with traditional cameras. What makes great difference is that people will be able to get to tiny form factor required of handset cameras without worrying about the number of megapixels that you can squeeze out of it before image noise becomes unbearable. According to Chris's interview, technically, one of the biggest challenges is software development to be able to do this algorithmically and to bring the multiple resulting images together. Nevertheless, Pelican Imaging can finish the task masterfully, which is why Nokia is so interested in Pelican Imaging.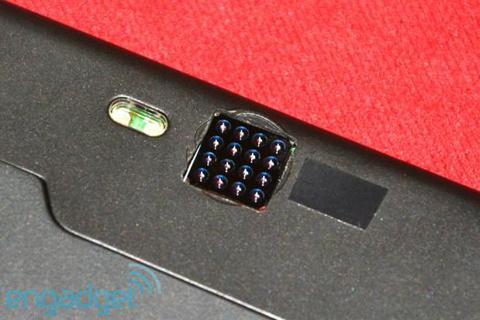 Nokia's Pureview technology, meanwhile, uses oversampling technique to be able to subtract useable information out of a 41-megapixel image. The Pureview reaffirms my belief that how successful it will be when array camera is eventually inserted into mobile devices for 3D imaging and printing. Imagine, after taking a picture of the object that you like to be printed, people might be also concerned with the other irrelevant objects that are supposed to be removed. And Pureview technology can successfully solve the problems so that the 3D models are complete, accurate, and informative and eventually, are ready to be printed out. Here's a great article to introduce in detail what is Nokia's PureView Technology. I strongly recommend it if you are interested in.gizmodo.com/5913264/what-is-nokias-pureview-technology
Moreover, Nokia Siemens Networks (NSN) has showed strong turnaround due to its 4G TD-LTE sales, which also refines the ecosystem so the cloud services will be stable and more secure because of the data exchange under its own system control. Just days ago, a big deal is done that Nokia will pay $2.2B to buy Siemens' 50% stake in NSN. NSN was estimated up to $9.36B including debt if publically listed. This is a great opportunity for Nokia to earn investors' confidence to react favorably. NSN's profitability will ensure the bottom line of the risk compared to Nokia's phone ops.
Check the link for more details: zdnet.com/siemens-susses-out-buyers-for-.../
Nokia, WP with 3D printing - A Dynamic Lifestyle Ecosystem
I look forward to seeing one day that 3D printing will be one part of our life. Users enjoy their unique experiences during a series of actions by themselves from photo imaging, photo processing, model delivery and product manufacturing. In addition, the mobile application extension, on both software and hardware development, will lead our lifestyle towards a more dynamic, personalized, instant-manufacturing, and techno-economical customer experience.
In summary, even though with the help of Microsoft, Nokia has not taken off yet, it shows the steady turnaround and the great prospects of its future business plan and development. I'm confident of Nokia's dedication on technological innovation and technical support. No doubt, I'm long on Nokia.
Disclosure: I am long NOK.