AAII published an article in their December 2010 issue listing stocks that passed 4 or more of the 60 stock selection screens that they track.  Many of these screening methodologies are based upon the principles of well know investors such as Warren Buffett, William O'Neil, John Neff, Peter Lynch, John Templeton and Martin Zweig.  Other screens are based on basic investing principles such as a low PE ratio or improving earnings estimates.

The list was created based on financial data dated November 12, 2010.  So, would it have been a good strategy to purchase all these stocks to create a portfolio of 25 stocks based on these mainly fundamental qualitative selection methods?

It has been almost 6 months since the AAII list was created.  At the time China Automotive (NASDAQ:CAAS) was tied with MWI Veterinary Supply  (NASDAQ:MWIV) and EZ Corp (NASDAQ:EZPW) for first place, each passing 6 screens.  Seemingly, these stocks should be the best of the best since their is consensus in the differing stock screen selection methods.   MWI Veterinary Supply and EZ Corp. have performed well, rising 41% and 25% respectively.  However, China Automotive has declined almost 40% indicating that simply selecting stocks by this method does not guarantee automatic success.

Indeed, if we look at the performance of the whole portfolio (with the exception Psychiatric Solutions (OTCPK:PSYS) which was taken over shortly after the AAII list was published), it has risen 11.6%.  This performance is about the same as the market indexes (SPY 12.9% and QQQ 11.3%) during the same time period. See the table below for the individual performances: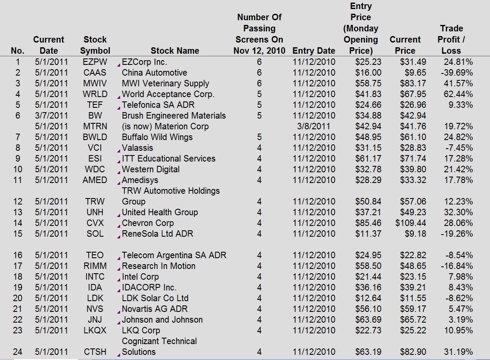 What does this tell us?  Blindly buying and selling stocks based on this method is not a particularly good idea.  It would be easier to buy a market index ETF and obtain similar results with less effort.

As of today's date, China Automotive now commands first place in the number of screens passed with a total of 10 screens. Does this make it a 'buy'?  Probably not yet as it appears still to be trending downwards and remains under it's 10, 50 and 200 day moving averages.

We'll update this post after a one year holding period to see if the relative performance improves, degrades or remains the same.