ever dependup - Charlatan ( Tax avoidance and tax evasion )
Please Note: Blog posts are not selected, edited or screened by Seeking Alpha editors.
Charlatan (Charlatanism)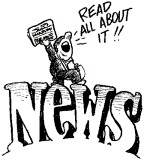 A charlatan (also called swindler or mountebank) is a person practicing quackery or some similar confidence trick in order to obtain money, fame or other advantages via some form of pretense or deception.
The word comes from French charlatan, a seller of medicines who might advertise his presence with music and an outdoor stage show. The best known of the Parisian charlatans was Tabarin, who set up a stage in the Place Dauphin, Paris in 1618, and whose commedia dell'arte inspired skits and whose farces inspired Molière. Ultimately, etymologists trace "charlatan" from either the Italian ciarlare, to prattle; or from Cerretano, a resident of Cerreto, a village in Umbria, known for its quacks.


Tax avoidance and tax evasion


Tax avoidance is the legal utilization of the tax regime to one's own advantage, to reduce the amount of tax that is payable by means that are within the law. By contrast, tax evasion is the general term for efforts not to pay taxes by illegal means. The term tax mitigation is a synonym for tax avoidance. Its original use was by tax advisors as an alternative to the pejorative term tax avoidance. Latterly the term has also been used in the tax regulations of some jurisdictions to distinguish tax avoidance foreseen by the legislators from tax avoidance which exploits loopholes in the law.
Some of those attempting not to pay tax believe that they have discovered interpretations of the law that show that they are not subject to being taxed: these individuals and groups are sometimes called tax protesters. An unsuccessful tax protestor has been attempting openly to evade tax, while a successful one avoids tax. Tax resistance is the declared refusal to pay a tax for conscientious reasons (because the resister does not want to support the government or some of its activities). Tax resisters typically do not take the position that the tax laws are themselves illegal or do not apply to them (as tax protesters do) and they are more concerned with not paying for particular government policies that they oppose.
 
Seeking Alpha's Disclosure: Past performance is no guarantee of future results. No recommendation or advice is being given as to whether any investment is suitable for a particular investor. Any views or opinions expressed above may not reflect those of Seeking Alpha as a whole. Seeking Alpha is not a licensed securities dealer, broker or US investment adviser or investment bank. Our analysts are third party authors that include both professional investors and individual investors who may not be licensed or certified by any institute or regulatory body.