Originally published at www.seclive.com
Filing in Focus: Caesars Entertainment S-4 / Amendment, June 27, 2013
Caesars Entertainment Corporation (CZR) shares have increased 12.8% following revelations made in its most recent registration statement that it intends to create an internet gaming spin-off, stating investors would share ownership along with the company. Caesars shareholders would get a non-transferable right to purchase shares in Caesars Acquisition Company for $9.43 per share, which would represent shareholders in the new Caesars Growth Partners spin-off. The company already has an online gaming presence internationally, primarily in Great Britain, France, and Italy, with plans this year to launch online gaming in the state of Nevada. Caesars Entertainment is offering 125 million shares in the new company, while majority shareholders Apollo Global Management and TPG Global will own at least 42% in the new venture.
See below screenshot from my own filing research.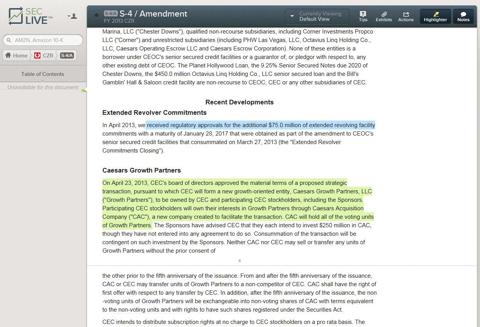 Disclosure: I have no positions in any stocks mentioned, and no plans to initiate any positions within the next 72 hours.