Originally published at www.seclive.com
Filings in Focus: (1) Post Holdings 8-K, July 11, 2013; (2) Post Holdings 8-K, July 11, 2013
Post Holdings Inc (NYSE:POST) has announced a $350M private offering as part of its previously announced $1B senior notes offering. The company intends to use the proceeds from the offering to fund future acquisitions as well as for general corporate purposes. On February 28 the company paid off its $175M revolving credit facility with Barclays Bank using proceeds from a recent stock offering and then, on July 10, notified the bank it was terminating the revolving credit facility. The popular cereal company has been actively pursuing acquisitions, acquiring Attune Foods in December for $15M and most recently Hearthside Food Solutions in May for $158M. Preliminary financial results from the company indicate net sales between $252M and $258M, the company earned $958.9M in net sales last year.
Click the links above to go directly to the filings - screenshots below: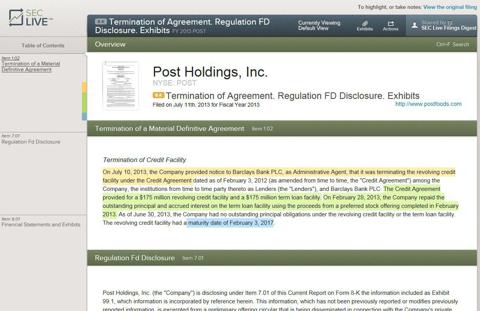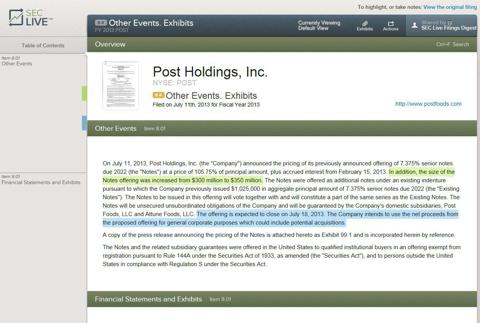 Disclosure: I have no positions in any stocks mentioned, and no plans to initiate any positions within the next 72 hours.