End of August Usually Strong
9:00am (EST)
"The bears came out attacking and pushed lower lows as the market suffered it worst weekly decline of the year. The Dow fell triple-digits on back-to-back sessions for the first time since mid-June. Over 40% of the S&P 500 companies are trading below their 50-day MA's. Things look bad but support is holding.
We don't talk about the 10-Year Treasury Note Yield ($TNX) that often because we don't invest in bonds. However, we are watching the 3% level as the uptrend in bond yields continued last week. A close above 3% could signal a correction "of 5%-10%" is coming as many of the suit-and-ties have been calling for all year.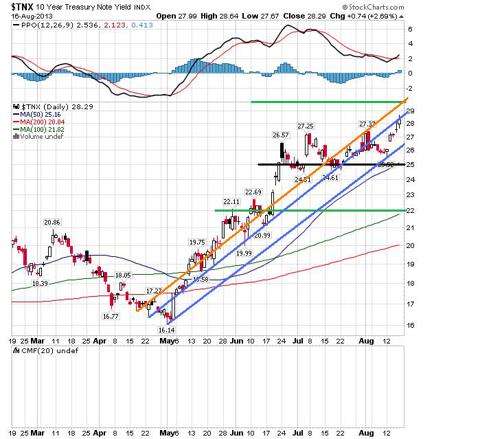 The 10-year is trading at its highest level in two years and the surge in Thursday's action was a result of China and Japan cashing out $40-$60 billion. The two countries are the largest foreign holders of U.S. debt and it seems they are joining the crowd in thinking a September taper is coming and brace for an eventual end in the Fed's bond buying.
We have been mentioning the smart money is pricing in an 80% chance (or greater) that the Fed Zombies will announce tapering in September but with last week's pop in yields, we wouldn't be surprised to see Bernanke send a message to curb the rise. The jump in bond yields (and more talk of Fed tapering), along with Cisco's cloudy outlook, and the turmoil in Egypt weight on the market but volume has been low and it could mean weaker players are folding their hands.
Gold is showing signs of life after struggling with its 50-day MA for much of the year. The yellow metal made a solid move above $1,300 at the beginning of the month and tested $1,375 last week. We have been bearish on gold for many months as we correctly called its drop below $1,200 in late July. Since then we have said to look for a rebound back to $1,300 with $1,350-$1,375 coming into play on an overshoot. The close above the $1,375 level is just below the 100-day MA and a close above this level will likely lead to a run to $1,400-$1,425. A close back below $1,350 will likely get $1,325-$1,300 in play.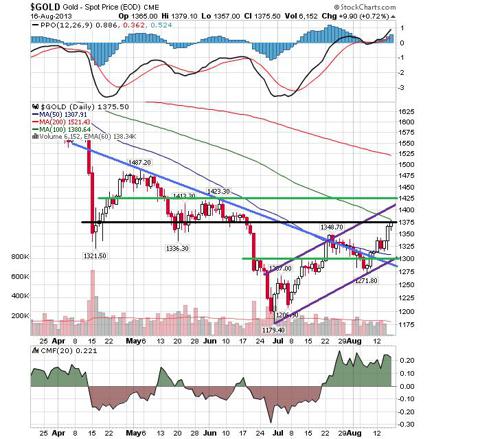 Silver has shown a much stronger rebound and we mentioned a test to $22 could come if $20 held. Following a brief test of $19 the prior week, silver busted through $20 and ran to a high of $23.40 on Friday. We have been targeting $17.50 as a possible entry point to start adding silver again to our portfolio and we may or may not get that chance over the near-term as a run to $24-$26 could come on continued strength. A close back below $22 would cool the momentum.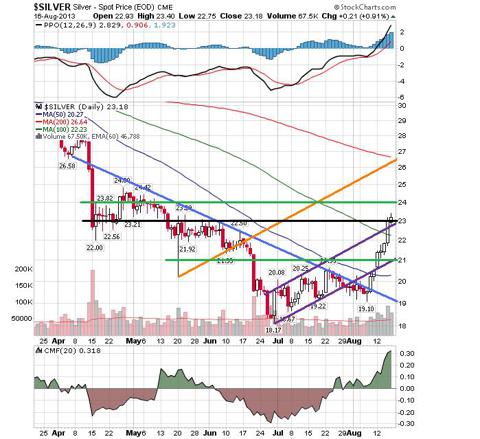 Apple made a run to $500 after Carl Ichan revealed a stake in the company. The shares strength helped the Nasdaq and broader markets from taking a possible nosedive. If Apple remains strong and makes a run to $550, this should help the indexes heading into September. However, if Apple pulls back to $470, the market could fall in tandem based on sympathy.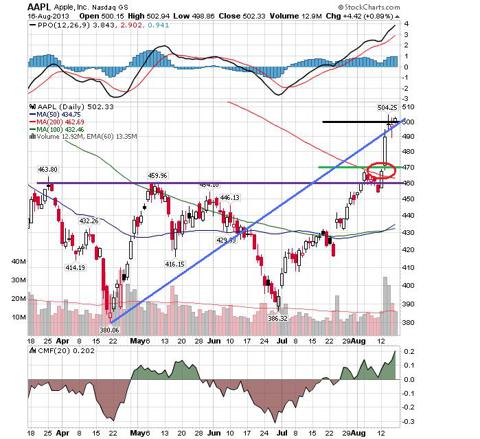 The Financial Select Spiders (XLF, $20.02, down $0.03) have been holding $20 following the breakout above this level in early July. Support has been strong at $20 and there is risk down to $19.75 and the 50-day MA, or $19.50, on continued softness. As long as support holds, the Financial Spiders could test $21 and fresh highs on a breakout.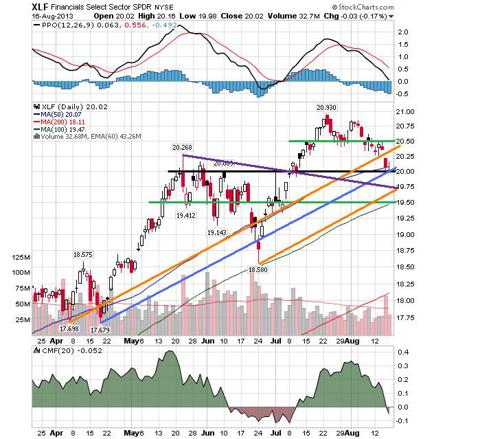 The Monday/ Friday closes have been mixed over the past few weeks as the bears have won the last 2 Monday's on the Dow but the past two Friday's have been split. This Monday could be a good clue if the Dow closes lower but the losses have been mild as the Dow has fallen back to the bottom of its trading range. If the blue-chips give back another triple-digits to start the week, there is a good chance the June lows come into play." (from 8/18/2013 Weekly Wrap…)
The bears continued their assault on the bulls last week as the market tested its August lows before making up some ground late in the week.
The Fed heads are clueless on where they want to go with QE (quantitative easing) as the zombies rubbed elbows in Jackson's Hole while leaving more question marks than answers for Wall Street to figure out.
Meanwhile, a 3-hour trading halt on the Nasdaq brought back memories of flash crashes and fat fingers. The volatility was typical for an August trading week as volume continues to be light while the big wigs wind down their summer vacations. Friday's rebound by the bulls was a nice bounce off the bottom of the trading ranges but they still have a little work to do before a rally cam be trusted. (read more…)
The Dow advanced 47 points, or 0.3%, to finish at 15,010 on Friday. The blue-chips tested the 15,000 level on Monday's drop to 15,005 and we said there would be risk down to 14,800 if triggered. Tuesday's dip to 14,992 cracked the seal but the Dow rebounded to hit 15,074 before ending at 15,002. Wednesday's low was 14,880 as the bulls losing streak reached 6-sessions before Thursday's bounce and close at 14,963. The 15,000 level is now short-term resistance but was cleared on Friday's pop to 15,025. The next level of battle will occur at 15,200 and then 15,350-15,400. We mentioned midweek a close below 14,800 would get 14,600 and the June lows in play. The Dow started the week at 15,081 and fell 71 points, or 0.5%, by Friday's close. For the year, the blue-chips have advanced 1,906 points, or 14.6%.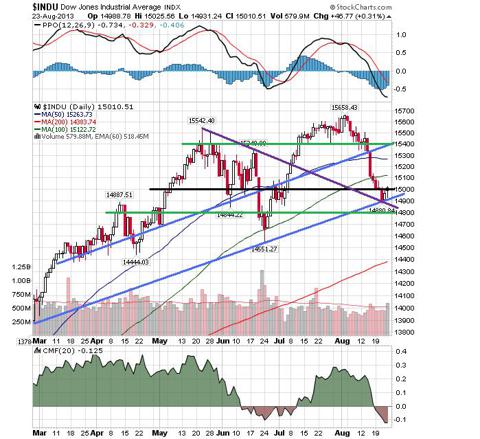 The S&P 500 added a 6-pack, or 0.4%, to settle at 1,663. The index came into the week just above 1,650 but broke below this level on Monday's drop to 1,646. It was the lowest close since July 9 and opened the door for a test to 1,625. Tuesday's action was all bull as the index reached a peak of 1,658 and held 1,650 by closing at 1,652. Wednesday's low reached 1,639 before a close at 1,642 and Thursday's run to 1,659. Although the index cleared 1,650, it still failed to close above its 50-day MA for a fourth-straight session. However, Friday's breakthrough cleared this level. Resistance is at 1,675 and we have said to watch a close above 1,665 as confirmation higher prices could be back in the mix. The S&P 500 came into Monday's session at 1,655 and was up 8 points, or 0.5%, for the week. For 2013, the index has gained 237 points, or 16.6%.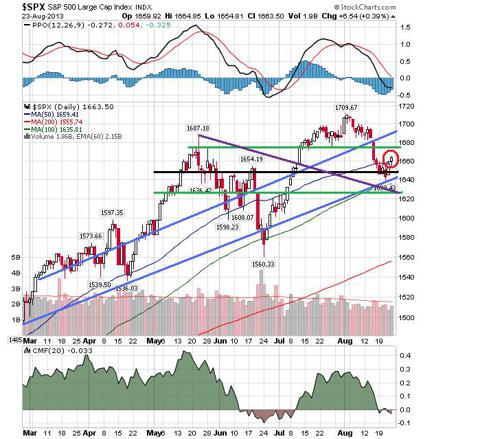 The Nasdaq jumped 19 points, or 0.5%, to end at 3,657. Tech tried to hold 3,600 coming into the week and did for much of Monday's session until the final hour of trading. The close at 3,589 got 3,550-3,500 in the mix but Tuesday's rebound to 3,625 and hold of 3,600 delayed the bears' efforts. We said the bulls needed to hold 3,625 in order to get 3,650 back in play and we knew the close at 3,613 would be short-lived as the index finished at 3,599.79 on Wednesday. Thursday's rebound to 3,638 was a good sign as 3,625 was cleared and Friday's close above 3,650 again was bullish with the high coming in at 3,660. The next 50 points will be crucial in deciding the next trend as the market winds down August and heads into September. Resistance is at 3,675-3,700 while support is at 3,625-3,600. The Nasdaq began the week at 3,602 and gained double-nickels (55 points), or 1.5%, by Friday's closing bell. Year-to-date, Tech has zoomed 638 points, or 21.1%.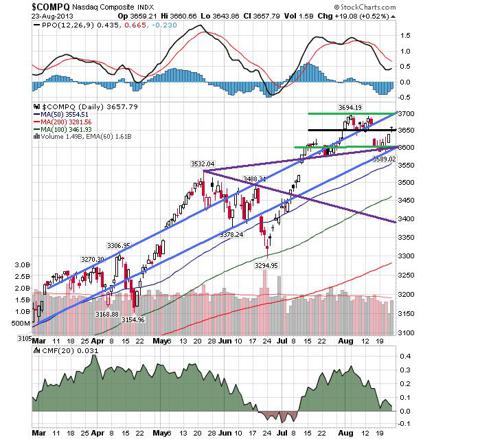 The Russell 2000 popped 2 points higher, or 0.2%, to close at 1,038 on Friday. The small-caps needed to clear 1,025 to start the week and was less than a point away but we knew the half-point pop to 1,024.61 was a bear omen. The index gave back 11 points by the close and went out at 1,013. We mentioned a close below 1,025 would get 1,000 in play but Tuesday's rebound to 1,028 got the bulls excited. The rally lasted less than 24 hours following a push to 1,030 as the Russell closed at 1,021 and back below 1,025 on Wednesday. The index did hold its 50-day MA and that was a positive sign as Thursday's surge to 1,038 looked good on paper. However, we specifically said coming into the week the bulls would need to clear 1,040 and then 1,050 to reverse the trend and Monday will be an important day. The Russell 2000 was at 1,024 before Monday's open and managed to gain 14 points, or 1.4%, for the week. YTD, the small-caps are up 189 points, or 22.2%. We will talk more small-caps below.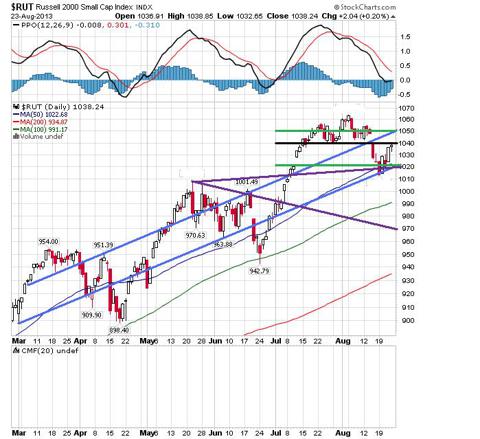 The S&P 500 Volatility Index ($VIX, 13.98, down 0.78) came into the week at 14.37 and tripped 15 by Monday's close, finishing at 15.10 after kissing a high of 15.20. We said a close above this level would get 17.50 in the mix and Tuesday's high was 16.22. Wednesday's 11% pop to 16.56 ended with a 7% gain to 15.94. We have been warning once 15 to trigger to watch 17.50 for another possible leg lower on the S&P 500. Thursday's rebound pushed the VIX back below 15 and may have signaled a short-term top following Friday's 5% pullback. The bulls will need to get the VIX back below 13.50 this week or risk the bears running the VIX back up to the aforementioned resistance levels.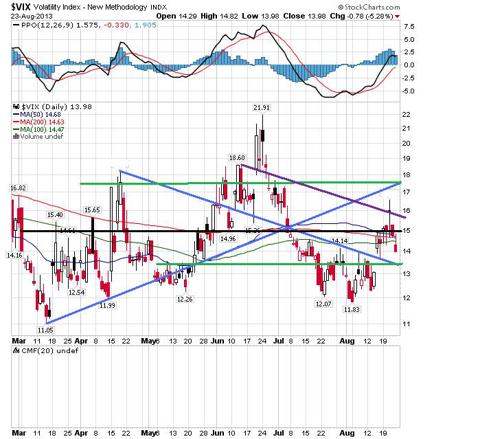 It was a fun ride for the blue-chips but all good streaks come to an end. After 158 trading sessions, the Dow finally fell for four-straight days and a third-straight Monday. The index had gone all year without a 4-game slide, a record to start any year, and beat the old record of 143 consecutive sessions set in 1954 by 3 weeks.
The last time the Dow had lost 4-straight was in December 2012 when the index fell five-straight over Christmas break and 373 points. The just ended 6-session losing streak cost the Dow roughly 625 points and the index recovered a little over 100 points on Thursday and Friday.
We talked about Fibonacci Retracements last Tuesday because we felt the indexes were holding the bottoms of their trading ranges. Fibonacci retracement levels are ratios used to identify potential reversal levels following new highs or breakouts in the market or a stock. The most widely used Fibonacci Retracements are 61.8% and 38.2%.
The other common retracement level is 23.6%, another Fib number, and 50%, a Dow Theory throw-in number as the major indexes or stocks often retrace half their prior move.
Technicians say retracements of 23.6% are relatively minor setbacks. Retracements in the 38.2%-50% range are considered moderate and pullbacks in the 61.8% range are often referred to as "golden retracements". A 100% retracement can also occur after peaks and are considered trend changes or corrections if they deepen.
The good news for the bulls is that rebounds can be expected once these Fibonacci levels are reached for a potential bullish reversal.
For the S&P 500, the 50% retracement level from the June low of 1,560 to the early August high of 1,709 is around 1,635 and Wednesday's low was 1,639. The 61.8% level is at 1,625 or so and a level we have talked about.
The Nasdaq hit a low of 3,294 in June and peaked at 3,694 during the first week of the month. It was a 400-point advance and this one is easy. A 23.6% retracement is roughly 95-100 points and 3,589 check-in as the low last Monday. If you take 100 points off the high of 3,694 you get 3,594 so Tech came within 5 points of tagging this number. The 38.2% retracement level is around 3,550 and a level we have talked about if support at 3,600 fails.
The Russell 2000 bottomed at 940 in June and maxed out at 1,063 in early August for a gain of 123 points. If you take 50% of that number you get 61.5 points. This would put the Russell right around the 1,000 level. Last Monday's low was 1,013. Pretty close, huh?
The Dow's June low was 14,551 and the high was 15,658 on the second day of August. This is a surge of 1,107 points so half is 553.5 points. If we use the Fibonacci level of 61.8%, it would be roughly 680 points. Off the high, this would put the blue-chips at 14,978. Sometimes these fib levels get stretched to 65% and the recent low on the Dow was 14,880 last Wednesday. The 50% level is 15,100 and served as prior support. This levels need to clear this week.
As you can see, we could have summed things up by saying the Russell and S&P have retraced 50% of their Fibonacci levels while the Nasdaq has bounced off its 23.6% fib level and the Dow is rebounding off its 61.8% fib level.
The Monday/ Friday closes are still mixed with 3-straight down Monday's with this prior Friday being up. This is another reason why the Dow needs to try and get a positive close this Monday (and Friday, of course). Another lower M/F could suggest further weakness ahead if the rebounds fades this week.
The small-caps showed some solid strength following the bounce off the lows and have been one of OUR leading indicators in calling the market's direction all year long. They still have some work to do but with the 1,000 level holding it was a good sign. Another good clue we use from time-to-time is the Dow Transports. The index surged through its 50-day MA last week and could push 6,550-6,600 on continued strength. This would be a bullish sign.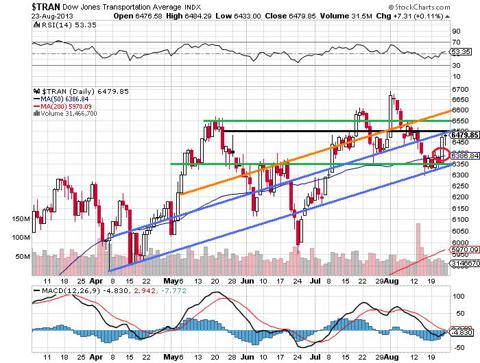 The market is holding the bottom of its July trading range and a retest could lead to the June lows: Dow 14,551; S&P 1,560; Nasdaq 3,294; Russell 940 - if the bulls stumble out of the gate. The VIX reached a peak of 18.58 in late June. If the golden Fibs don't hold then these levels will likely be tested and is the bearish case.
If the bulls clear the first and second waves of resistance, the market could be setting up for a test to the top of the trading ranges and/ or new highs again going into September. The last week of August is usually the strongest of the month but volume will once gain be light as a feather.
As we head to press, futures look like this: Dow futures are up 13 points to 15,003 while the S&P 500 futures are higher by 2 points to 1,663. The Nasdaq 100 futures are advancing 3 points to 3,124.