September Setting Up to be Very Volatile
9:00am (EST)
"It was a fun ride for the blue-chips but all good streaks come to an end. After 158 trading sessions, the Dow finally fell for four-straight days and a third-straight Monday. The index had gone all year without a 4-game slide, a record to start any year, and beat the old record of 143 consecutive sessions set in 1954 by 3 weeks.
The last time the Dow had lost 4-straight was in December 2012 when the index fell five-straight over Christmas break and 373 points. The just ended 6-session losing streak cost the Dow roughly 625 points and the index recovered a little over 100 points on Thursday and Friday.
We talked about Fibonacci Retracements last Tuesday because we felt the indexes were holding the bottoms of their trading ranges. Fibonacci retracement levels are ratios used to identify potential reversal levels following new highs or breakouts in the market or a stock. The most widely used Fibonacci Retracements are 61.8% and 38.2%.
The other common retracement level is 23.6%, another Fib number, and 50%, a Dow Theory throw-in number as the major indexes or stocks often retrace half their prior move.
Technicians say retracements of 23.6% are relatively minor setbacks. Retracements in the 38.2%-50% range are considered moderate and pullbacks in the 61.8% range are often referred to as "golden retracements". A 100% retracement can also occur after peaks and are considered trend changes or corrections if they deepen.
The good news for the bulls is that rebounds can be expected once these Fibonacci levels are reached for a potential bullish reversal.
For the S&P 500, the 50% retracement level from the June low of 1,560 to the early August high of 1,709 is around 1,635 and Wednesday's low was 1,639. The 61.8% level is at 1,625 or so and a level we have talked about.
The Nasdaq hit a low of 3,294 in June and peaked at 3,694 during the first week of the month. It was a 400-point advance and this one is easy. A 23.6% retracement is roughly 95-100 points and 3,589 check-in as the low last Monday. If you take 100 points off the high of 3,694 you get 3,594 so Tech came within 5 points of tagging this number. The 38.2% retracement level is around 3,550 and a level we have talked about if support at 3,600 fails.
The Russell 2000 bottomed at 940 in June and maxed out at 1,063 in early August for a gain of 123 points. If you take 50% of that number you get 61.5 points. This would put the Russell right around the 1,000 level. Last Monday's low was 1,013. Pretty close, huh?
The Dow's June low was 14,551 and the high was 15,658 on the second day of August. This is a surge of 1,107 points so half is 553.5 points. If we use the Fibonacci level of 61.8%, it would be roughly 680 points. Off the high, this would put the blue-chips at 14,978. Sometimes these fib levels get stretched to 65% and the recent low on the Dow was 14,880 last Wednesday. The 50% level is 15,100 and served as prior support. This levels need to clear this week.
As you can see, we could have summed things up by saying the Russell and S&P have retraced 50% of their Fibonacci levels while the Nasdaq has bounced off its 23.6% fib level and the Dow is rebounding off its 61.8% fib level.
The Monday/ Friday closes are still mixed with 3-straight down Monday's with this prior Friday being up. This is another reason why the Dow needs to try and get a positive close this Monday (and Friday, of course). Another lower M/F could suggest further weakness ahead if the rebound fades this week.
The small-caps showed some solid strength following the bounce off the lows and have been one of OUR leading indicators in calling the market's direction all year long. They still have some work to do but with the 1,000 level holding it was a good sign. Another good clue we use from time-to-time is the Dow Transports. The index surged through its 50-day MA last week and could push 6,550-6,600 on continued strength. This would be a bullish sign.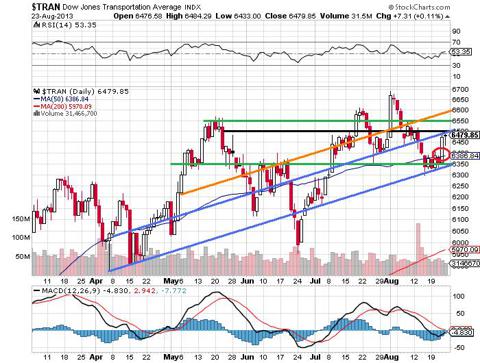 The market is holding the bottom of its July trading range and a retest could lead to the June lows: Dow 14,551; S&P 1,560; Nasdaq 3,294; Russell 940 - if the bulls stumble out of the gate. The VIX reached a peak of 18.58 in late June. If the golden Fibs don't hold then these levels will likely be tested and is the bearish case.
If the bulls clear the first and second waves of resistance, the market could be setting up for a test to the top of the trading ranges and/ or new highs again going into September. The last week of August is usually the strongest of the month but volume will once gain be light as a feather." (from 8/25/2013 Weekly Wrap…)
The bears capped a successful August by winning Friday's session as the bulls threw in the towel and looked ahead to September's battles. The zombies will be working overtime as they now must debate an attack on Syria thanks to the President's decision to delay the strike over the weekend. This, along with the debt-ceiling debate and the Fed's reaction to this Friday's unemployment numbers will go a long way in deciding if the bulls give up more ground or if there will be a rebound.
The Dow dipped 30 points, or 0.2%, to close at 14,810 on Friday. The blue-chips traded to 14,848 (up 8 points) on the open and resistance at 15,000 was never threatened following Thursday' run to 14,916. The bulls were able to hold the 14,800 level after a dip to 14,762 but remain vulnerable down to 14,600-14,400 on further weakness. A close back above 15,000 would be bullish but heavier layers of resistance could be hard to overcome if uncertainty continues. The 100-day MA (moving average) is at 15,132 while the 200-day MA is at 14,434.
The S&P 500 slipped 5 points, or 0.3%, to settle at 1,632. Prior support at 1,650 was pushed on Thursday but Friday's high of 1,640 fell well short. The bears came within a half-point of pushing the week low of 1,627 and we have warned a close below 1,625 could lead to 1,600-1,575. The 200-day MA is at 1,562 and the 100-day MA is at 1,639.
The Nasdaq was punished for 30 points, or 0.8%, to end 3,589. Tech needed to clear and hold 3,625 ahead of the weekend but after a 1-point pop to 3,621 it was all down hill afterwards. The index traded to a low of 3,581 and closed below 3,600 for fifth time in the past 10 trading sessions. This Nasdaq is still above its 50-day MA of 3,571 and will be a key level to watch and the 100-day is at 3,480. We have been warning of a test down to 3,550-3,500 as long as the index fails at 3,600 and last week's low was Tuesday's trip to 3,573. A close back above 3,600 and then 3,625 would suggest the bulls making a run at new 52-week peaks but that could be asking a lot given the uncertainty that lies ahead.
The Russell 2000 tanked 16 points, or 1.6%, to finish at 1,010 and was the bigger story. The small-caps ended at their lows for the week after failing to recover the 50-day MA at 1,026 on Friday and are testing July lows. The mid-August drop below 1,050 was a warning sign and we have been mentioning 1,025-1,000 would come into play on further weakness. A close below 1,000 and the 100-day MA at 995 could cause a rush for the exits and bring 975-950 into play. The 200-day MA is at 940. A close back above 1,025 would stop some of the bleeding.
The S&P 500 Volatility Index ($VIX, 17.01, up 0.20) traded to a high of 17.81 on Friday but closed below 17.50. We have been warning that a run to 20-22 could come if the bears take out this level while a close under 15 would be bullish. Along with the indexes, the VIX has been in a trading range but could be showing signs of life.
We are light on chart work this week because we wanted to enjoy our first 2-day weekend in months. We work every Sunday to get the Weekly Wrap ready and to prepare for possible new trades so it was nice to get an extra day of rest. We certainly deserved it after the long and profitable hours we put in for August and for the year.
The President's move to throw back his "red line" stance on Syria may have looked good politically but it was seen as a coward way of backing out of a situation he created with his off-the-cuff remarks last year. We aren't sure what Mitt Romney is thinking but it is clear Obama took the easy way out after he put his foot in his mouth and used the other one to kick the decision back to Congress. Nice punt, Obama.
The zombies are unlikely to approve a strike as we don't believe they will have the votes to do so and the President can then blame it on someone else like he always does. Obama can say he tried but he didn't offer to bring the zombies in for an emergency vote over the weekend when there are 3 airports in and around the DC area and he has made America look pretty silly on foreign affairs because nothing has been planned since those red line words were spoken.
To complicate matters, we really can't see how all of the decisions are going to be made within the short time frame given. The zombies are still on vacations as members of the House aren't expected back until September 9 ,or NEXT Monday after having all of August off. Must be nice.
As far as the market, we are expecting a snap-back rally on Tuesday after the news to delay a strike on Syria. It may be short-lived as traders sell into strength because a lot of unknowns will still exist but if resistance is cleared, the market could drift higher throughout the week and back to the top of the trading ranges.
The uncertainty could also benefit the bulls as the indexes remain in a trading range but the bottom of the ranges are the June lows and we have warned of them coming into play on continued weakness. As a reminder, the June lows are: Dow 14,551; S&P 1,560; Nasdaq 3,294; Russell 940. The high for the VIX in June reached 18.58.
The main clues we will be watching for this week is how the VIX trades, if the small-caps hold or clear 1,000-1,025 and the Nasdaq's 50-day MA. We still need to be careful when trading directional options for the Daily because trading ranges hurt premiums. As far as our Weekly Wrap, we closed positions throughout August because we expected the trading ranges to continue but we are building a nice Wish List for our next batch of trades. If there is further weakness, we could have new short positions along with put options as we are likely to sell some of our remaining call positions into strength this week. However, if the bulls clear a few layers of resistance, there could be another opportunity to go long again.
As we head to press, futures look like this: Dow (+88); S&P 500 (+13); Nasdaq 100 (+21). We could have a Profit Alert shortly after the open depending on an upcoming earnings announcement and we have added some possible new trades to our Watch List. One is an old Tech favorite.