Bulls Start September with Sweet Gains
9:00am (EST)
"The President's move to throw back his "red line" stance on Syria may have looked good politically but it was seen as a coward way of backing out of a situation he created with his off-the-cuff remarks last year. We aren't sure what Mitt Romney is thinking but it is clear Obama took the easy way out after he put his foot in his mouth and used the other one to kick the decision back to Congress. Nice punt, Obama.
The zombies are unlikely to approve a strike as we don't believe they will have the votes to do so and the President can then blame it on someone else like he always does. Obama can say he tried but he didn't offer to bring the zombies in for an emergency vote over the weekend when there are 3 airports in and around the DC area and he has made America look pretty silly on foreign affairs because nothing has been planned since those red line words were spoken.
To complicate matters, we really can't see how all of the decisions are going to be made within the short time frame given. The zombies are still on vacations as members of the House aren't expected back until September 9 ,or NEXT Monday after having all of August off. Must be nice.
As far as the market, we are expecting a snap-back rally on Tuesday after the news to delay a strike on Syria. It may be short-lived as traders sell into strength because a lot of unknowns will still exist but if resistance is cleared, the market could drift higher throughout the week and back to the top of the trading ranges..
The uncertainty could also benefit the bulls as the indexes remain in a trading range but the bottom of the ranges are the June lows and we have warned of them coming into play on continued weakness. As a reminder, the June lows are: Dow 14,551; S&P 1,560; Nasdaq 3,294; Russell 940. The high for the VIX in June reached 18.58.
The main clues we will be watching for this week is how the VIX trades, if the small-caps hold or clear 1,000-1,025 and the Nasdaq's 50-day MA. We still need to be careful when trading directional options for the Daily because trading ranges hurt premiums. As far as our Weekly Wrap, we closed positions throughout August because we expected the trading ranges to continue but we are building a nice Wish List for our next batch of trades. If there is further weakness, we could have new short positions along with put options as we are likely to sell some of our remaining call positions into strength this week. However, if the bulls clear a few layers of resistance, there could be another opportunity to go long again." (from 9/2/2013 Weekly Wrap…)
The bulls were cruising throughout the week going into Friday's session before some "old school" volatility picked up that took the market on a wild ride. The price action swung nearly 2% shortly after the open and when the dust settled it ended up being a flat session.
The bears were due for a rest following the attack in August and we mentioned the start of September could be bullish through next week. We will go into more detail in our commentary below on how we see the next month or so playing out but one thing is for certain, volatility could be extreme and as option traders, the next 2 months will be a Super Bowl. (read more…)
The Dow dipped 15 points, or 0.1%, to close at 14,922 on Friday. The blue-chips pushed resistance at 15,000 on the open but fell a staggering 200+ points to 14,789 within the first hour of trading. Support at 14,800 was tested but the index recovered to push 15,000 again after reaching a peak of 15,009. The low for the week checked in at 14,777 on Tuesday's open. The bulls should be able to push 15,200 by midweek once 15K is cleared and could position themselves in between the 50-day and 100-day MA's. From there it will be important for them to hold the next wave of resistance. If so, a run to new highs could come. If not, the Dow could easily retest 14,800 with a negative Monday open and a close below this level could lead to 14,600-14,400-14,350 For the week, the Dow was up 112 points, or 0.8%, after coming in at 14,810. For the year, the blue-chips have advanced 1,818 points, or 13.9%.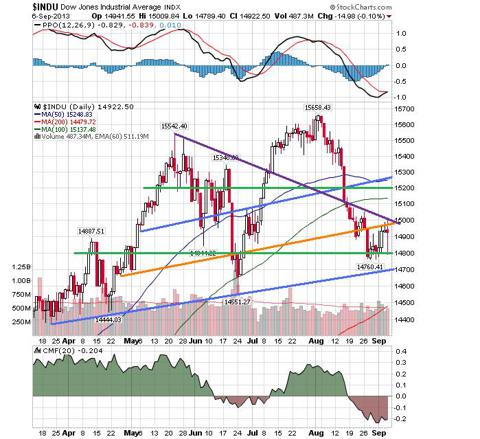 The S&P 500 added a tenth of a point, or 0.01%, to settle at 1,655. The index traded to a high of 1,651 on Tuesday but failed to hold resistance at 1,650 after the morning surge. The bulls did hold positive territory but the low checked-in at 1,633 and it was the fourth consecutive close below the 100-day MA (moving average). This changed with Wednesday's pop to 1,655 and close at 1,653. This set the bulls up for a run at 1,675 and Friday's high was 1,664 before the elevator dropped to 1,640 and the 100-day MA. The break back below support is a reminder how quickly the bears can still push 1,625-1,600 in a hurry. A close below these levels would be bearish. If the bulls can clear the 50-day MA and then 1,675, expect 1,700 to come into play again. The S&P 500 came into Tuesday's session near 1,633 and was up a double-deuce (22 points), or 1.4%, for the week. Year-to-date, the index has gained 229 points, or 16.1%.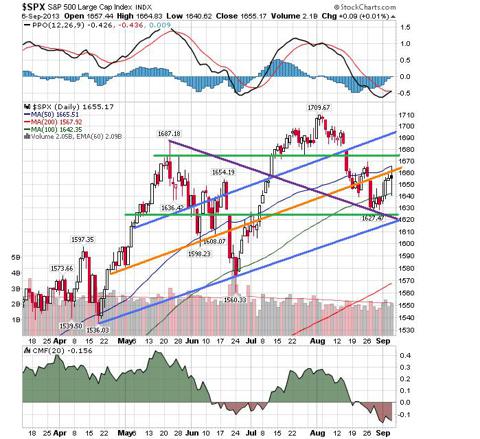 The Nasdaq gained a point, or 0.03%, to finish at 3,660. Tech was a bright spot as it held positive territory all week long and made higher highs into Friday. The troublesome part for the bulls is that Friday's dip to 3,618 keeps 3,600 and the 50-day MA in the mix. This level has been a brick wall for the bears but they have made some cracks in it and could push 3,550-3,500 (100-day MA) this week on a close below 3,600-3,575. The bulls need to conquer 3,675 as they work their way back to 3,700 and new 52-week highs and did kiss 3,677 on Friday with a positive close. The Nasdaq began the week at 3,589.87 and jumped 70 points, or 2%, by Friday's closing bell. For 2013, Tech has zoomed 641 points, or 21.2%.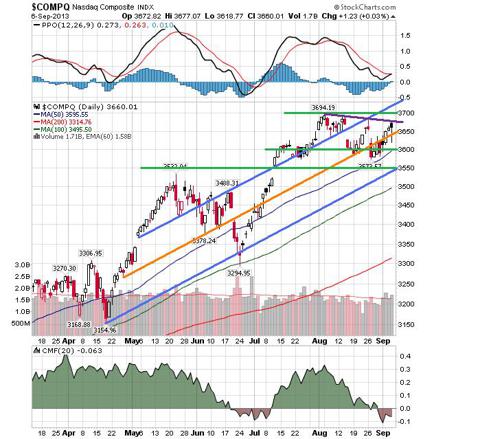 The Russell 2000 advanced a point, or 0.08%, to end at 1,029.55 on Friday. The small-caps pushed the first wave of resistance at 1,025 and kissed 1,026 on Tuesday but also dipped to 1,009 late in the day. The index did clear this level with Wednesday's close at 1,025.58 but we mentioned 1,040 and the 50-day MA would be the next hurdles with the brick wall for the bulls at 1,050. If these levels are cleared a run to all-times north of 1,063 could trigger but if 1,025 fails to hold, look out below. Friday's high of 1,034.77 was a nice try by the bulls but the low of 1,015.72 nearly matched Wednesday's low of 1,015.69. A close below 1,015 would suggest 1,000 back on the bears' radar. The 100-day MA is at 999. The Russell 2000 was at 1,010.90 before Tuesday's open and was up nearly 19 points, or 1.8%, for the week. YTD, the small-caps are up 180 points, or 21.2% - just like the Nasdaq.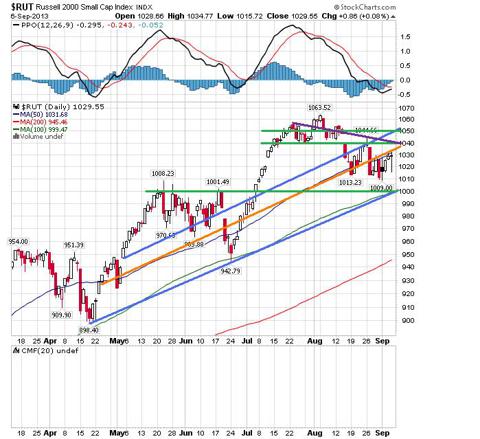 The S&P 500 Volatility Index ($VIX, 15.85, up 0.08) came into the week at 17.01 and traded up to 17.37 on Tuesday's open but tested a low of 15.17 on Friday. The bulls have been trying to get the VIX below 15 while the bears need a close above 17.50. Friday's high of 16.81 represented a 10% swing from low to high and once support or resistance is cleared, the next trend should develop. It's that simple.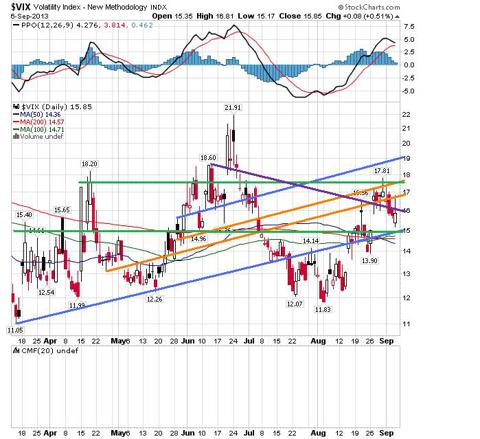 The market made it through one of September's major events following the release of Friday's Nonfarm Payroll report. Although the gain of 169,000 jobs for August was 7,000 ahead of expectations, we mentioned the lower revisions to the June and July numbers. What we didn't mention is that the 3-month average is now under 150,000 and well below what the Zombies said they needed to see before cutting back on Quantitative Easing (QE).
Ben Bernanke and the Fed Heads have said they want to see and unemployment rate of 6.5% and sustained job growth of 200,000 before cutting back on QE. The unemployment rate fell from 7.4% to 7.3% but this is deceptive as more and more people drop out of the labor force.
The numbers for July job growth were lowered by 58,000 to only a net of 105,000 added. Needless to say, the Zombies are seeing the unemployment rate drop but for the wrong reasons with less jobs being added. The labor force participation rate fell to 63.2% in August and is at its lowest level since 1978.
This picture keeps QE on through yearend and into 2014 so any September tapering could already be factored into the market. We have repeatedly said that we do not expect the Fed to cut back on its bond purchases in September but there is a ton of pressure to trim $10-$20 billion off the $85 billion a month budget.
There will be more clarity next week with the September FOMC meeting and Fed speak afterwards and is another upcoming headline risk event.
This week will be all about Syria and we will try to keep this one short because no one knows what will happen until a strike does occur. There are too many what if's to list but the main one is how the market reacted to Russia's role.
Russia's President, Vladimir Putin, rattled Wall Street on Friday when he said he would stand by Syria if the U.S. launched a military strike against the country. His comments were seen as fighting words but the market recovered after they were clarified. Instead of a possible battleship game at sea with the U.S. as feared, Russia said it would supply Syria with advanced anti-aircraft and anti-missile systems.
There are 3 Russian ships that are nestled off the Syrian coast with a fourth vessel, carrying a "special cargo", in route to the area. Russia has been Syria's biggest arms supplier and with tensions running high, anything can happen.
President Obama will be addressing the nation on Tuesday to gain more support for a strike on Syria. The zombies will be briefed Monday night and a vote should come by the end of the week. We have gone on record saying there will not be enough votes and Obama has gone to the mic to say he doesn't need approval.
Our thoughts is that it is too late to strike Syria now and the best bet is to wait for another chemical attack that will likely happen either way. The recent "red line" episode wasn't the first and won't be the last. After the vote on Syria, expect the debt ceiling debate to take center stage and something we will cover more in-depth next week.
The geopolitical rhetoric will be market moving events but we will trust the technical charts and indicators instead of wondering what the zombies will do. However, we cannot stress enough how volatile the market could become this month and next.
Earnings are still trickling in as off cycle companies wrap up their reports with others starting to prepare for October's third-quarter releases. It will be an important season as full-year guidance comes into play and 2014 outlooks.
As far as specific stocks, Apple (AAPL, $498.22, up $2.95) will be a major player in moving the indexes as it will showcase some new products on Tuesday. They could also announce a new China deal with a major carrier that could easily generate 100-150 million users at the drop of a hat.
We have heard of new colors for the upgraded iPhones as gold, silver and red could be the new flavors of choice with a thumbprint signature to activate instead of the painful slide Samsung has made fun of. We also expect cheaper iPhones, an upgraded iPad announcement, along with a newer version of its Apple TV.
Shares have been on the move of late and have been dancing with the $500 level after a low of $386 in July, $380 in May This could be a classic buy the rumor, sell the news event as a few analysts have started to upgrade the price targets for the stock north of $600. However, this could also be a breakout event if Apple drops hints of future projects. If so, we could see a run to $525-$550 on a close above $510.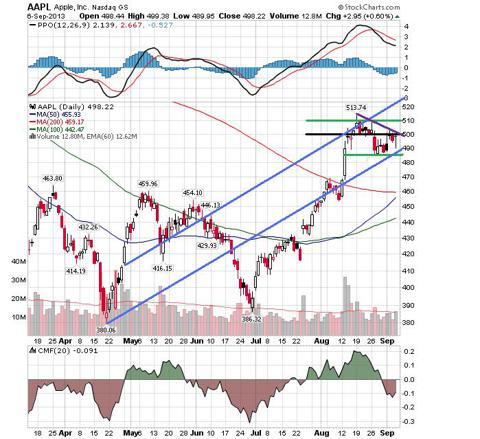 We will also be watching some of the major stocks of the Dow, including International Business Machines (IBM, $183.03, down $1.12) and Caterpillar (CAT, $83.39, up $0.44) for clues of a Dow decline below support. IBM is the leading Dow component and makes up 11.4% of the index. Cat is second at 6.6%. Together they make up nearly 18% of the blue-chips.
IBM has been testing 52-week lows and could drop to $175 on a break below $181: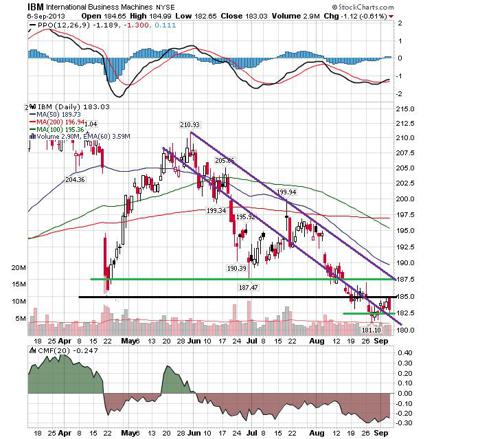 We have traded CAT off and on throughout the years as both bullish and bearish positions and this year it has been mostly bearish. Shares could fall into the $70's on a close below $81.50: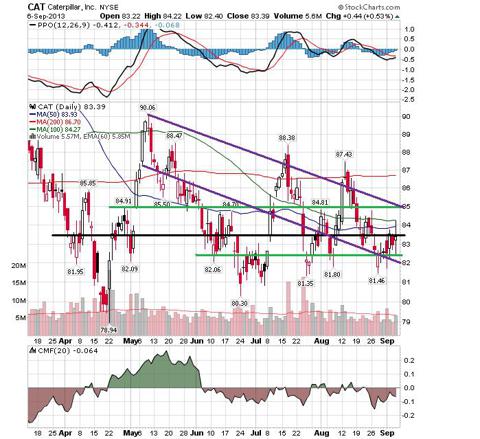 The 3 aforementioned stocks (AAPL, IBM, CAT) should be watched this week along with the Monday and Friday closes on the Dow. The bulls got a break last Monday as the market was closed but Tuesday was an up day. Friday was a down day and has been mixed in recent weeks.
The 10-Year Treasury Note Yield ($TNX) reached a peak of 2.98% last week and the fear is once 3% triggers, money will pour out of stocks and into bonds. The Fed could take advantage of this situation and announce a small taper cut for now and say another one wouldn't seem likely until 2014. This would be bullish but the FOMC announcement isn't until next week and by then the Fed could be too late to stop a 3% print.
As far as our positions, we have bullish and bearish positions in both our Daily and Weekly Wrap portfolios and our hope is to cash out a few more trades on a rally through Wednesday to the top of the trading ranges before a possible back test to support.
As we head to press, futures look like this: Dow futures are up 39 points to 14,948 while the S&P 500 futures are higher by 5 points to 1,658. The Nasdaq 100 futures are advancing 13 points to 3,142.