Market Slips but Not By Much
9:00am (EST)
The Terrific Tuesday's turned into a Tame Tuesday as the bears evened the score for the week and are ahead on Wall Street's scorecards. Although the action was subdued with more slick talking heads calling for a pullback, there were a few bullish signs that kept the losses in check that continue to suggest higher highs. Momentum stocks are taking a hit and companies that miss earnings are getting rocked but there are others stocks still shining as the sector rotation continues along with the recent trading range.
The Dow fell 32 points, or 0.2%, to end at 15,750. The blue-chips made a brief trip into positive territory at the open - reaching a high of 15,793 - before falling to a low of 15,708. Resistance at 15,800 continues to be a bear but when cleared should lead to 16,000. Support is at 15,600.
The S&P 500 slipped 4 points, or 0.2%, to finish at 1,767. The index traded in the red all session long and down to 1,762 before recovering half its losses by the bell. Support at 1,750 continue to hold up as we wait for 1,775 to clear.
The Nasdaq gained a tenth of a point finish at 3,919.92. Tech tested 3,900 again after falling down to 3,902 but challenged 3,925 throughout the day. A close above this level should lead to another battle at 3,950.
The Russell 2000 dipped 0.03 points to settle at 1,101.47. The small-caps dropped below the 1,100 level on the open and bottomed at 1,095 before nearly ending the session in positive territory. The first hurdle for the bulls remains 1,110 if they plan on pushing 1,125 while a close below support gets 1,075 back in play.
The S&P Volatility Index ($VIX, 12.82, up 0.29) popped 2% and kissed 13.06 but never really threatened 13.50. We have said a close below 12.50 could lead to new lows on the VIX and it could come on an extended rally or a blow off top.
We aren't sure if another run to fresh highs will be the peak for the year or if we are at that level now. Trading ranges are tricky because the longer a stock or index stays in one the bigger the breakdown or breakout will be.
Homework/ Course Training Material
We profiled a possible earnings trade for Rackspace Hosting (RAX, $43.45, down $5.86) in Sunday night's Weekly Wrap along with some chart work. We mentioned this would be a big quarter for the company and that Wall Street would grade them accordingly when they reported earnings on Tuesday.
The company came in with profits of 11 cents a share on revenue of $388 million while the suit-and-ties were looking for 10 cents a share on roughly the same revenue. Gross margins also slipped and capital expenditures are headed higher in the current quarter.
Here were our thoughts along with the chart work from this week's Weekly Wrap:
Rackspace Hosting (RAX, $48.54, up $0.86)
November 50 calls (RAX131116C00050000, $2.40, up $0.65)
November 45 puts (RAX131116P00045000, $1.45, down $0.10)
Thoughts: This is an important quarter for the company and while we like them they are hard to trust and why we have also listed put options. The options are also very expensive as we have listed November options that expire this week. If we aren't playing these, we certainly don't like the December chains either. Perhaps, selling options against the stock is another option but we don't go naked. Ever.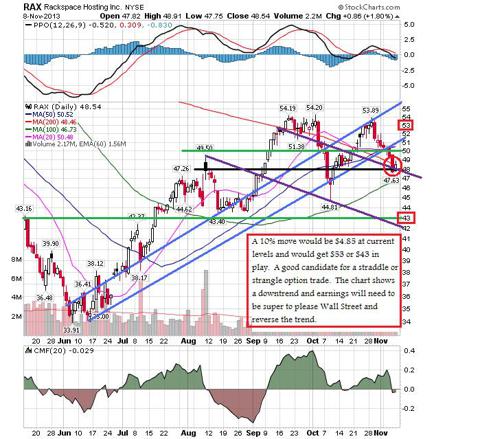 As you can see from our chart work, we expected a 10% move and a possible drop to $43 on a disappointing quarter. The options were over inflated and the main reason we stayed on the sidelines but there could have been a sweet profit had we taken positions ahead of Monday's close with the puts or SOLD both options but we didn't like that idea.
The November 45 puts (RAX131116P00045000, $2.00, up $1.00) went out at a buck on Monday's close and traded up to $3. They could've and should've been closed out at $2 ahead of Tuesday's close for at least a double as these options expire this week.
The November 50 calls (RAX131116C00050000, $0.03, down $2.45) got crushed for a 99% loss. We said it might be best to SELL the options to collect the premium instead of buying them as the strangle trade with both options would be up roughly 50%.
As we head to print, futures look like this: Dow (-90); S&P 500 (-9); Nasdaq (-18).