MomentumOptionsTrading.com Morning Update for 11/25/2013
Last Week of November Might Be Bullish
9:00am (EST)
"The Dow and S&P 500 wrapped up their sixth-straight week of gains with the blue-chips coming within 37 points or tripping our yearend target of Dow 16,000. The blue-chips remain the last of the 4 major indexes that hasn't triggered our 2013 Price Targets (from February we remind you) but probably would have if not for Cisco Systems' (CSCO, $21.54, up $0.17) terrible earnings report.
The other major indexes are showing signs of a surge past round number resistance with the S&P 500 approaching 1,800 and the Nasdaq 4,000. The Dow Theory trends we have been discussing have played out well over the past few weeks and the index cleared a triple-top.
From our 11/4/2013 Weekly Wrap:
"The Dow is also at a triple-top and these types of chart patterns can be bullish or bearish but this one looks bullish. The blue-chips peaked in August and September and are on the verge of a triple-top breakout as the index is in an uptrend. These types of setups are usually reliable and a breakout on higher volume would confirm another rally that should carry the Dow towards our yearend target of 16,000." (End)
We have talked about the first 3 Dow Theory patterns that have taken place with the Transports breaking out to new highs, volume picking up and the trend staying intact through the mini-trading range.
The other 3 main Dow Theories are "movement", "phase" and the fact the market is discounting all news for the most part.
The "main movement" the Dow could he entering is considered the primary movement of a major trend that can last from less than a year to several years. The index appears to have finished its "medium swing" after a consolidation phase from the summer highs that generally retraces from 33% to 66% of the primary price change but the "short swing" isn't as reliable as it can vary from hours to a month or more. However, the 3-week mini-trading range qualifies in our mind as the completion of the short swing.
The overall Dow Theory also shows major market trends and are composed of three phases: 1) an accumulation phase (that has occurred all year). 2) a public participation, or absorption phase, that yet to happen but could ignite at Dow 16,000. 3) a distribution phase.
The accumulation phase is what we have seen for all of 2013 and is a period when smart people are buying while others are selling and the general opinion of the market is negative. During this phase, the market can trade flat or appear to be correcting as the astute traders are in the minority camp buying stock that the market is supplying.
Phase two is when the market catches on to what these astute traders are doing and a rapid price change occurs. This is what the Dow could now be experiencing as trend followers and other technically oriented traders are now jumping on the bulls' bandwagon. This phase should continue for awhile until rampant speculation occurs but something we haven't seen yet. We will know when that occurs once the local waiter and cab driver start to give us a stock tip.
This is when the last and third phase kicks in as the astute investors begin to close their positions into a blow off top rally that could be coming in December.
The last part of the Dow Theory we will cover is the news. The market is starting to react to new information as soon as it becomes available and is absorbing it as quickly as its released. This is usually bullish until it isn't and with the zombies meeting again in December, any negative headlines could have a major impact on the trend.
The Monday/ Friday closes continue to be bullish as the Dow has closed higher 2-straight Monday's with the previous 2 slightly lower. Friday's have been a game saver for the bulls as the Dow is now up 7-straight. The last down Friday for the Dow came in late September. This has been another great clue for us through the trading range and breakout to new highs. Lower Monday/ Friday in the future will need to be watched but for now they have been super bullish.
We have no plans to change our February yearend targets of Dow 16,000; S&P 1,700; Nasdaq 3,800; and Russell 1,025 - the charts are telling us there is fluff up to Dow 16,250-16,300; S&P 1,825-1,850; Nasdaq 4,000-4,200; and Russell 1,175-1,200.
We have mental notes on all the warning signs we need to watch for on a trend change or pullback but we don't believe the bulls have come this far without ringing Dow 16,000 with an overshoot to higher highs." (from 11/17/2013 Weekly Wrap…)
The bears got their first Monday win in 3 weeks as the market pulled back after triggering round number resistance but the bulls kept the blue-chips afloat to keep their win streak at 3. Tuesday was a lackluster day as both sides got some action with bears pulling out another slim victory. This frustrated the bulls as they called up Bernanke to keep the momentum going but Wednesday's session also favored the bears.
No need to fear, as Big Ben and good economic news appeared from nowhere on Thursday as the bulls used a snapback rally to erase much of the week's losses. Friday 's close past round-number resistance bodes well for the upcoming week despite the numerous calls for a market top all week. (continued…)
The Dow advanced double-nickels (55 points), or 0.3%, to close at 16,064 on Friday. The blue-chips traded to a high of 16,030 and 16,025 to start the week but closed below 16,000 on Monday and Tuesday. Wednesday's drop to 15,865 late in the day ended with a close at 15,900 and we said the next 100 points could determine the next trend as a close below 15,800 could lead to 15,725-15,600 while a finish above 16,000 could lead to a run to 16,250-16,300. The Dow moved triple-digits on Thursday - to the upside - as the blue-chips added 109 points to finish at 16,009.99 to get its first official close above 16,000. Friday's peak reached 16,068. For the week, the Dow added 103 points, or 0.7%, after starting at 15,961. For the year, the blue-chips are up 2,960 points, or 22.6%.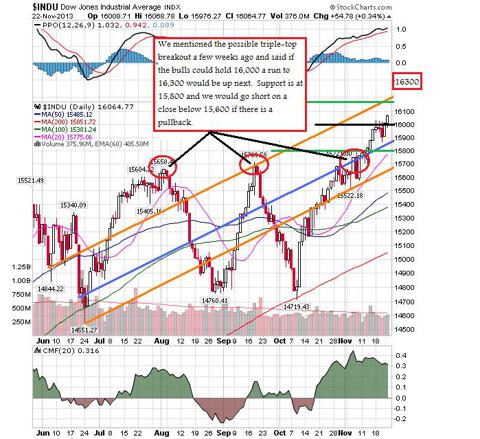 The S&P 500 soared 9 points, or 0.5%, to settle at 1,804. The index tripped 1,800 on Monday to reach 1,802 but ended the session down a touchdown to 1,791. We mentioned there could be further risk to the 20-day MA at 1,775 and while Tuesday's low checked-in at 1,784, the bears triggered 1,777 on Wednesday. But 1,775 held and it was a bullish sign as Thursday's rebound reached 1,797 as the S&P added 14 points to close at 1,795. We said a pop past Monday's high of 1,802 would be bullish for this week and a run to 1,825-1,850 over the near-term. Friday's intraday high was 1,804.84. The S&P 500 came into Monday's session at 1,798 and a 6-pack, or 0.4%, for the week. Year-to-date, the index has surged 378 points, or 26.5%.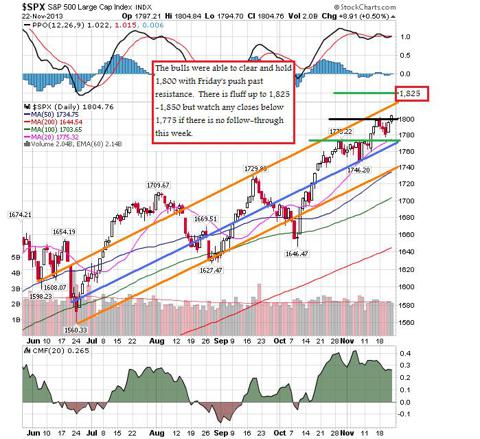 The Nasdaq jumped 22 points, or 0.6%, to finish at 3,991. Tech kissed 3,994 on Monday's open but got smacked for nearly a 1% loss and closed at 3,949. We had a feeling the close below 3,950 would lead to further weakness as we said to prepare for a trip down to 3,925-3,900. Tuesday's low checked-in at 3,923 with the close at 3,931. Wednesday's session had both bullish and bearish clues as the Nasdaq reached 3,952 but folded like a cheap lawn chair after finishing at 3,921. However, support at 3,900 held and Thursday's explosion to 3,970 was super sweet for the bulls. We were pulling for a close above 3,975 as we mentioned it would get 4,000 back on the map and a run to 4,200 in play. Friday's going out party at session highs teased us just ahead of the weekend but could be cleared again on Monday's open. The Nasdaq began the week at 3,985 and was higher by 5 points, or 0.1%, by Friday's close. For 2013, Tech has advanced 973 points, or 32.2%.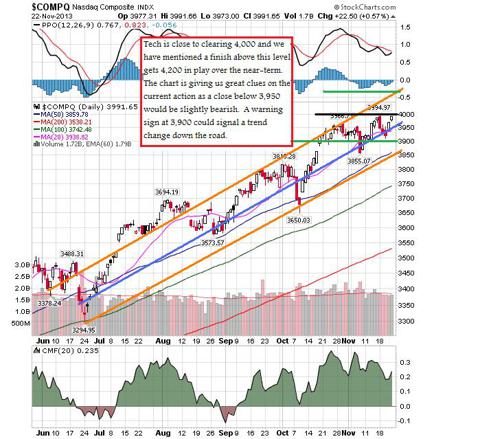 The Russell 2000 added 5 points, or 0.5%, to end at 1,124.92 on Friday. The small-caps reached 1,119.98 to start the week but needed to trigger 1,125. With resistance holding, the bears attacked 1,100 with a low of 1,105. The bulls held 1,100 on Tuesday but we mentioned another close below this level could lead to a retest of 1,075. The small-caps kissed 1,107 shortly after the open but ended just below support at 1,100 on Wednesday. It was the perfect Vegas setup as the Russell closed at 1,099.79 and put the next 25 points in play as a possible trend-changer. We said to stay bullish and with Thursday's surge to 1,123 and close at 1,119.62 - it may have been one of our better calls of the year. Friday's all-time intraday high reached 1,125.64 and gets 1,150-1,175 in play. The Russell 2000 was at 1,116 before Monday's open and advanced 9 points, or 0.8%, for the week. YTD, the small-caps are higher by 275 points, or 32.4%.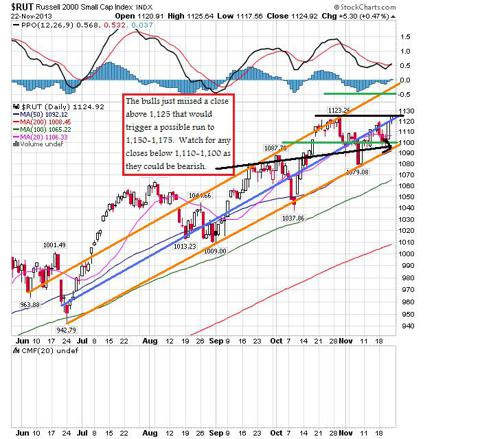 The S&P 500 Volatility Index ($VIX, 12.26, down 0.40) came into the week at 12.19 and needed to hold 13.50 on any attack by the bears. The index jumped 7% to start the week and served as an early warning there could be a little volatility ahead. The bulls held 13.50 with the close of 13.10 and the VIX traded to a high of 13.68 on Tuesday before closing below this level. Wednesday's jump to 13.94 also spooked Wall Street but the close at 13.40 told us to reiterate our stance to stay long-and-strong. The VIX fell 5% on Thursday to close at 12.66 and we been saying a close below 12.50 could lead to 11 and 52-week lows. For those of you that are new subscribers, a rising VIX is bearish while a falling VIX is bullish.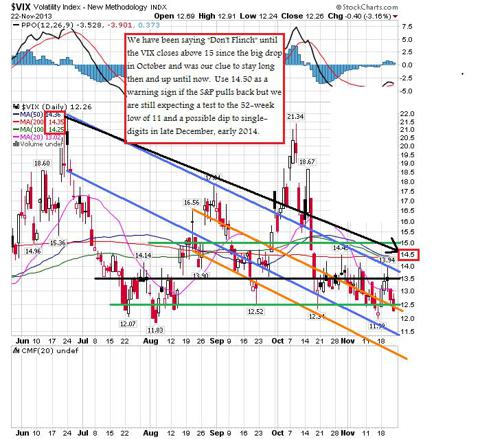 With all the talk about bubbles and pullbacks, we would say the bulls did pretty well last week. Tech was volatile but held support while the small-caps were less volatile and showed some strength. We normally wait until the weekends to do our chart work but we did some homework early midweek to see where the bulls stood as Tech was testing support and the small-caps were on the verge of a breakdown.
On Thursday morning ahead of the opening bell, we had this to say:
"With the holidays coming up next week, we are expecting the suit-and-ties to pack things up and head out early. The next leg higher could happen while they are away as we have seen this scenario play out all year long. There was a strong rally during and after the July 4 holiday and there was a nice pop at the beginning of September following Labor Day.
If the bulls can hang on for a few more days, they will lull most of the market pros to sleep and would be the perfect setup before a blow-off the roof type of rally. If next week is weak then we could take cover ourselves and start looking at put option plays but for now - don't flinch! (NYSE:END)
The charts on Wednesday showed a little damage but the VIX stayed calm and the uptrend was still intact. We even penciled in a little more weakness as futures were weak that night but had turned around ahead of Thursday's open. Bingo, rally on.
The week before Thanksgiving is usually a bullish time frame for the market as the Dow has been up 15 out of the past 20 years. The losses in the down years were minimal although in 2008 the Dow got spanked with a 5% beat down. If there is a pullback, we would expect it to be less than 1% unless there is a major headline.
We mentioned earlier the small-caps showed the most strength and it was good to see the Financial stocks get a pop. The two, together, are starting to breakout to new highs and this could be dangerous for the bears.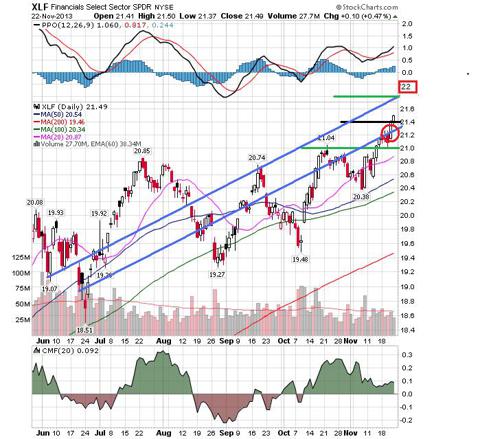 XLF Chart from 2 weeks ago: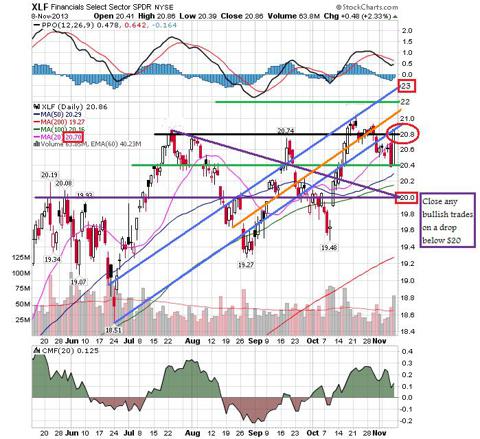 The history books show the small-caps tend to start showing strength in mid-December as traders prepare for the "Christmas Rally" and the "January Effect" we talk about every year. Please note that the Christmas rally doesn't start until AFTER Christmas but the talking heads bring it up early and get disappointed if there isn't one.
We will talk about the January Effect in a month or so but its not too early to buy the small-caps as they start to turn around in late October and in November. This is what we are starting to see now with the Russell 2000.
Of course, history doesn't have to repeat itself but it often does with the market and why we have stayed bullish. History also shows 5% pullbacks happen about 3-4 times a year with a 10% pullback about once a year. There hasn't been a 10% correction for over 2 years so it's easy to say one is coming. However, not one of the bubbleheads has given an exact date on when one is coming and it may not happen this year if the zombies come together.
We always say the market can stay irrational longer than traders can stay rational and the 2003-2007 bull market went four years without a 10% pullback. In the 90's, Wall Street went 7 years without a 10% spanking from October 1990 through 1997.
We heard a comment by one of the talking heads that it was easy to make money this year because all stocks have gone up but this was baloney and far from the truth. There are a ton of traders and hedge fund managers that have bet short or prepared for a pullback all year long and they are vastly underperforming the market's returns or are showing a loss for the year.
We made great calls by staying long in January, long in May, we were bullish in the summer, and we stayed long in September and October. We have been building bullish positions into December and January. Not too many newsletters can say they made these calls.
At some point the bulls will run out of gas but the charts have been giving us great clues all year and we will know when to go short.
As we head to press, futures look like this: Dow futures are up 48 points to 16,075 while the S&P 500 futures are higher by 5 points to 1,806. The Nasdaq 100 futures are up 10 points to 3,430.