Hyaluronan (NASDAQ:HA) is a substance or GAG which fills the extracellular space. In tumors that secrete HA, overfilling increases intratumor pressure, constricting arterioles which deliver chemotherapy to cancer cells. PegpH20 has its own antitumor activity, but more importantly it removes HA, reducing pressure and increasing the flow of chemotherapy. The tumor most susceptible to this effect is Pancreatic ductal adenocarcinoma. Recent interim results from Halozyme study 202 demonstrated a 67% increase in Progression Free Survival due to the addition of PegpH20 to the current standard of care Gemcitabine-Abraxane (9.2 mos in Study 202 vs 5.5 mos in MPACT Study).
The Peg-Gem-Abraxane PFS value was achieved in High Hyaluronan patients. Just what percentage of patients are in fact High in Hyaluronan depends on the cut off and method of measuring Hyaluronan chosen. Two main techniques have been used by Halozyme- earlier immunohistochemistry using bionyated HA binding protein and HTI 601 or Stainmap (tm) a bionyated recombinant immunoadhesin. The former required 25% HA positive staining for High Status. The latter is given a Digital Image Score (currently in Study 202 by GE Medical) according to Halozyme's recently issued US Patent 8846034:
"In one example, a method of diagnosis utilizes a sample of tumor tissue, tumor cells or a bodily fluid containing proteins from a patient. In the method, the presence and level of expression of HA can be determined using an HABP, for example a TSG-6-LM, TSG-6-LM-Fc or variant or mutant thereof, as provided herein. The level of expression of the HA is determined and/or scored and compared to predetermined HA phenotypes associated with disease. As described below, these predetermined values can be determined by comparison or knowledge of HA levels in a corresponding normal sample as determined by the same assay of detection and using the same HABP reagent. It is within the level of one of skill in the art to determine the threshold level for disease diagnosis depending on the particular disease, the assay being used for detection of HA and/or the HABP detection reagent being used. For example, in bodily fluids such as plasma, HA levels greater than 0.015 .mu.g/mL, and generally greater than 0.02 .mu.g/mL, 0.03 .mu.g/mL, 0.04 .mu.g/mL, 0.05 .mu.g/mL, 0.06 .mu.g/mL or higher correlates to the presence of a tumor or cancer. In another example, in immunohistochemistry methods of tumor tissues with a score of HA.sup.+2 or HA.sup.+3 can be determinative of disease. If the level is indicative of disease, then the patient is diagnosed with having a tumor."
So, each sample is compared to the expected HA value for the tissue involved- not to a preset cut off. The 87% value for High Hyaluronan status in Pancreatic Cancer is based on the old technique and 25% positive staining per field. The 63% value for High Hyaluronan status in the same tumor is based on HTI 601, a value which will be presented at AACR 15. Halozyme gives only a 40-60% estimate of High Haluronan PDA in their interim analysis of study 202. Why the hedge? Well since PegpH20 works better in high Hyaluronan tumors, the higher the cut off set for entrance into the high Hyaluronan group the better for showing a separation from the current standard of care. I predict accelerated approval, based on the 40% cutoff and 67% (or better with the subsequent addition of LMW Heparin to the combination) PFS advantage, then medical oncologist expansion of the treatment group in this most aggressive cancer.
So High is as High as needed to provide maximal added quality of life to these patients in desperate need of same.
| | |
| --- | --- |
| Abstract | 576 |
| Presentation Title: | Development and analytical validation of a novel assay for tissue detection of hyaluronan in the tumor microenvironment to select patients for molecularly targeted pancreatic cancer therapies |
| Presentation Time: | Sunday, Apr 19, 2015, 1:00 PM - 5:00 PM |
| Location: | Section 24 |
| Poster Board Number: | 19 |
| Author Block: | Arnold B. Gelb, Ping Jiang, Laurence Jadin, Daniel C. Maneval, H. Michael Shepard. Halozyme Therapeutics, Inc., San Diego, CA |
A recently described biotinylated recombinant immunoadhesin (HTI-601, Jadin 2014) was adapted for use in an immunohistochemistry-based assay on formalin-fixed paraffin-embedded tissue. Sensitivity, specificity, and within-laboratory precision studies were performed in a research mode and then at a central laboratory on a validation set of approximately 200 tumor and normal tissues under GCP conditions. Both pathologist scoring and operator-assisted image analysis (positive pixel count for strong positive pixels) were evaluated.
Results: Analytical sensitivity studies identified an optimal probe dilution of 0.417 µg/mL on an immunostainer based on dynamic range in 4 human tumor xenografts containing differential levels of HA. The frequency of high HAobserved was 62.7% of archival PDA (N=75).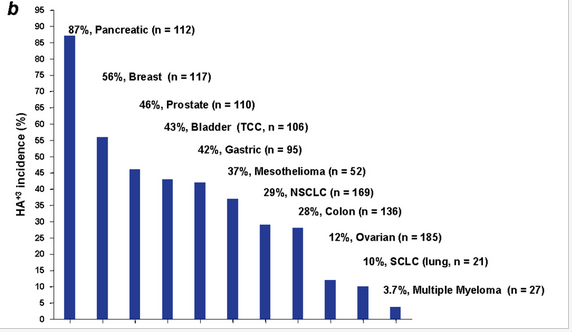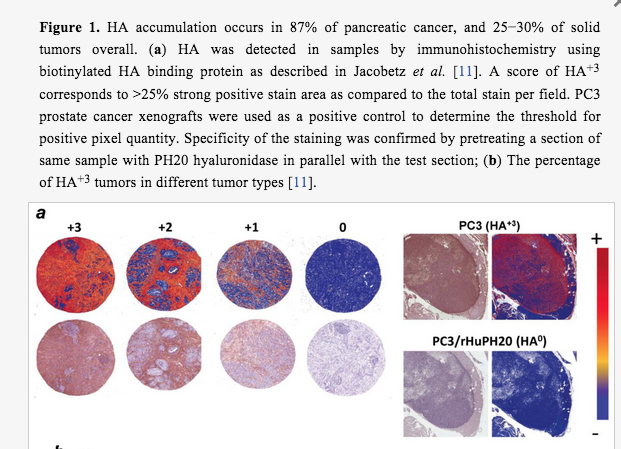 Disclosure: The author is long HALO.