At this year's AACR, Halozyme will present 5 Abstracts. One outlines the added effect PegpH20 lends to Lilly's Alimta (the #34 Drug by Revenue WW that just lost patent protection in the EU). One Shows how PegpH20 potentiates 1st generation Checkpoint inhibitors- such as Keytruda the drug pegpH20 is teamed up with in NSCLC and Gastric Cancer (also the drug Jimmy Carter just made more famous). The 3rd is a Wilms tumor paper- PegpH20 helped potentiate chemotherapy there. But the 4th and 5th are remarkable. Seems, Halozyme is branching out past the targeting of High Hyaluronan, and is aiming at Adenosine- the ubiquitous (the A in ATP) Next generation Checkpoint Inhibitor- and KRAS/BRAF Mutations- totally independent of Hyaluronan status. The drug targeting Adenosine is Peg-ADA2. One noted expert in Immuno-oncology and Biotech blogger has referred to this drug as "gorgeous" in print. The drug targeting KRAS/BRAF mutations is HTI-1511. Both AACR abstracts can be found below.
The addition of KRAS/BRAF mutations as the target of HTI-1511 now brings Malignant Melanoma and Neuroendocrine tumors into the stable of Halozyme Solid Cancer targets. The remainder of the BRAF+ tumors found on the following graph are high in Hyauronan and, therefore, potentially treatable by the proprietary Halozyme combination of HTI-1511 and pegpH20, perhaps with peg-ADA 2.
Adenosine (the A in ATP) is a checkpoint released into the tumor microenvironment by enzymes CD39/CD73, creating an immunosuppressive niche, favoring the onset of neoplasia.The targeting of adenosine may alleviate these immune privileged sites where cancer cells proliferate, in a way independent of Hyaluronan.
If any of these 3 treatments are as successful clinically, as pegpH20 already seems to be (9.2 months PFS added to MPACT Protocol)- look for Halozyme to assume the Biotech Lead in Solid Ca. The release of Trial 220 results in Q4 will be crucial. Until then there will be AACR 16, ASCO and PegpH20-Keytruda data presented as soon as this month per Barclay's. 2016 will be a pivotal year for Halozyme.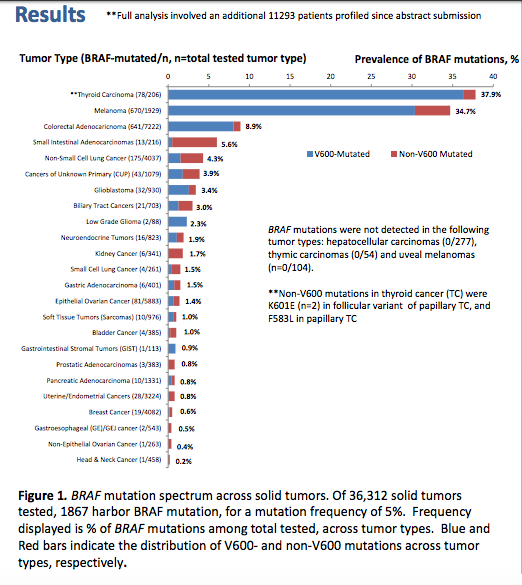 Disclosure: I am/we are long HALO.