The wireless market continues to be unforgiving due to the competitive nature of the industry. As a long time "top dog", Verizon Communications (NYSE: VZ) is seeing competitive pressures from all angles. As technology advances, and the increasing progression of data speeds begin to reach arguably diminishing returns, Verizon is in need of a significant change. That change could very well be in the form of digital content producer, and distributor Netflix (NYSE: NFLX). An acquisition of Netflix would be costly, but would give both an injection of growth into a stagnant company, as well as strengthen Verizon's market position in the wireless business.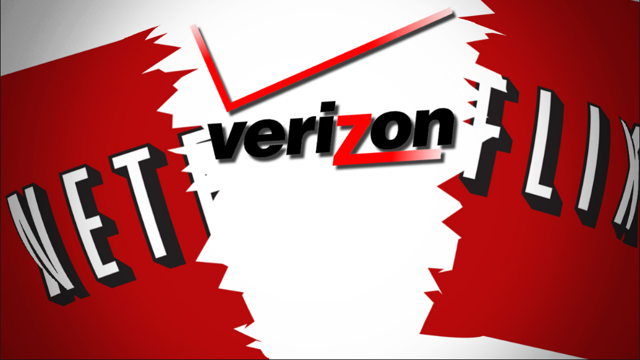 The competitive edge of Verizon's network is narrowing
There was a time when Verizon's network coverage was far superior to most of its competitors. Seven years ago when 3G was the latest version of the best wireless communications had to offer, Verizon stood head and shoulders above the competition. You couldn't go an hour without seeing an ad on TV featuring a map of the United States that was covered in red.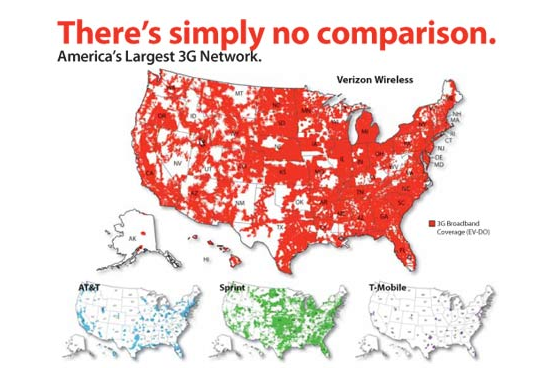 However, the gap is no longer as big as Verizon would like consumers to believe. According to a recent study by Open Signal, the availability of 4G networks to wireless consumers is much closer among competitors in reality.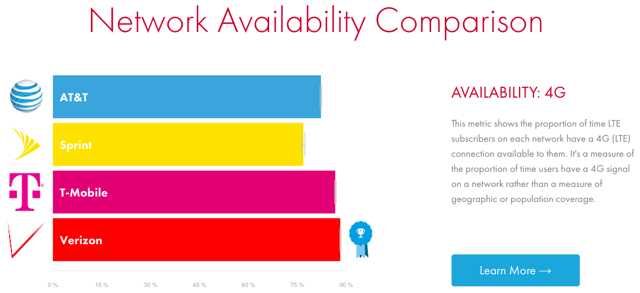 As Verizon begins to roll out 5G, one could debate if it will have the same impact as previous network upgrades. Verizon's current 4G LTE network advertises speeds between 5-12 Mbps. While that may not sound like a lot, it only takes 5 Mbps to stream HD video such as Netflix. Essentially, the bare minimum performance of 4G is already enough to stream high quality video content. 4G represented a much larger leap in "practicality" because the jump from 3G to 4G meant the difference between being able to stream HD video or not - during a time when HD video was becoming mainstream. While 4G is not enough to meet the 25 Mbps requirement of 4K video, how many customers feel the need to watch 4K on a 5 inch phone, or 13" tablet?
Also detrimental to profits, is a price war that has started among the four major carriers. T-Mobile (NYSE: TMUS) has used aggressively priced customer plans, and a network that has performed well to grab market share. This has resulted in major rivals AT&T (NYSE: T), and Verizon offering unlimited data plans to keep up. Unlimited data plans are harmful to revenues, and the increased economic competition between the four major carriers is another step in a race "towards the bottom".
Struggling against competitive pressures in a similar fashion to Verizon, AT&T has opted to redefine their approach to market. AT&T has recognized that it can leverage its massive number of network subscribers to partake in additional services through the use of bundles, and other incentives within an "ecosystem" to spur growth. This is demonstrated by AT&T's massive DirecTV acquisition, and pending acquisition of Time Warner (NYSE: TWX).
Verizon has "dipped its toes" into this strategy by acquiring AOL for $4.4B to acquire ownership in advertising revenues, as well as digital content sources in Engadget, and The Huffington Post. This strategy was taken a step further by the pending $4.48B acquisition of Yahoo! Inc. (NYSE: YHOO) to gain control of the Yahoo! digital news conglomerate and Yahoo! owned Flicker, and Tumblr as well as the advertising revenues that come with Yahoo!. While a step in the right direction, it seems that Verizon needs to "go big" in an effort to keep up with arch rival AT&T. The DirecTV and Time Warner deals total more than $120B, and have made AT&T a major player in both content production, and how that content is distributed to consumers - all while tying in its legacy wireless business. The Verizon deals to this point, simply won't have nearly as much of an impact on the bottom line, and still don't effectively address the narrowing competitive moat that Verizon's network used to provide. Acquiring Netflix would go a long way in solving multiple challenges that Verizon currently faces.
Netflix represents growth positioned at the crux of change in the way consumers digest media content
Netflix is still growing at a torrid pace, which would inject life into Verizon. Revenues have continued to climb upward in correlation with Netflix's subscriber count, which has essentially doubled to 93 million global subscribers since 2013.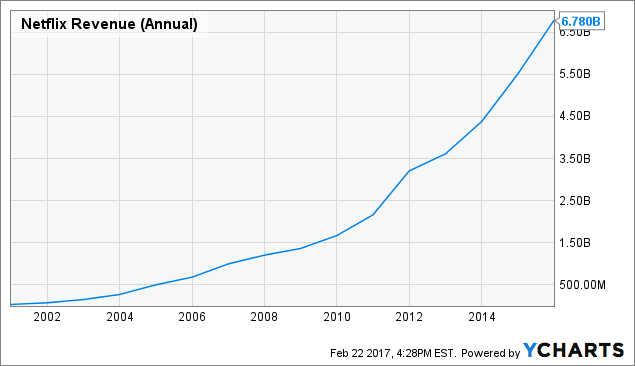 In fact, Netflix sits right at the forefront of the generational shift in the way younger consumers are digesting content. According to Statista, 65% of internet users in the United States between the ages of 16-24 have reported using Netflix recently. That figure is 58% for users aged 25-34 years of age, and 48% for users aged 35-44 years of age. The growth curve of Netflix really lines up with the advancement of streaming technology over the past several years. Although the company started off as a mail order DVD rental company in 1997, it was in 2007 when Netflix began offering its streaming service for customers to watch movies over the internet that growth really started to accelerate. Fast forward to 2013, when Netflix took its first meaningful step in offering original content, and a new level of growth was unlocked. The impressive quality of Netflix's original content has continued to fuel subscriber growth. For at little as $7.99 per month, it provides compelling value to consumers. Whether it's "Orange Is The New Black", "Making A Murderer", "Stranger Things", or "House Of Cards", the chances are high that you have seen these titles on your social media feed, winning awards on an awards show, or heard family/friends talking about them as "must watch".

Netflix would give Verizon a content production/distribution ecosystem that would rival AT&T
Because AT&T is far and away Verizon's biggest competitor, there is always the temptation to "mirror" one another as they continue to compete. AT&T's DirecTV deal gave the telecom giant something to put against Verizon's Fios offering, and took it one step further with the Time Warner deal giving AT&T the final piece of the ecosystem (content production). Acquiring Netflix would give Verizon a "two for one" as Netflix is both a provider, and a distributor. AT&T has packaged its wireless network with DirecTV's offerings to give consumers "DirecTV Now" - a stripped down streaming package that allows AT&T wireless customers to utilize this package without counting against their monthly data consumption.
Verizon could do something in a similar light. Verizon is losing market share because wireless customers feel that they can get better "value" elsewhere (T-Mobile). Verizon's expensive plans no longer seem worth the premium by an increasing amount of customers. Competitors can now offer similar service/performance for less money. By combining Verizon's wireless network with some sort of Netflix streaming offering, that would potentially no longer be the case. There are a number of value adds Verizon could utilize. Verizon could take a copy out of AT&T's book, and offer Netflix streaming free of charge for Verizon customers. Perhaps Verizon could offer customers early access dates to popular content such as seasons of its many blockbuster series.
With Verizon pulling in more than $125B in annual revenues, Netflix's potential in the near term of $8B-$10B will not make a dramatic ripple in Verizon numbers wise. The key value Netflix can bring to Verizon is to be incorporated into Verizon's existing business to draw new customers in, retain current customers, and to generate more revenue from its customer base.
Why would Netflix agree to a deal?
Perhaps the most over-looked aspect of analyzing any potential merger is perspective from the other party. What would Netflix get out of such a deal? Isn't Netflix doing "fine" on its own? The major problem that Netflix is having is simple. Netflix is spending a ton of cash in order to produce all of this content that continues to bring in, and keep subscribers. This figure could climb as high as $6B this year.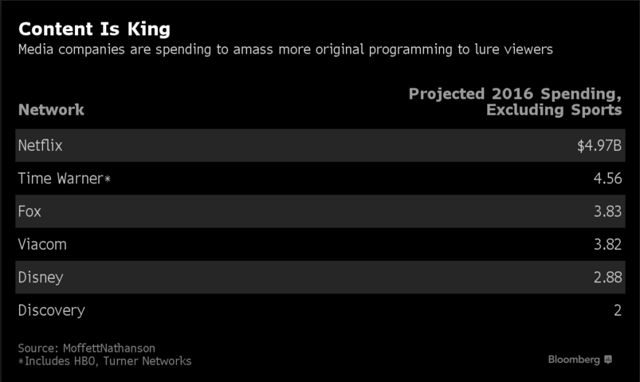 source: Bloomberg
Netflix has been very aggressive in this regard, and it has produced results - so credit is due. However, this is only great as long as subscribers continue to skyrocket, off-setting these costs.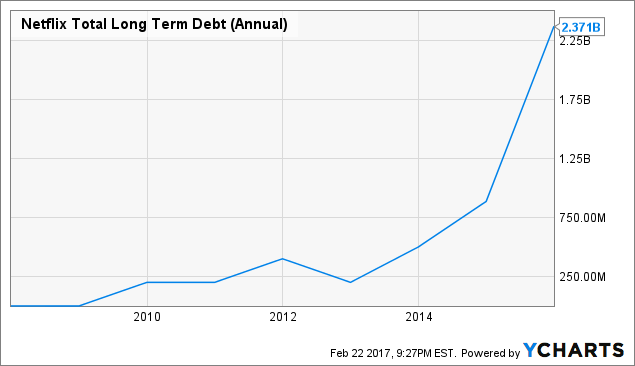 Netflix has started to ease into the debt markets in order to help fund its ambitious content goals.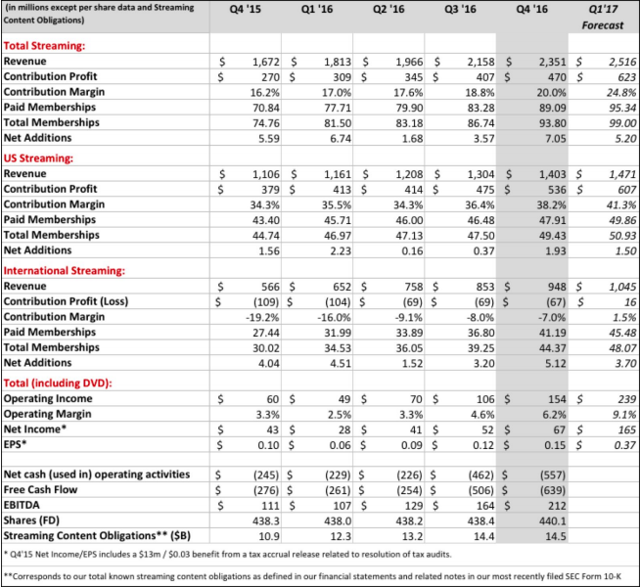 source: Netflix
This is because Netflix is still having trouble becoming cash balanced, even with subscribers and revenues growing as fast as they have. What Verizon brings to the table, is exactly that - cash flows. Verizon generated $22.7B in cash from operations in 2016. While Verizon spent a whopping $17.1B in CAPEX, and another $9.3B on dividends, Verizon could surely give Netflix the financial nudge it needs to bridge that content spending gap. If Netflix were to continue on this path on its own, I anticipate Netflix will have no choice but to start increasing prices to customers again. This is something that Netflix should be weary of, as competition is scrambling to catch up.
Can Verizon afford a deal?
The large issue that Verizon must decide on, is whether or not they can afford a deal as large as what Netflix would command. Already with a market cap of $60B and growing at the pace that Netflix is, shares would demand an exorbitant premium. AT&T is acquiring Time Warner at a 35% premium to shares (prior to announcement of deal). Netflix appears to have a superior growth runway ahead, so let's assume a potential deal with a premium to Netflix shares of 50%. This would place Netflix's value at approximately $90B.
With less than $3B in cash on Verizon's balance sheet, the deal would essentially be funded with debt, and equity. If the deal was a 50/50 split, Verizon would be taking on about $45B in debt. This would give Verizon a new total debt of approximately $153B, an eye popping number. Combining Netflix's 2016 EBITDA of $612M with Verizon's 2016 EBITDA of $44.8B would equal a total of $45.412B. After the deal, Verizon's net debt to adjusted EBITDA would be approximately 3.7X which would likely invite scrutiny from creditors.
The best way for Verizon to get this done would be for a deal that was about 30% debt, and 70% equity. This would keep net debt to adjusted EBITDA to a ceiling of 3X, and help prevent a credit downgrade. This would also be quite dilutive to Verizon shareholders in the short term.
Wrap Up
Verizon could certainly put itself in a position to wrestle back market share from competitors over the long run, while increasing its customer base revenue generation in the process. While the short term cost is steep, Verizon may not have much choice other than to swing for the fences as smaller competitors like T-Mobile continue to take low hanging fruit, and AT&T completely transforms its own business model. A deal with Netflix would be very exciting for the long term potential of Verizon, as a deal would place Verizon in the driver's seat to a generation that is increasingly gravitating away from traditional cable, and towards streaming, and mobile content.
If you liked this article, please find my profile icon at the top of this page, and hit the "Follow" button. I enjoy engaging with those who comment, and am always looking for feedback that allows me to improve on the content I provide. As always, thanks for reading.
Disclosure: I/we have no positions in any stocks mentioned, and no plans to initiate any positions within the next 72 hours.
I wrote this article myself, and it expresses my own opinions. I am not receiving compensation for it (other than from Seeking Alpha). I have no business relationship with any company whose stock is mentioned in this article.