Introduction
Tesla Motors' (NASDAQ:TSLA) recent expansion into China has been an area of much debate and speculation. China's car market is second only in number of units sold to the US, and is growing very rapidly. Demand for luxury sedans has been particularly strong in the region, and a sector where a lot of automakers are focusing on.
To get a jump on how the company is fairing in China I've been keeping passive tabs on Tesla's Weibo page. Weibo is a Chinese social networking site owned by SINA Corp (NASDAQ:SINA), that operates almost exactly like Twitter (NYSE:TWTR).
I've noticed that Tesla's Weibo followers have begun to accelerate dramatically in 2014. This has mostly likely been fueled by theopening of the first Tesla store in mainland China. Tesla also recently announced its formal pricing in the region, which made headlines for being significantly lower than anticipated. Tesla has opted to price the Model S at the same level as in the US (after removing any import tariffs), instead of further increasing the cost like most other foreign luxury brands do in the Chinese market. This could be another catalyst for strong initial demand in the region.
Data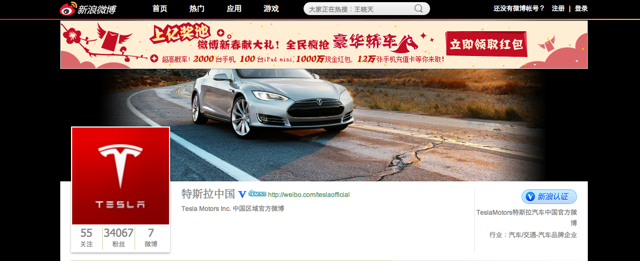 Overall Tesla's Weibo followers have increased by 12,000 since mid October. This represents growth of about 54% in just 4 months. With just 2 stores and 0 cars sold (including the Hong Kong location), Tesla has managed to gain a little over 34,000 Weibo followers. This is particularly notable, and bullish for the company's future in China because it shows how adamantly Chinese consumers already want to follow the brand.
For comparison Tesla has about 190,000 Twitter followers. To gain 1/6 of that following in a region with 1/25 as many retail locations (2 in China vs. 50+ in the US) is an undoubtedly positive indication.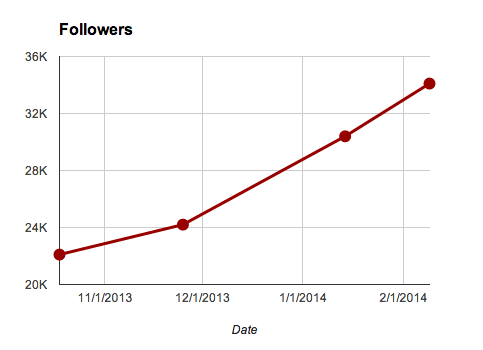 Not only have Tesla's followers increased, but the rate at which they add them continues to climb. From mid January through February 9th Tesla added over 142 fans per day, an annual rate above 50,000.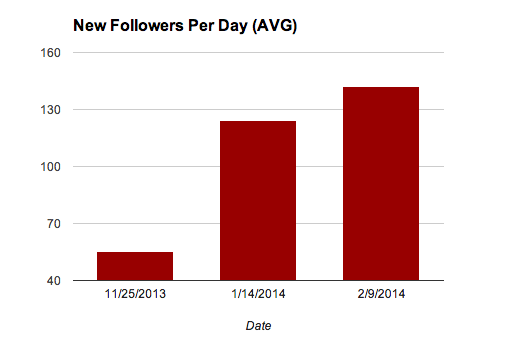 Here is the data used to make the graphs shown above:

Conclusion
Investors are counting on significant demand from China coming in the near future. If this recent data is any indicator, Tesla is already beginning to make a splash in the region.
The opening of a major Beijing showroom has clearly increased awareness for the brand in a meaningful way. If this continued traction is shown with Chinese consumers it will mean very positive things for Tesla sales in the region going forward.
Going forward Tesla's sales and brand perception in China will be of increasing importance. I will continue to keep tabs on the company's Weibo page as it could provide powerful insight as a leading indicator of potential sales in Asia.
Disclosure: I have no positions in any stocks mentioned, and no plans to initiate any positions within the next 72 hours.