This article is an observation and not an opinion of where ("Apple (NASDAQ:AAPL)") stock is going. Although I do believe Apple is a great company, I am not comfortable with what's happening.
On the 28th of January 2014, Apple bought for $14B of its own shares at $505 on average or around 28 million shares. Although the shares may not all be bough on the 28th, the bulk of the buying happened between 29th of January and the 4th of February. Also, Mr. Ichan declared that he bought 1 million shares on the 28th of January. The Total volume traded for AAPL between 28th of January and the 4th of February is around 108 million shares.
Thus the shares bought by Apple and Mr. Ichan constitute about 26.8% of the shares traded during those 5 days which is huge. Considering the volume that made the shares drop on the 28th of January is around 48 million the share bought by Apple and Mr. Ichan constitute around 60% of this volume.
So the observation here is there isn't much buyers for AAPL anymore since 26.8% are Mr. Ichan and Apple itself!
During those 5 days there was lot of selling to drive the price so sharply from $550 to around $505 or a decrease of about 10%. 49 Million shares succeeded in driving the shares down 10% but the buying by AAPL and Mr. Ichan and the rest only succeeded in driving the price to $510 or 20% of the drop magnitude.
The question here is, if AAPL and Mr. Ichan did not intervene where had the share price would have ended?.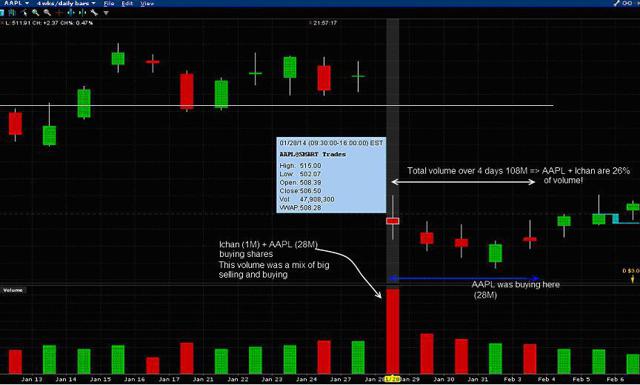 Also Apple have a $60 billion buy back program and it already exhausted $40 billion in buying back, at what level the last $20 billion will succeed in holding the share price?
Apple may think it's shares are undervalued at $505 to buy them back. Apple may be a great company that worth more, but if there are more and more sellers I see it very difficult for the shares to appreciate by much. Mr Ichan owns around 5.7 million shares of AAPL. Now Mr. Ichan isn't Mr. Nice guy that love Apple just for love. When he will succeed in taking his share of flesh from Apple, he is going to do is dump 5.7 million shares into the market. If we suppose that he will do it at $600 where this is going to send the price that day?
If Apple had this great vision for the future with a huge undertaking to expand more than 10% per year, why isn't conserving shares for these upcoming projects instead of throwing the money away? What Apple is doing right now is taking loans, to pay the dividend and acquire back shares, but with future interest rate increasing starting maybe next year, what this will do to it's cash flow and how much Apple will worth then?
I see lots of difficulty in the future of Apple stock appreciation beyond $600 unless it will be pumped heavily as it is done by Mr. Ichan regularly and dumped to go down heavily and leave the small guys holding the bag.
Disclosure: I have no positions in any stocks mentioned, and no plans to initiate any positions within the next 72 hours. I wrote this article myself, and it expresses my own opinions. I am not receiving compensation for it (other than from Seeking Alpha). I have no business relationship with any company whose stock is mentioned in this article.