ProShares UltraShort Yen (YCS)
The yen broke to a new 52-week low this week and there appears to be little support preventing it from dropping even farther. The 2X leveraged yen short ETF, YCS, is also pushing to a 52-week high. The chart below also shows the price of Currency Shares Japanese Yen (NYSE:FXY).
Currencies have been volatile of late. The euro slumped due to expectations of a European quantitative easing program. The Swiss franc fell in sympathy due to the currency being pegged to the euro. The British pound was hurt by the euro's slide and now fears of Scottish independence are pushing it even lower. Including the yen, this creates the potential for a very powerful U.S. dollar rally.
Normally, all of these moves would be a serious headwind for the stock market, but thus far stocks have powered on to new highs. That's good news for stocks if these currency trends improve, as stocks will rally even higher.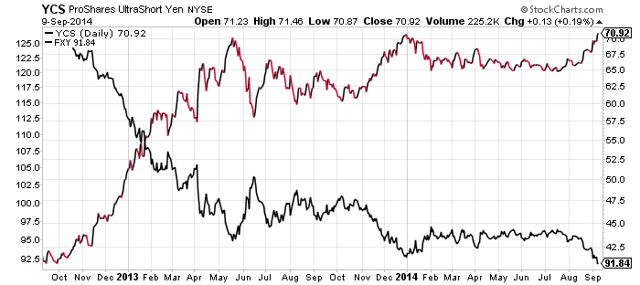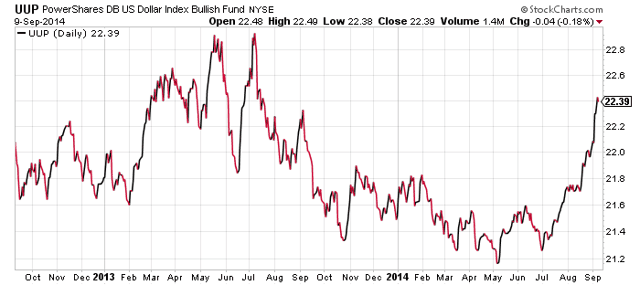 WisdomTree Japan Hedged Equity (DXJ)
The yen broke to new lows over the past week, but DXJ has yet to break to a new high. Japanese pension funds will begin rotating out of bonds and into stocks in the next month, in keeping with government policy. Nothing is guaranteed, but with the weak yen and stock buying on tap, DXJ should push to new highs.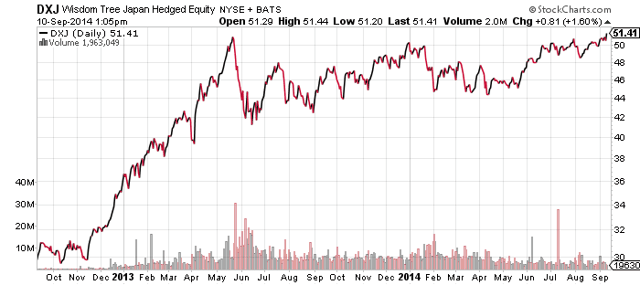 iShares Barclays 20+ Year Treasury (TLT)
Bond prices slumped this week due to traders speculating on a word change at the next FOMC meeting, one that would signal the Fed might increase interest rates sooner rather than later. However, on Friday, Jon Hilsenrath of the Wall Street Journal, who has had an edge in Fed reporting, said the latest jobs report has the Fed sticking with the current policy stance.
That doesn't mean rates cannot rise for other reasons. The end to the third round of quantitative easing is a little over a month away and with economic growth still looking strong for the remainder of the year. With this in mind, higher interest rates are to be expected eventually.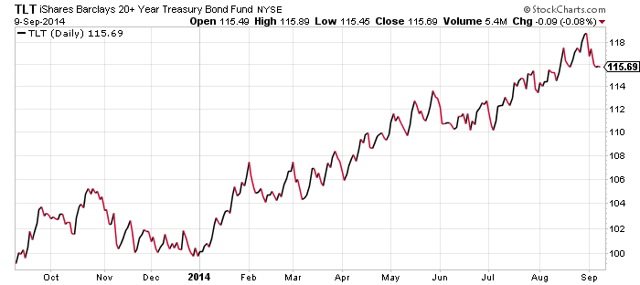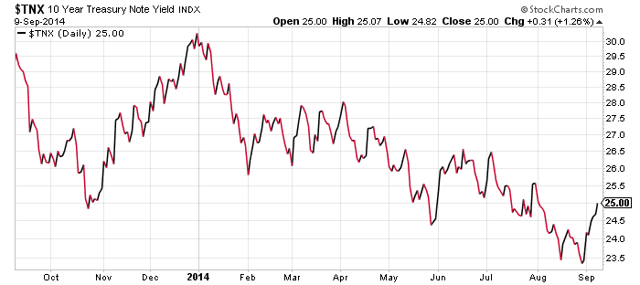 iShares MSCI Emerging Markets (EEM)
Emerging markets remain one of the brightest spots in the equity market. Shares of EEM are trading at a two year high, and a break of the 2011 high looks to be nearing. Strength in China and Brazil has proven to be responsible for much of the recent gains. A move past the 2011 highs could come in days if the market was sufficiently bullish, though that seems unlikely right at this moment.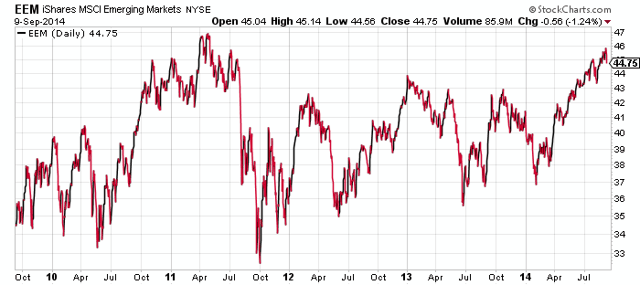 Global X Copper Miners (COPX)
Copper prices have been weak of late, perhaps a sign that the Chinese economy will slow further as the real estate market continues to show no sign of recovery. Nevertheless, Copper and COPX remain in uptrends for 2014 though, and it would take a drop to new lows for the year to send a clear bearish signal. A drop in copper is bad news for the global economy, since copper is the most economic sensitive metal. For that reason, many traders have dubbed it Dr. Copper for its ability to outperform Phd economists in its economic forecasting ability.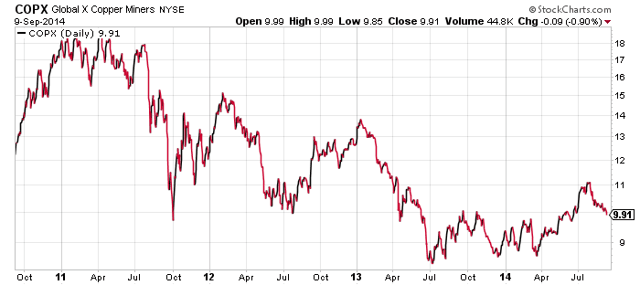 SPDR Healthcare (XLV)
The chart below shows the year-to-date returns for all of the SPDR sector ETFs, relative to the S&P 500 Index. XLV is the best performing ETF to date, beating the S&P 500 Index by 8.71 percent through September 9. It is up more than 16 percent this year.
SPDR Utilities (NYSEARCA:XLU) has picked up its performance a bit and has moved back into second. It was the best performing sector in the first half of the year.
SPDR Energy (NYSEARCA:XLE) has been the big loser over the past 30 trading days (going back to July 29). It has declined 5.17 percent relative to the S&P 500 Index over this period, an absolute loss of 4.23 percent. No other sector lost ground during this time.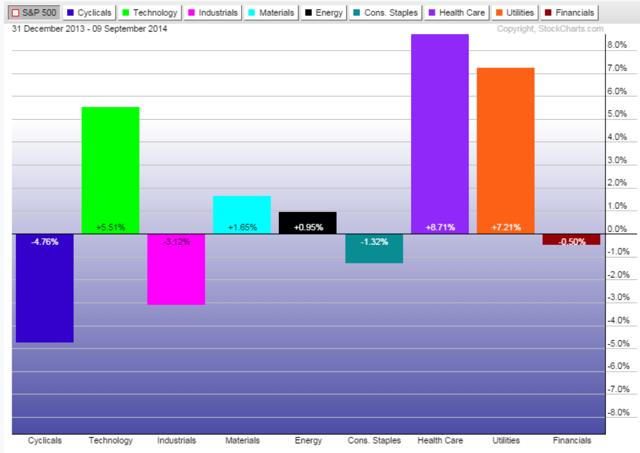 iShares Cohen & Steers Realty Majors (ICF)
ICF continued its march to new highs in the past week even though interest rates increased. This will be a fund to pay attention to, along with homebuilders and utilities, since they are sensitive to rising interest rates. Rates have been moving higher since the start of September, but ICF has yet to see a meaningful impact from the move.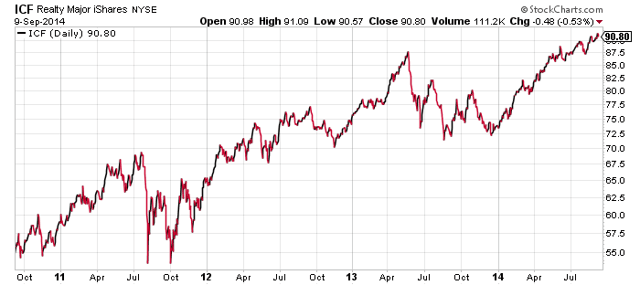 Disclosure: The author has no positions in any stocks mentioned, and no plans to initiate any positions within the next 72 hours.