SPDR S&P 500 (SPY)
iShares 20+ Year Treasury (TLT)
iShares iBoxx $ Investment Grade Bonds (LQD)
iShares Core High Dividend (HDV)
Vanguard Dividend Appreciation (VIG)
iShares MSCI Edge Minimum Volatility USA (USMV)
Dividend-paying funds are once again outperforming as Brexit repositioning wanes. Low-volatility shares have also outperformed through the last week's brief turmoil, sending USMV to a new 52-week high.
Dividend outperformance will continue to follow the bond market. While stocks recovered on Tuesday and Wednesday, the bond rally is only now starting to show signs of reversing. Bond prices may continue to trade higher as central bank asset purchases are priced in, though it is more likely they will begin to fall as stock prices push back towards their pre-Brexit levels.
Britain has largely recovered from Brexit losses, despite sizable losses in European banks. Shares now trade higher than they did two weeks ago. However, they are below the "Remain rally" that pushed shares up before the vote, but that bullish speculation is what helped caused the steep drop in the first place. If you told people two weeks ago that Britain would vote to Leave and shares would be trading higher a few days later, they wouldn't have believed you.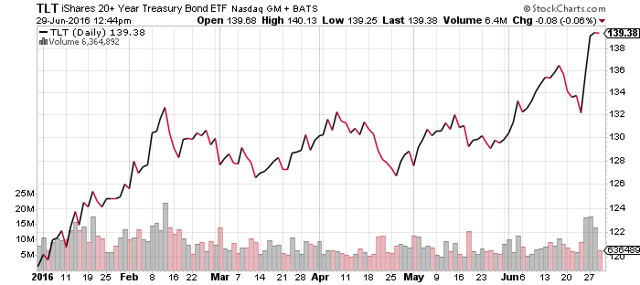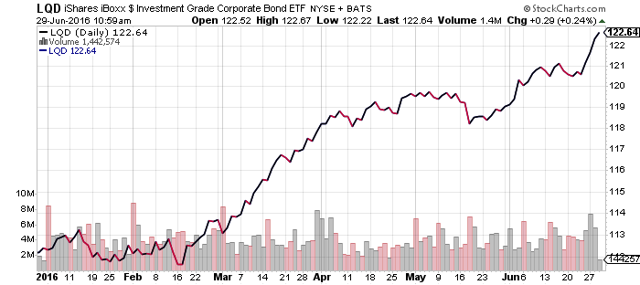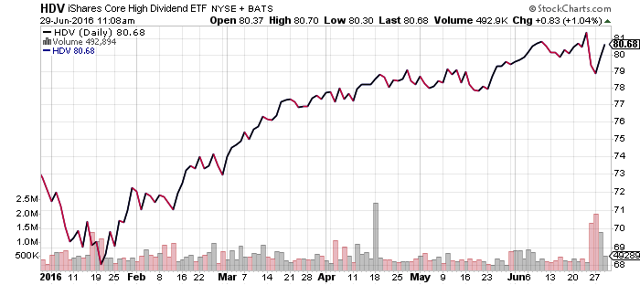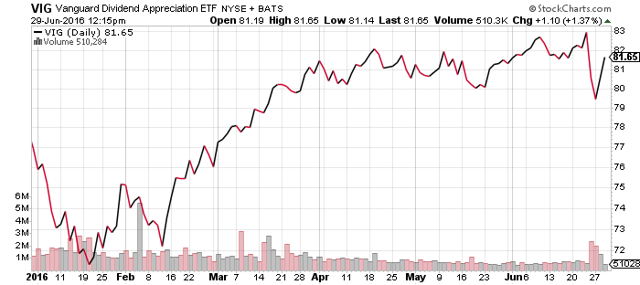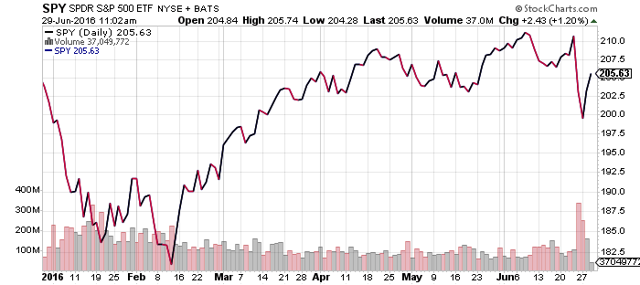 Fidelity Select Financials (FIDSX)
Fidelity Select Insurance (FSCPX)
Fidelity Select Banking (FSRBX)
Fidelity Select Consumer Finance (FSVLX)
iShares MSCI Europe Financials (EUFN)
Unlike European banks, domestic financial funds weathered recent volatility well, trading in tandem with the market. There was predictable Brexit spillover into the U.S., but European banks are clearly the selling targets. The tension between indebted southern European states and creditor states in the north is a permanent fixture due to the currency union.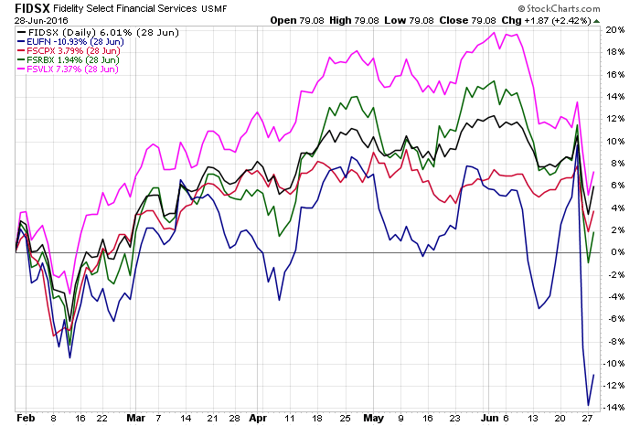 Fidelity Floating Rate High Income (FFRHX)
DoubleLine Core Fixed Income (DLFNX)
Thompson Bond (THOPX)
Fidelity Corporate Bond (FCBFX)
Fidelity High Income (SPHIX)
THOPX, FCBFX and DLFNX all rallied last week. High-yield credit dipped, but recovered nearly all of its losses as of Wednesday.
Indexes & Sectors
The trend in value and growth performance was steady, despite increased volatility. We saw a similar result with the index funds. The Nasdaq has been a little weaker due to some lagging technology stocks, but the performance of the other indexes all converged in the wake of Brexit, a sign of mostly indiscriminate trading.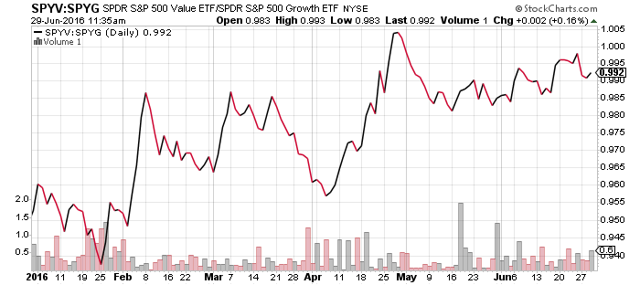 SPDR Energy (XLE)
First Trust ISE-Revere Natural Gas (FCG)
Oil is consolidating its rally across $50 a barrel, still pulling back into the high $40 range, while natural gas continues its rally towards $3 per MMBtu. La Nina is expected to arrive by autumn at the latest, bringing colder-than-normal water temperatures to the Pacific Ocean.
Disclosure: I/we have no positions in any stocks mentioned, and no plans to initiate any positions within the next 72 hours.