FREE Daily Stock Alerts From Stock-PR.com

STEM, StemCells, Inc.
** STEM reported that Armin Curt, MD, Professor and Chairman of the Spinal Cord Injury Center at Balgrist University Hospital, University of Zurich, and principal investigator for the Company's Phase I/II clinical trial in chronic spinal cord injury, will make an oral presentation on the progress of the trial on Monday, September 3 at the 51st Annual Scientific Meeting of the International Spinal Cord Society (ISCOS), which is being held in London, England, on September 3-5, 2012.
In his presentation, Dr. Curt will present six-month interim data from the first patient cohort in the trial. The three patients in the first cohort all have thoracic (chest-level) spinal cord injury classified as AIS A, in which there is no neurological function below the injury level. The second and third cohorts will be patients classified as AIS B and AIS C, those with less severe injury, in which there is some preservation of sensory or motor function.
In addition to assessing safety, the trial will assess preliminary efficacy based on defined clinical endpoints, such as changes in sensation, motor function and bowel/bladder function.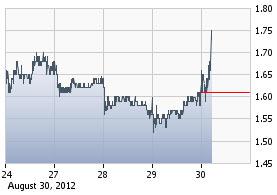 STEM is engaged in the research, development, and commercialization of cell-based therapeutics and tools for use in stem cell-based research and drug discovery.
More about STEM at www.stemcellsinc.com.
********

GPS, Gap Inc.
** GPS reported that net sales for the four-week period ended August 25, 2012 were $1.20 billion compared with net sales of $1.10 billion for the four-week period ended August 27, 2011. GPS' comparable sales for August 2012 were up 9 percent compared with a 6 percent decrease for August 2011.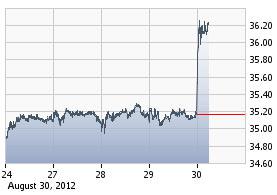 GPS is a leading global specialty retailer offering clothing, accessories, and personal care products for men, women, children, and babies under the Gap, Banana Republic, Old Navy, Piperlime, and Athleta brands.
More about GPS at www.gapinc.com.
********

Videos create trust. Becoming a trusted authority figure in your niche is easy with the help of video; you, simply, concentrate on your target's wants and then give them the benefits that they have been searching for, as long as you stay honest, they will grow to trust you.

Crown Equity Holdings Inc., (OTCPK:CRWE) recenly launched CRWE Tube, www.crwetube.com, a video sharing site that allows billions of people around the world to upload, watch and share original videos.
Restricting your marketing to just written text vastly limits your audience; video marketing should be seen as another mode of online communication to reach potential customers.
CRWE offers advertising branding and marketing services as a worldwide online multi-media publisher with its digital network of websites and focuses on the distribution of information for the purpose of bringing together a targeted audience and the advertisers that want to reach them.
CRWE's advertising services cover and connect a range of marketing specialties, as well as provide search engine optimization for clients interested in online media awareness.
More about CRWE at www.crownequityholdings.com.
**************************************************************
THIS IS NOT A RECOMMENDATION TO BUY OR SELL ANY SECURITY!
Disclaimer: Never invest in any stock featured on our site or emails unless you can afford to lose your entire investment. Stock-PR.com publisher and its affiliates and contractors are not registered investment advisers or broker/dealers. Our disclaimer is to be read and fully understood before using our site, reading our newsletter or joining our email list. Release of Liability: Through use of this website viewing or using, you agree to hold Stock-PR.com report and Crown Equity Holdings Inc. CRWE, its operators, shareholders, employees and/or contractors harmless and to completely release them from any and all liability due to any and all loss (monetary or otherwise), damages (monetary or otherwise) that you may occur. (Read more at http://stock-pr.com/disclaimer).Crown Equity Holdings Inc. (OTCPK:CRWE) is a media-advertisement and newswire company. Crown Equity Holdings Inc. (OTCPK:CRWE), in some cases, provides media advertising and public awareness for both public and private companies, as well as disseminating news. As such, in some cases, when Crown Equity Holdings Inc. (OTCPK:CRWE) advertises for a particular client, Crown Equity Holdings Inc. (OTCPK:CRWE) charges an advertising fee which it must disclose under 17B. The fee may be in cash, in free trading stock or in restricted stock. Crown Equity Holdings Inc. (OTCPK:CRWE), if paid in stock, can and may sell those securities during the advertising period.
stock-pr.com/21963/stock-alerts/stemcell.../
Disclosure: I have no positions in any stocks mentioned, and no plans to initiate any positions within the next 72 hours.