FREE Daily Stock Alerts From Stock-PR.com

STEM, StemCells Inc.
** STEM reported that the California Institute for Regenerative Medicine (CIRM) has approved an award to STEM for up to $20 million under CIRM's Disease Team Therapy Development Award program (RFA 10-05).
The award is to fund preclinical development of STEM's proprietary HuCNS-SC(R) product candidate (purified human neural stem cells) in Alzheimer's disease over a maximum four-year period, with the goal of filing an investigational new drug (IND) application for a clinical trial in that time.
In July, CIRM approved a separate award to STEM under RFA 10-05 for up to $20 million to fund preclinical development of HuCNS-SC cells in cervical spinal cord injury.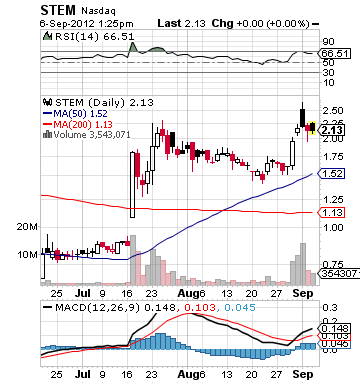 STEM is engaged in the research, development, and commercialization of cell-based therapeutics and tools for use in stem cell-based research and drug discovery.
More about STEM at www.stemcellsinc.com.
***********

SIGM, Sigma Designs, Inc.
** SIGM was downgraded from Buy to Hold by Brokerage Firm BWS Financial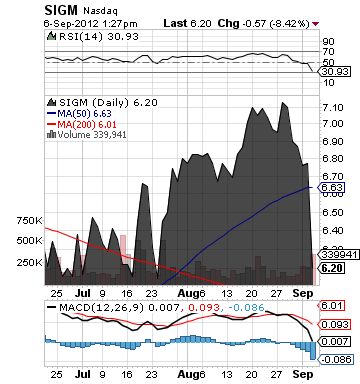 SIGM is a leading provider of system-on-chip (SoC) solutions used to deliver entertainment and control throughout the home: Media processing, Smart TV, Video encoding, Home AV networking, Video processing, Home control.
More about SIGM at www.sigmadesigns.com
***********

When it comes to reaching a wide range of customers, no other medium can beat Internet. By advertising on the Internet, a small manufacturer in one part of the world can find customers in the other.
Crown Equity Holdings Inc., (OTCPK:CRWE) offers advertising branding and marketing services as a worldwide online multi-media publisher with its digital network of websites and focuses on the distribution of information for the purpose of bringing together a targeted audience and the advertisers that want to reach them.
CRWE's advertising services cover and connect a range of marketing specialties, as well as provide search engine optimization for clients interested in online media awareness.

CRWE's division CRWE AD-Services (www.crwe-adservices.com), is a full service multimedia advertising company specializing in internet marketing. It provides modern and unique advertising campaigns, dedicated to offering the most cost effective advertising solutions.
More about CRWE at www.crownequityholdings.com.
**************************************************************
THIS IS NOT A RECOMMENDATION TO BUY OR SELL ANY SECURITY!
Disclaimer: Never invest in any stock featured on our site or emails unless you can afford to lose your entire investment. Stock-PR.com publisher and its affiliates and contractors are not registered investment advisers or broker/dealers. Our disclaimer is to be read and fully understood before using our site, reading our newsletter or joining our email list. Release of Liability: Through use of this website viewing or using, you agree to hold Stock-PR.com report and Crown Equity Holdings Inc. CRWE, its operators, shareholders, employees and/or contractors harmless and to completely release them from any and all liability due to any and all loss (monetary or otherwise), damages (monetary or otherwise) that you may occur. (Read more at http://stock-pr.com/disclaimer).Crown Equity Holdings Inc. (OTCPK:CRWE) is a media-advertisement and newswire company. Crown Equity Holdings Inc. (OTCPK:CRWE), in some cases, provides media advertising and public awareness for both public and private companies, as well as disseminating news. As such, in some cases, when Crown Equity Holdings Inc. (OTCPK:CRWE) advertises for a particular client, Crown Equity Holdings Inc. (OTCPK:CRWE) charges an advertising fee which it must disclose under 17B. The fee may be in cash, in free trading stock or in restricted stock. Crown Equity Holdings Inc. (OTCPK:CRWE), if paid in stock, can and may sell those securities during the advertising period.
stock-pr.com/21970/stock-alerts/stemcell.../
Disclosure: I have no positions in any stocks mentioned, and no plans to initiate any positions within the next 72 hours.