FREE Daily Stock Alerts From Stock-PR.com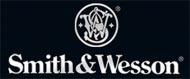 SWHC, Smith & Wesson Holding Corporation
** For the first quarter fiscal 2013, SWHC posted record net sales from continuing operations of $136.0 million, a 48.3% increase year over year, and record net income from continuing operations of $18.9 million, or $0.28 per diluted share, compared to $2.3 million, or $0.04 per diluted share, in the same period the prior year.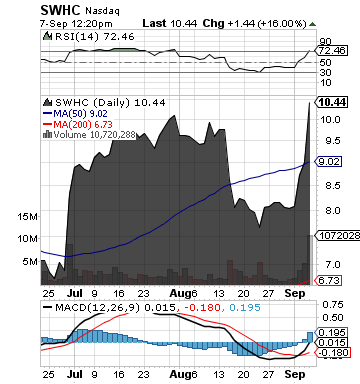 SWHC is a U.S.-based leader in firearm manufacturing and design, delivering a broad portfolio of quality firearms, related products, and training to the global military, law enforcement, and consumer markets.
More about SWHC at www.smith-wesson.com.
************

MRGE, Merge Healthcare Incorporated
** MRGE was downgraded from Buy to Neutral by Brokerage Firm Dougherty & Company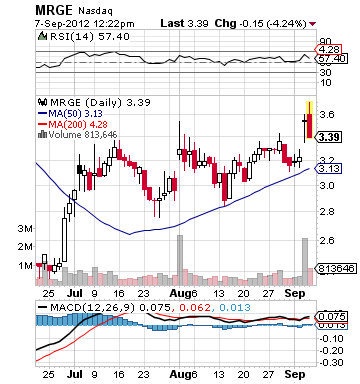 MRGE is a leading provider of clinical systems and innovations that seek to transform healthcare.
More about MRGE at www.merge.com
************

Convert your written content to video by talking about it in a video clip or creating a slide show then upload it to video sharing sites like YouTube.

Crown Equity Holdings Inc., (OTCPK:CRWE) recenly launched CRWE Tube, www.crwetube.com, a video sharing site that allows billions of people around the world to upload, watch and share original videos.
Restricting your marketing to just written text vastly limits your audience; video marketing should be seen as another mode of online communication to reach potential customers.
CRWE offers advertising branding and marketing services as a worldwide online multi-media publisher with its digital network of websites and focuses on the distribution of information for the purpose of bringing together a targeted audience and the advertisers that want to reach them.
CRWE's advertising services cover and connect a range of marketing specialties, as well as provide search engine optimization for clients interested in online media awareness.
More about CRWE at www.crownequityholdings.com.
**************************************************************
THIS IS NOT A RECOMMENDATION TO BUY OR SELL ANY SECURITY!
Disclaimer: Stock-PR.com publisher and its affiliates and contractors are not registered investment advisers or broker/dealers. (Read Full Disclaimer at http://stock-pr.com/disclaimer)
stock-pr.com/21971/stock-alerts/smith-we.../
Disclosure: I have no positions in any stocks mentioned, and no plans to initiate any positions within the next 72 hours.