FREE Daily Stock Alerts From Stock-PR.com

ASEI, American Science & Engineering Inc.
** ASEI reported the receipt of a $19.9 million service, maintenance, and spare parts order from an undisclosed customer to support its fleet of AS&E(NYSE:R) detection systems.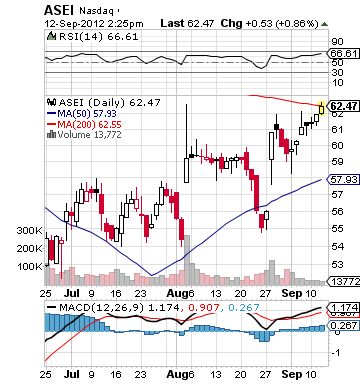 ASEI is a leading worldwide supplier of innovative X-ray inspection systems.
More about ASEI at www.as-e.com.
********

KSS, Kohl's Corp.
** KSS was upgraded from Hold to Buy by Brokerage Firm Deutsche Bacrwenk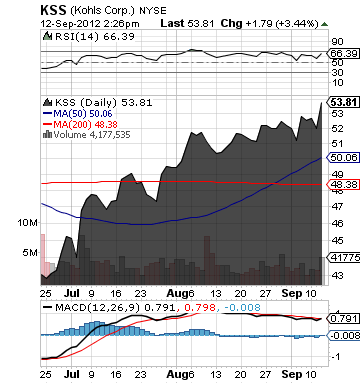 KSS operates department stores in the United States.
More about KSS at www.kohls.com
********

Internet advertising is more cost-effective than other forms of advertising. There is just a one time startup cost of creating a website.
Crown Equity Holdings Inc., (OTCPK:CRWE) offers advertising branding and marketing services as a worldwide online multi-media publisher with its digital network of websites and focuses on the distribution of information for the purpose of bringing together a targeted audience and the advertisers that want to reach them.
CRWE's advertising services cover and connect a range of marketing specialties, as well as provide search engine optimization for clients interested in online media awareness.

CRWE's division CRWE AD-Services (www.crwe-adservices.com), is a full service multimedia advertising company specializing in internet marketing. It provides modern and unique advertising campaigns, dedicated to offering the most cost effective advertising solutions.
More about CRWE at www.crownequityholdings.com.
**************************************************************
THIS IS NOT A RECOMMENDATION TO BUY OR SELL ANY SECURITY!
Disclaimer: Stock-PR.com publisher and its affiliates and contractors are not registered investment advisers or broker/dealers. (Read Full Disclaimer at http://stock-pr.com/disclaimer)
stock-pr.com/21976/stock-alerts/american.../
Disclosure: I have no positions in any stocks mentioned, and no plans to initiate any positions within the next 72 hours.