FREE Daily Stock Alerts From Stock-PR.com

DARA, DARA BioSciences, Inc.
** The Helsinn Group of Switzerland reported that it has entered into an exclusive agreement with DARA for U.S. commercial rights to Gelclair(NYSE:R).
Gelclair is an FDA-cleared product indicated for the treatment of oral mucositis. DARA plans to launch Gelclair in the first quarter of 2013.
Oral mucositis is a painful inflammation and ulceration of the surface of the mouth and throat, which can result from a variety of cancer treatments. Gelclair is a topical gel used to coat and protect the oral cavity to reduce pain. The American Cancer Society estimates that approximately 400,000 patients annually will experience oral mucositis as a result of cancer treatment.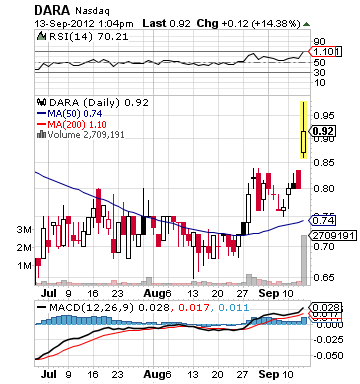 DARA is a specialty pharmaceutical company focused on the development and commercialization of oncology treatment and supportive care products.
More about DARA at www.darabio.com.
********

DOV, Dover Corporation
** DOV was upgraded from Equal Weight to Overweight by Brokerage Firm Barclays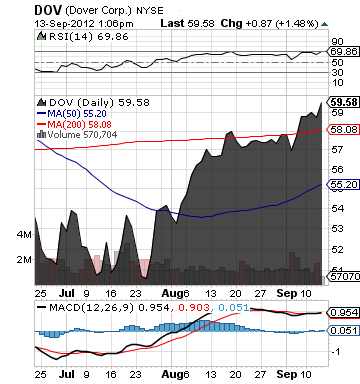 DOV manufactures and sells a range of specialized products and components, and provides related services and consumables
More about DOV at www.dovercorporation.com
********

Video advertising encourages consumers more quickly and more effortlessly than pure words..

Crown Equity Holdings Inc., (OTCPK:CRWE) recenly launched CRWE Tube, www.crwetube.com, a video sharing site that allows billions of people around the world to upload, watch and share original videos.
Restricting your marketing to just written text vastly limits your audience; video marketing should be seen as another mode of online communication to reach potential customers.
CRWE offers advertising branding and marketing services as a worldwide online multi-media publisher with its digital network of websites and focuses on the distribution of information for the purpose of bringing together a targeted audience and the advertisers that want to reach them.
CRWE's advertising services cover and connect a range of marketing specialties, as well as provide search engine optimization for clients interested in online media awareness.
More about CRWE at www.crownequityholdings.com.
**************************************************************
THIS IS NOT A RECOMMENDATION TO BUY OR SELL ANY SECURITY!
Disclaimer: Stock-PR.com publisher and its affiliates and contractors are not registered investment advisers or broker/dealers. (Read Full Disclaimer at http://stock-pr.com/disclaimer)
stock-pr.com/21977/stock-alerts/helsinn-.../
Disclosure: I have no positions in any stocks mentioned, and no plans to initiate any positions within the next 72 hours.