FREE Daily Stock Alerts From Stock-PR.com

AZO, AutoZone, Inc.
** For its fourth quarter ended August 25, 2012, AZO posted net sales of $2.8 billion, a 4.6% increase year over year. Net income for the quarter increased $22.3 million, or 7.4%, over the same period last year to $323.7 million, while diluted EPS increased 17.8% to $8.46 per share from $7.18 per share in the year-ago quarter.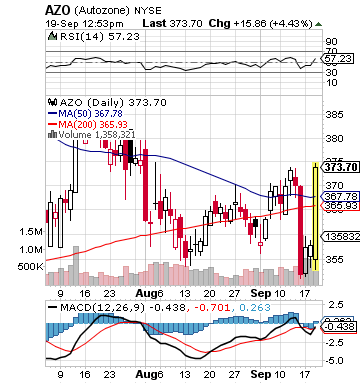 AZO is the leading retailer, and a leading distributor, of automotive replacement parts and accessories in the United States.
More about AZO at www.autozone.com
********

HAS, Hasbro Inc.
** HAS was downgraded from Buy to Hold by Brokerage Firm Needham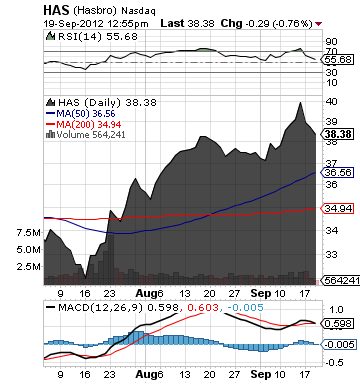 HAS, together with its subsidiaries, engages in the provision of childrens and family leisure time products and services worldwide.
More about HAS at www.hasbro.com
********

Online advertising is proving to be the most powerful and cost-effective tool to drive traffic to your web site.Online advertising provides maximum exposure to your products than any other form of advertising.

Crown Equity Holdings Inc., (OTCPK:CRWE) recenly launched CRWE Tube, www.crwetube.com, a video sharing site that allows billions of people around the world to upload, watch and share original videos.
Restricting your marketing to just written text vastly limits your audience; video marketing should be seen as another mode of online communication to reach potential customers.
CRWE offers advertising branding and marketing services as a worldwide online multi-media publisher with its digital network of websites and focuses on the distribution of information for the purpose of bringing together a targeted audience and the advertisers that want to reach them.
CRWE's advertising services cover and connect a range of marketing specialties, as well as provide search engine optimization for clients interested in online media awareness.
More about CRWE at www.crownequityholdings.com.
**************************************************************
THIS IS NOT A RECOMMENDATION TO BUY OR SELL ANY SECURITY!
Disclaimer: Stock-PR.com publisher and its affiliates and contractors are not registered investment advisers or broker/dealers. (Read Full Disclaimer at http://stock-pr.com/disclaimer)
stock-pr.com/21981/stock-alerts/autozone.../
Disclosure: I have no positions in any stocks mentioned, and no plans to initiate any positions within the next 72 hours.