FREE Daily Stock Alerts From Stock-PR.com

CYTR, CytRx Corporation
Soft Tissue Sarcoma is a very rare form of cancer. Soft tissue sarcoma can occur in the muscles, fat, blood vessels, tendons, fibrous tissues and synovial tissues (tissues around joints). The National Cancer Institute estimates that in 2011 nearly 11,000 new cases of soft tissue sarcomas were diagnosed in the United States and approximately 3,900 deaths were caused by these cancers.
** According to the company, favorable results from CytRx's Phase 1b/2 clinical trial with aldoxorubicin (formerly INNO-206) in patients with advanced soft tissue sarcoma will be featured in a poster and discussion presentation at the Connective Tissue Oncology Society (CTOS) 17th Annual Meeting on November 15 in Prague, Czech Republic.
The abstract, "Aldoxorubicin (INNO-206) is an active drug for the treatment of relapsed or refractory soft tissue sarcomas," will be presented by the clinical trial's principal investigator Dr. Sant Chawla, M.D., F.R.A.C.P. Dr. Chawla, a world renowned expert in the treatment of soft tissue sarcomas, is Director of the Sarcoma Oncology Center in Santa Monica, Calif.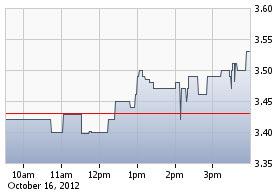 CytRx recently reported that favorable data from its Phase 1b/2 clinical trial with its tumor-targeting doxorubicin conjugate aldoxorubicin (formerly INNO-206) in patients with advanced soft tissue sarcoma was presented at the Sarcoma Poster-Discussion Session (Hall H) at the ESMO (European Society of Medical Oncology) 2012 Congress in Vienna, Austria.
The data from the aldoxorubicin Phase 1b/2 clinical trial showed clinical benefit (defined as partial response and stable disease of more than four months following up to eight cycles of treatment) with aldoxorubicin at the maximum tolerated dose in 10 of 13 (77%) evaluable patients with relapsed or refractory soft tissue sarcoma.
CytRx holds exclusive worldwide rights to the tumor-targeting doxorubicin conjugate aldoxorubicin and to the protein-binding platform technology that serves as the linker with doxorubicin.
CytRx has initiated an open-label, single-center Phase 1b clinical trial to evaluate the pharmacokinetics of aldoxorubicin in patients with metastatic solid tumors who have either relapsed or not responded to treatment with standard therapies. CYTR expects to use the results from the clinical trial for future regulatory submissions and partnership discussions.
CytRx is a biopharmaceutical research and development company specializing in oncology.
More about CytRx (CYTR) at www.cytrx.com.
********

FTNT, Fortinet Inc.
** FTNF was upgraded from Hold to Buy by Brokerage Firm Wunderlich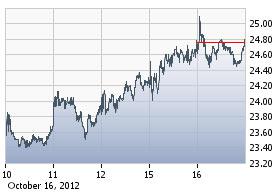 FTNT, together with its subsidiaries, provides network security solutions to enterprises, service providers, and government entities worldwide.
More about FTNT at www.fortinet.com
********

Advances in Internet technology have evolved the business world in a number of ways, including taking advertising techniques to a new level. Savvy marketers leverage the power of the Internet to reach their target markets in innovative, personal ways that can achieve an impact comparable to or more effective than traditional advertising media.
Crown Equity Holdings Inc., (OTCPK:CRWE) offers advertising branding and marketing services as a worldwide online multi-media publisher with its digital network of websites and focuses on the distribution of information for the purpose of bringing together a targeted audience and the advertisers that want to reach them.
CRWE's advertising services cover and connect a range of marketing specialties, as well as provide search engine optimization for clients interested in online media awareness.

CRWE's division CRWE AD-Services (www.crwe-adservices.com), is a full service multimedia advertising company specializing in internet marketing. It provides modern and unique advertising campaigns, dedicated to offering the most cost effective advertising solutions.
More about CRWE at www.crownequityholdings.com.
**************************************************************
THIS IS NOT A RECOMMENDATION TO BUY OR SELL ANY SECURITY!
Disclaimer: Stock-PR.com publisher and its affiliates and contractors are not registered investment advisers or broker/dealers. (Read Full Disclaimer at http://stock-pr.com/disclaimer)
stock-pr.com/22005/stock-alerts/fortinet.../
Disclosure: I have no positions in any stocks mentioned, and no plans to initiate any positions within the next 72 hours.