FREE Daily Stock Alerts From Stock-PR.com

IRIX, IRIDEX Corporation
** IRIX reported that the company and QUANTEL Medical have signed a global patent licensing agreement that gives QUANTEL access to IRIX's MicroPulse technology.
IRIX's proprietary technology provides ophthalmologists a noninvasive treatment for sight-threatening diseases of the eye, including complications associated with diabetes. Unlike conventional laser therapy, IRIX's MicroPulse spares the eye tissue responsible for vision while producing comparable clinical effect to traditional methods that destroy tissue.
The license agreement will allow QUANTEL to market and display IRIX's MicroPulse technology for their range of high quality clinical lasers and is the next step in gaining broad market availability of MicroPulse photocoagulation lasers.
Both QUANTEL and IRIX offer a full line of laser systems that offer standard photocoagulation in addition to MicroPulse Laser Therapy.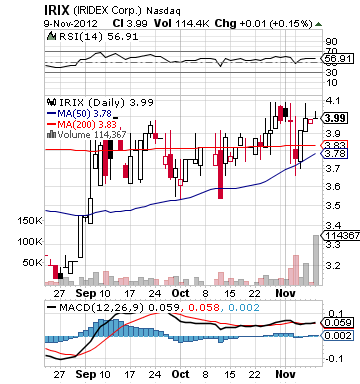 IRIX is a worldwide leader in developing, manufacturing, and marketing innovative and versatile laser-based medical systems, delivery devices and consumable instrumentation for the ophthalmology market.
More about IRIX at www.iridex.com
**************************************************************
Read Full Disclaimer at http://stock-pr.com/disclaimer
stock-pr.com/22030/stock-alerts/iridex-i.../
Disclosure: I have no positions in any stocks mentioned, and no plans to initiate any positions within the next 72 hours.