FREE Daily Stock Alerts From Stock-PR.com

KKD, Krispy Kreme Doughnuts, Inc.
** On its third quarter of fiscal 2013, KKD posted revenues of $107.1 million, an 8.5% increase year over year, and net income of $5.0 million ($0.07 per share) compared to $4.7 million ($0.07 per share) in the same period the prior year.
KKD is raising its fiscal 2013 outlook for consolidated operating income to between $34 million and $36 million from the previous forecast of between $29 million and $33 million.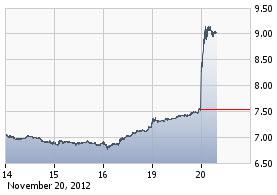 KKD is a leading branded specialty retailer and wholesaler of premium quality sweet treats and complementary products, including its signature Original Glazed(NYSE:R) doughnut.
More about KKD at www.krispykreme.com
**************************************************************
Read Full Disclaimer at http://stock-pr.com/disclaimer
stock-pr.com/22040/stock-alerts/krispy-k.../
Disclosure: I have no positions in any stocks mentioned, and no plans to initiate any positions within the next 72 hours.