FREE Daily Stock Alerts From Stock-PR.com
VOLC, Volcano Corporation
** VOLC reported that it has entered into a definitive agreement to acquire Sync-Rx Ltd., a privately-held company based in Israel that develops advanced software applications that optimize and facilitate transcatheter cardiovascular interventions using automated online image processing. It is anticipated the transaction will close within the next 30 days.
Sync-Rx's technology will allow VOLC to better integrate and present a wide variety of data in an intuitive manner that creates more meaningful information for the physician and documentation for the hospital.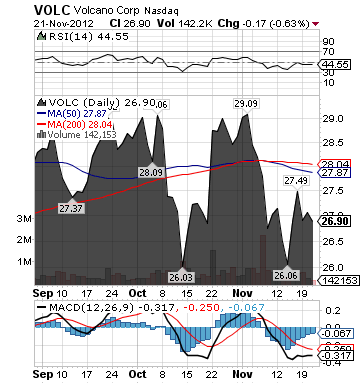 VOLC is revolutionizing the medical device industry with a broad suite of technologies that make imaging and therapy simpler, more informative and less invasive.
More about VOLC at www.volcanocorp.com.
**************************************************************
Read Full Disclaimer at http://stock-pr.com/disclaimer
stock-pr.com/22042/stock-alerts/volcano-.../
Disclosure: I have no positions in any stocks mentioned, and no plans to initiate any positions within the next 72 hours.