dELiA*s, Inc. (NASDAQ:DLIA)
As the holiday season approaches apon us all, I would like to direct your attention to a hot stock that most would consider in desperate demand with a volume of 4.79 million in play named dELiA*s, Inc. (www.deliasinc.com) ticker DLIA. This Company specializes in multi-channel retail which primarily markets to teenage girls. dELiA*s currently closed Tuesday, Nov. 5, 2013 with a gain of +12.78% Up +0.17 at a price per share rate of a $1.50.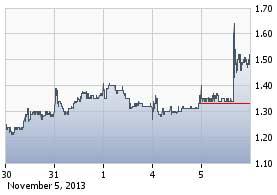 Now eventhough the Company's total revenue decreased 16.7% in Q2 of 2013, I must point to the fact that during the same Q2 of fiscal 2013, the Company completed an underwritten follow-on public offering of 15,025,270 shares of its common stock, with proceeds of approximately $14.8 million, net of underwriting discounts and commissions, which were used to repay a portion of the outstanding amounts under its revolving credit facility with Salus Capital. In laymen's term, they got rid of some debt . As long as this company refocuses their stragey on the brand they might be able to calculate the trend. With holiday sales becoming a reality, I sure Chief Executive Officer Tracy Gardner will know exactly how to focus on this year sales as well as long term growth.
****
Crown Equity Holdings Inc. (OTCMKTS:CRWE)
Now as long as we are on the topic of sales, I would like to bring attention to Crown Equity Holdings Inc. stock symbol CRWE. Crown Equity Holdings has founded iB2BGlobal which is a B2B trade online directory that has the capability to furnish wholesale and retail needs around the world. While online advertisement revenue around the planet is predicted to be around $24.3 billion this year, iB2BGlobal will enter into a huge market that hopes to bring roughly $262.3 billion.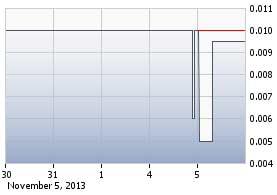 With this in mind, some sauve investors would say that this puts Crown Equity Holdings (www.crownequityholdings.com) into a intriguing spot. iB2BGlobal broadens Crown Equity Holdings capacity with other services such as CRWETube (http://CRWETube.com) and global media publishing through thier network of websites. To view iB2BGlobal short form business plan click here http://crownequityholdings.com/extras/iB2BGlobal_business_plan.pdf. Crown Equity Holdings stock symbol CRWE is available at $0.0095 Tuesday, Nov. 5, 2013 and currently represents a +763.63% gain if compared to the 52 week low of $0.0011 .
(Read Full Disclaimer at http://stock-pr.com/disclaimer). stock-pr.com/23084/stock-alerts/delia-su.../
Disclosure: I have no positions in any stocks mentioned, and no plans to initiate any positions within the next 72 hours.