The dividend collar is a strategy worth studying. It is a 3-part hedge that sets up double-digit annual returns from dividend yield, while eliminating market risk in the underlying stock.
This is accomplished with long stock, a short call and a long put.
The stock's market risk is protected by the long put. The long put's cost sis paid by premium income from the short call. And the short call risk is covered by the 100 shares of stock.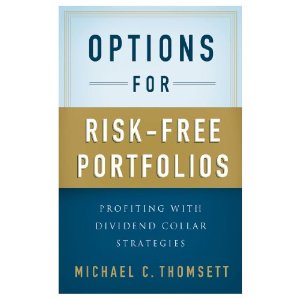 The basic strategy requires three conditions:
1. Pick a stock whose ex-dividend date comes up in one month or less, and pick options expiring as soon as possible after-ex-dividend date.
2. The strikes of the short call and long put should both be higher than the basis in stock. This ensures that exercise of either option produces a net profit.
3. Seek this position on issues with dividend yield of 4% or more.
If all of these conditions are found, you have a dividend collar. But can you find them? The problem of premium values means that the put is usually more expensive than the call, so the strategy will not work. But I have studied over 700 stocks paying between 4% and 6% dividend, and I have been able to find between five and 20 positions that will work every month.
I have written a book on this topic, which has been published by Palgrave-Macmillan. It can be ordered on Amazon.com at New book: Options for Risk-Free Portfolios - the table of contents follows:
Introduction - The Quest for High Return and Low Risk
Chapter 1 - The Dividend Portfolio, An Overview
Chapter 2 - Managing and Reducing Risk with Options
Chapter 3 - The Advantage of the Covered Call
Chapter 4 - Downside Protection, the Insurance Put
Chapter 5 - The Collar: Removing All of the Risk
Chapter 6 - Rolling the Stock Positions: Turning 4% into 12%
Chapter 7 - Examples of the Basic Strategy
Chapter 8 - Modification: The Installment Collar Approach
Chapter 9 - Expanding into the Ratio Write Dividend Collar
Chapter 10 - More Expansion, Creating the Variable Ratio Write Dividend Collar
Chapter 11 - Modifying the Strategy with Synthetic Stock Positions
Epilogue - The Great Value in Patience
To gain more perspective on insights to trading observations and specific strategies, I hope you will join me at ThomsettOptions.com where I publish many additional articles. I also enter a regular series of daily trades and updates. For new trades, I usually include a stock chart marked up with reversal and confirmation, and provide detailed explanations of my rationale. Link to the site at ThomsettOptions.com to learn more. As a new member, if you buy a one-year subscription, you also get a free copy of one of my books, including this new one just released.
I also offer a weekly newsletter subscription if you are interested in a periodic update of news and information and a summary of performance in the virtual portfolio that I manage. All it requires is your e-mail address. Join at Weekly Newsletter I look forward to having you as a subscriber.