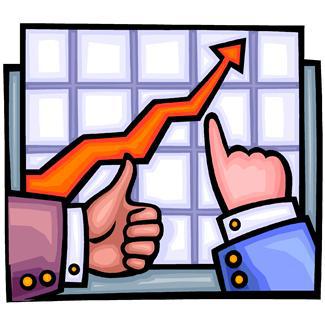 Reversals show up in many forms - but in the moment, how do you know when a trend is about to lose momentum and turn in the opposite direction?
There are no guarantees that an apparent turn in direction is going to be permanent. However, one relatively simple technical indicator helps you to spot the strength of a move, its timing, and the likely future trend. The level of volatility affect all of this, of course, but the volatile a stock the more you can learn using trendlines.
The trendline is easy to draw onto a chart and to track. An uptrend line is drawn beneath the price range and a downtrend line appears above. The trendline begins at pivot high or low price levels and ends when the price collides with price as it turns around.
So the trendline represents support and resistance even when the level is on the move. But how do you estimate the next direction and what exactly is the stock's current trading range? These are difficult questions to answers, but the trendline provides insight.
A key in the trendline is that whether duration is two weeks or a full month, the turns are fast and extreme. Reversals take the stock price into the opposite direction,. indicating the trend has ended and turned. This does not provide any guarantees of future movement, especially for any stock that was volatile in the recent past. Even so, the pattern is predictable and provides some clues. When trendlines are confirmed by other valuable indicators, timing of entry and exit can be improved significantly. The key to timing always rests with indicators and confirmation.
Candlestick and other trading confirmation signals help time the reversal first indicated by the trendline. You do not need to run from high volatility and its lack of dependability. Trendlines with confirmation provide better insights to even the most volatile trends.
To gain more perspective on insights to trading observations and specific strategies, I hope you will join me at ThomsettOptions.com where I publish many additional articles. I also enter a regular series of daily trades and updates. For new trades, I usually include a stock chart marked up with reversal and confirmation, and provide detailed explanations of my rationale. Link to the site at ThomsettOptions.com to learn more.
I also offer a weekly newsletter subscription if you are interested in a periodic update of news and information and a summary of performance in the virtual portfolio that I manage. All it requires is your e-mail address. Join at Weekly Newsletter I look forward to having you as a subscriber.